When to visit
Highlights and itineraries
When to visit
Bulgaria has something to offer all year round. In spring the towns and cities blossom as parks and gardens reawaken and outdoor eating at cafés and restaurants begins again. For nature lovers this is the most spectacular time to come as plants flower and migrant birds return.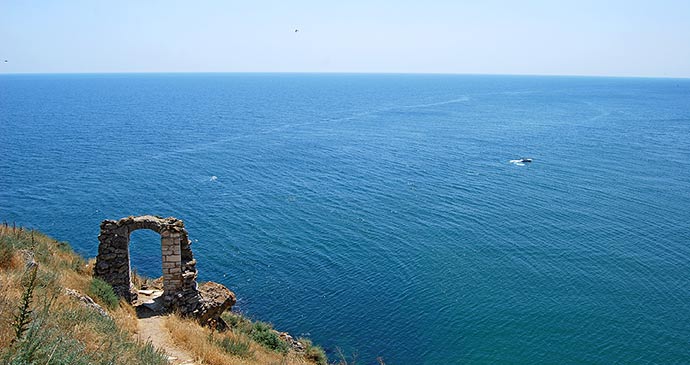 Cape Kaliakra is a great summer destination © Bulgarian Ministry of Tourism
The Black Sea coast is the destination of most summer visitors, though increasingly the mountain resorts are attracting people to their new golf courses, as well as to more traditional summer activities such as hiking, biking, climbing and horseriding. The summer is a good time to visit if you enjoy folklore and traditional festivities, as many small towns and villages organise local celebrations. It can be almost too hot for sightseeing in Sofia and Plovdiv in summer, so it's best to time a cultural visit in spring or autumn.
The winter is beautiful in the mountains and Bulgaria has some fine ski resorts. Music lovers might like to visit some of the big cities in winter, as there is a busy programme of operatic and classical performances.
Highlights and itineraries
Don't miss the top 20!
Sofia
• Sv Sofia Church – the ancient basilica that gave Sofia its name.
• Sv Aleksandur Nevski Memorial Church – the iconic gold-domed symbol of Sofia.
• Boyana Church – unique medieval art in a mountain setting.
• Vitosha Mountain – Sofia's own mountain!
The Southwest
• Rila Monastery – UNESCO World Heritage listed, colourful guardian of Bulgarian culture and history.
• Pirin National Park – also UNESCO listed, outstandingly beautiful mountains.
• Melnik – a picturesque town, home of the famous wine.
The Northwest
• Belogradchik rock formations – a huge area of fantastic shapes and legends.
Central Stara Planina and the Danube Plain
• Sveshtari (Thracian tombs) – UNESCO-listed, beautiful caryatids.
• Bozhentsi village – a visit to the past, a traditional old village.
• Veliko Turnovo, the former capital – spectacular location and a wealth of historic buildings.
• Arbanasi village – traditional architecture and a church bursting with frescoes!
The Valley of the Roses and Sredna Gora
• Koprivshtitsa (a mountain town) – combines beauty and historical importance.
Plovdiv, the Rhodopes and the Thracian Plain
• Plovdiv Old Town – UNESCO listed, one of the oldest continuously inhabited cities in Europe.
• Bachkovo Monastery – beautiful monastery in a beautiful location.
• Perperikon archaeological site – striking ancient monument in a remote location.
• Chudnite Mostove rock bridges – magnificent creation by nature!
• Madzharovo Nature Reserve – see rare vultures on their home ground.
Strandzha, the Black Sea Coast and Dobrudzha
• Nesebur Peninsula – numerous medieval churches on a tiny peninsula.
• Cape Kaliakra – bird migration, archaeology and legend combined.
Suggested itineraries
If you are only in Bulgaria for a few days, it is best to stay mainly in Sofia with a day or half-day at nearby Boyana. If you have a week then you could do the same, but add a day trip to Rila Monastery and perhaps a two-day visit to Plovdiv with an overnight stay there. In a ten-day stay you could expand on this core programme with extra time at Plovdiv to allow a visit to Bachkovo Monastery and a return drive via Koprivshtitsa. The day visit to Rila could become two days with an overnight stay in the southwest to allow a visit to Melnik, Rozhen and Bansko. Or in ten days you could visit Sofia and Plovdiv and then travel to the resorts around Burgas for some relaxation on the beach. In two weeks you could make a round trip: Sofia, Rila, Plovdiv, Bachkovo, Nesebur and Varna on the coast and return through Veliko Turnovo, Kazanluk and Koprivshtitsa. Each region has a lot to offer, so you really need a longer stay!