Climate
When to visit
Highlights and itineraries
Climate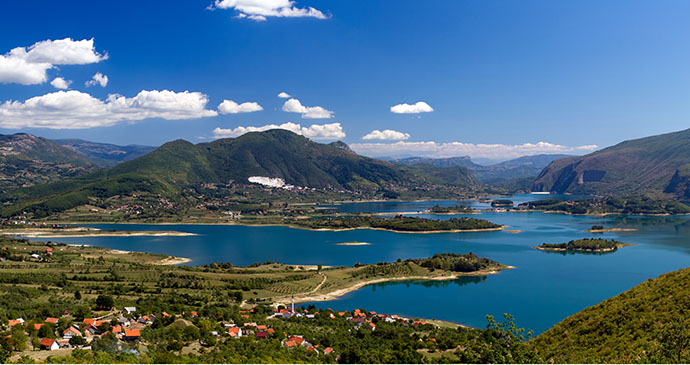 Mostly mountainous Bosnia blends continental and Mediterranean climates © L.Nagy, Shutterstock
A number of factors influence the climate of BiH: its geographic position, its relief, which is predominantly mountainous, the proximity of the warm Mediterranean Sea, and the continental landmasses, mainly the Euro-Asian landmass. This transitional region where Mediterranean and alpine influences meet creates a mosaic of climate types within a relatively small area.
In layman's terms the south enjoys warm, sunny and dry weather, with very mild winters. In the more continental areas the weather is similar to that of central Europe – hot summers, cool springs and autumns, and cold winters with considerable snowfall. However, the mountains create a climate of their own and, where the Mediterranean and continental climates meet, some of the most unique ecosystems in Europe can be found.
The alpine climate rules the highest mountain terrains of the high Dinarics above 1,700m. The winters are extremely cold, with temperatures well below zero for more than six months of the year. Snow covers the terrain here until summer and the winds often reach hurricane strength. Bjelašnica Mountain (2,067m) is representative of this climate type, and it is there that the first weather observatory in the Balkans was built in 1894.
Sarajevo's summer weather is often unpredictable. In 2006, both the coldest and hottest days were recorded for June.
A note for those travelling to Sarajevo: being shielded by large mountains on all sides, Sarajevo's summer weather is often unpredictable. In 2006, both the coldest and hottest days were recorded for June. The blistering heat can quickly disappear with just a day of cloud cover and the temperatures can easily drop 10°C in a short time span. It's always wise to bring at least a fleece to Bosnia, even in July and August. It should also be noted that recent climate changes mean that weather patterns are harder to predict. The traditional heavy snowfalls that occurred regularly every winter are no longer a given. Mid-November through January in Sarajevo is often foggy and in recent years, smoggy. However, just above the Sarajevo valley in the mountains and hills, the air is always clean. Summers have also become drier with higher temperatures and less precipitation.
When to visit
Having the advantage of two types of climate, there are several 'good' seasons to visit Bosnia and Herzegovina. Summers throughout the whole country are hot and dry. Bosnia enjoys cool evenings in the mountainous regions whereas Herzegovina has an arid Mediterranean climate that makes summer sunny and hot with temperatures averaging over 30°C – (90°F). Prices for accommodation are generally higher in the summer season (July–August). From June to mid-September the weather in Bosnia is warm. In Herzegovina the warm weather starts earlier, in May, and lasts easily into the end of September. Spring and autumn are lovely months to visit. In May the countryside is teeming with wild flowers, the days are pleasantly warm with cool, refreshing evenings and people come out in crowds after the cold winter months. October and November are good months to avoid the crowds and enjoy the barrage of orange, red and yellow leaves that paint the forests. These months do experience some rain but there is an equal number of cool, sunny days – particularly in Herzegovina.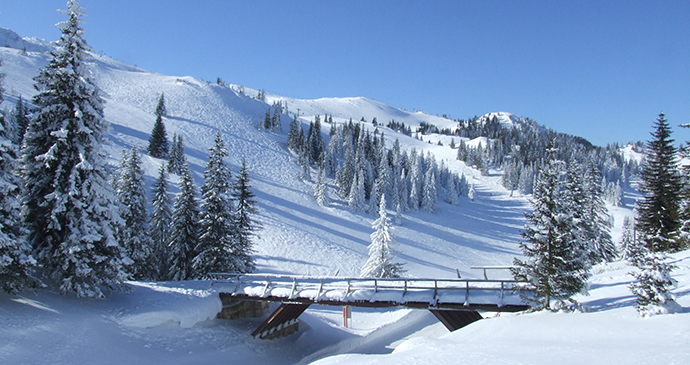 Snow can be expected in Bosnia during winter months, particularly in higher areas, such as Jahorina © Tourism Association of Bosnia and Herzegovina
In May the countryside is teeming with wild flowers, the days are pleasantly warm with cool, refreshing evenings and people come out in crowds after the cold winter months.
The best time for a winter visit is the snow months, particularly if you are a skier. Herzegovina experiences little snow and has mild winters. Bosnia and the mountainous regions have very cold winters and high snow precipitation. Olympic skiing on mounts Bjelašnica, Igman and Jahorina is ideal in January through to March. February, however, is the coldest month of the year with frequent temperatures below zero. Bear in mind that due to global warming trends snowfall in Bosnia is not as consistent as in the past. The roads in winter are decent but not great. The winter road clearance teams are getting better but the roads are nowhere near as safe as European or North American ones during or after heavy snowfalls. Any extensive winter travelling in Bosnia should be accompanied by snow chains. It is also worth mentioning that fog and sometimes very bad smog in Sarajevo can be intense during the winter, especially in December and January. However, just 15 minutes outside the Sarajevo valley and into the hills and mountains, the air is always much fresher. When it is grey in Sarajevo in the winter, it is often sunnier in the mountains.
It's safe to say that May through to October is a great time to visit Bosnia. Herzegovina enjoys a long period of pleasant weather from April well into November.
Highlights and itineraries
Bosnia and Herzegovina is an ideal place for the active visitor. There isn't a lot of lying around on sandy beaches or in luxurious resorts, but for the adventure seeker or nature lover BiH is a wonderland of pristine wilderness. Culture and history buffs will have a field day. Despite the lack of modern museums most visitors usually find 'reallife' Bosnia and Herzegovina to be a living museum. City visitors will be delighted with Sarajevo and Mostar and all the nightlife, festivals, architecture and beauty that are available. For those on a spiritual journey, Međugorje attracts the faithful from every corner of the globe to this sleepy mountain-top Herzegovinian village. Western travellers not accustomed to Eastern and oriental faiths will find the mysticism of Christian Orthodox monasteries and Ottoman mosques an enchanting experience.
Highlights
Mostar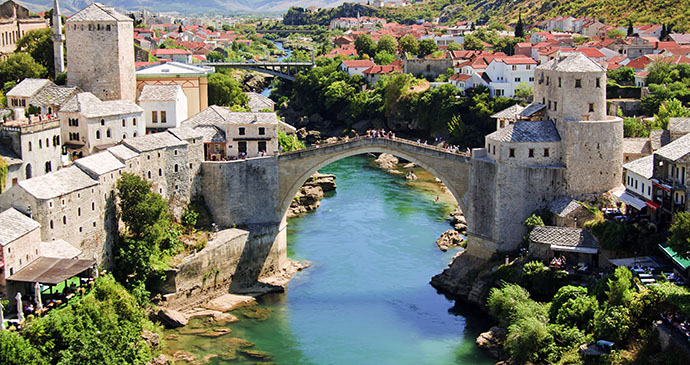 Mostar's most famous landmark, the Stari most (Old Bridge) © Lucertolone, Shutterstock
Being the heart of Herzegovina, Mostar is definitely a place not to be missed. The oriental old town, the old bridge, mosques and churches, and the emerald Neretva River will mesmerise you.
Sutjeska National Park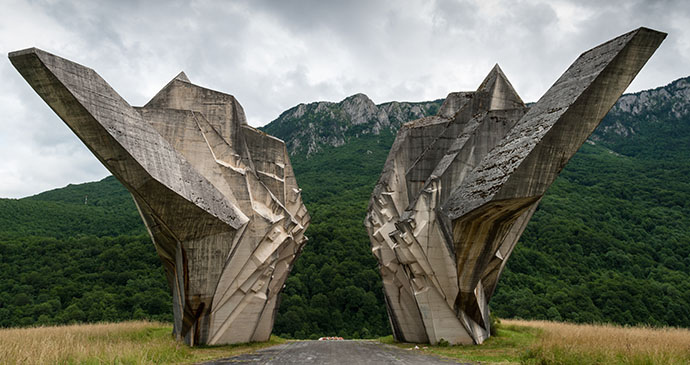 The socialist-era monument commemorating the battle fought on Sutjeska during World War II © Dinosmichail, Shutterstock
Although there is still a considerable amount to be done organisation-wise, Sutjeska is home to the last primeval forest in Europe. Here you will find a true wilderness adventure with bears, wolves and other wild things in this nature oasis.
Sarajevo's Baščaršija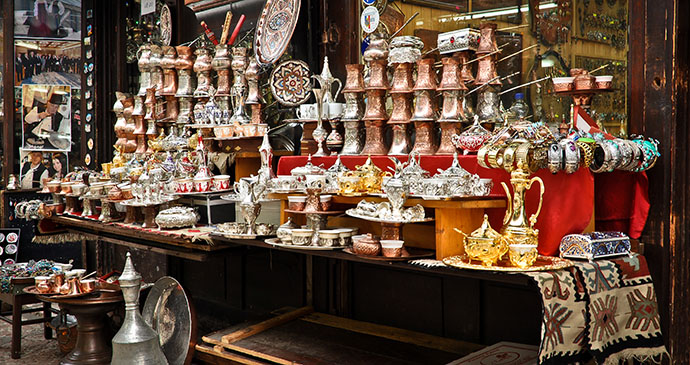 Copper products made by a craftsman in the Baščaršija neighbourhood © Donatas Dabravolskas, Shutterstock
Sarajevo in general has a magnetic effect on visitors. It's amazing how quickly one feels at home and begins to think of ways to prolong the stay. The Baščaršija neighbourhood is a walk through its ancient Ottoman past. Shopping, drinking Turkish coffee or just strolling through the craftsmen's quarters are pure delights.
Međugorje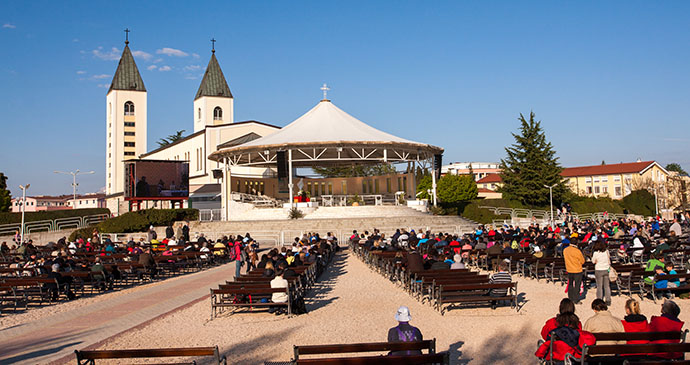 An open-air service in Međugorje © Hieronymus, Shutterstock
A quarter of a century ago six teenagers walking in the hills surrounding the small village of Međugorje had an apparition of the Mother Mary. Despite scepticism from 'official' circles, the visions continued. Međugorje has grown to be the second-largest Catholic pilgrimage site in the world. Millions of the faithful, curious and even sceptics have visited Međugorje. It is said that miracles occur here on a regular basis. Believe or not, this holy site is something to experience.
Blagaj
This is one of the best examples of the interconnectedness of Herzegovina's cultural and natural heritage. Atop the mountain in Blagaj are the ruins of an ancient Illyrian fortification. The Romans added to the original structure, and by the Middle Ages it had become the castle of the ruling noble family of Hum. The Ottomans added even more to the large fort and the ruins stand witness to four civilisations that have at one time or another made Herzegovina their home. The tekija dervish house built at the base of a 200m rock face at the source of the Buna River is a magical place, blessed with the powers of both humans and nature.
River rafting
The residents of the Krajina treat the Una and Vrbas rivers like members of the family. They are the best-cared-for rivers in the country and many of the regional traditions revolve around (and on) these gorgeous rivers. Rafting or kayaking on the Una and Vrbas is an unforgettable experience and if you tackle the falls at Strbački Buk, you've conquered some of the toughest in Europe! The Neretva and Tara are just as thrilling but Strbački's 24m waterfall is tops!
Olympic Mountains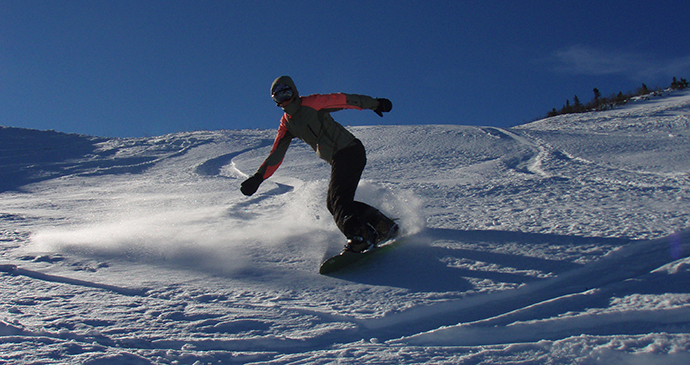 Bjelašnica offers great snow-sports opportunities for visitors staying in nearby Sarajevo © Tourist Association of the Federation of Bosnia and Herzegovina
Jahorina and Bjelašnica mountains were hosts to the 1984 Winter Olympic Games. They both offer the country's best skiing and are a short and convenient drive from the capital Sarajevo. The highlanders in these areas are extremely friendly and usually make foreign guests rethink their whole idea of hospitality. Hiking and walking here are some of the best in the country.
Kravica
Bosnia and Herzegovina is a country of mountains and water. Kravica is a remarkable waterfall on the Trebižat River. It's a great spot for a picnic and a swim and is only a hop-skip-and-a-jump from Međugorje, Ljubuški and Čapljina. If that's not enough you can go on a canoe safari on the Trebižat just a few kilometres down the road.
Lukomir
The medieval highland village of Lukomir is the highest (1,469m) and most isolated permanent settlement in the country. Here is a last-chance peek at old Europe and the way things 'used to be'. It's an amazingly beautiful spot on the ridge of Rakitnica Canyon, and a visit here is like travelling to a place time has forgotten.
Trebinje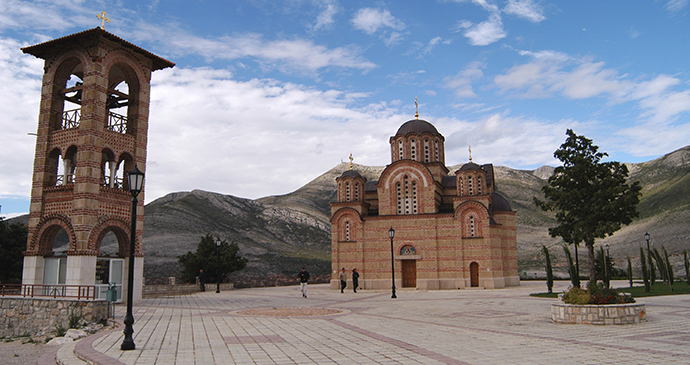 The Hercegovačka Gračanica monastery above Trebinje © Tourism Association of Bosnia and Herzegovina
Some say this town just has it all and I'd have to agree. Located just a 30-minute drive from the world-famous city of Dubrovnik, Trebinje is perched on the highland valley just to the northeast of Croatia's largest tourist destination. Dubrovnik's influence is obvious in Trebinje, with a clear Adriatic spatial influence and remarkable architecture. Trebinje has great wine, monasteries, high mountains, beautiful buildings, good restaurants, caves, and more history than one could process in just one trip.
Via Dinarica
Last, but certainly not least, is the new long-distance trail that connects the mountains, rivers, valleys and highland villages of the Dinaric Alps mountain chain all the way from northern Albania to Slovenia. It has a little bit of something for everyone, from world-class hiking, highland-village stays, rafting, caving and mountain biking through some of the most pristine terrain in all of Europe.
Jajce
The hilltop settlement of Jajce perhaps best sums up the vast layers of history that have crossed through this central Balkan state. From the ancient Illyrians and Romans, through the medieval Bosnian Kingdom and the four centuries of Ottoman rule, this is a precious element of BiH's cultural heritage.
Suggested itineraries
Four-day excursion from the coast
Day 1 If you are up for an easy, soft adventure, a canoe safari on the Trebižat River is a wonderful trip. The drive to Mostar is only 30 minutes.
Day 2 Take a whole day and stroll the streets of Mostar. A walking tour is recommended in the Mostar section of Herzegovina.
Day 3 The drive to Sarajevo will take around two hours. The drive through the Neretva Canyon is an unforgettable one. A day tour of Sarajevo, coupled with café-hopping and shopping, is the order of the day. If you get the chance, try to find your way to the top of some of the hills surrounding Sarajevo – the views are magnificent. Restaurants Park Prinčeva and Kod Kibeta offer the best views in town.
Day 4 Heading back towards the coast take the Sarajevo–Foča–Trebinje route and enjoy a half day in Sutjeska National Park and one of the last primeval forests in Europe. Bring a camera! Dinner in Trebinje old town (only 30 minutes from Dubrovnik) is recommended.
One week by bus or car
Day 1 Mostar old town.
Day 2 Visit medieval cities of Blagaj and Počitelj (30 minutes from Mostar).
Day 3 Sarajevo old town and central district (2 hours from Mostar).
Day 4 Kraljeva Sutjeska Franciscan Monastery and Bobovac Fortress (1½ hours from Sarajevo) then overnight in Travnik.
Day 5 Explore Travnik – the European Istanbul and the seat of the last Bosnian kingdom at Jajce (1–2 hours from Kraljeva Sutjeska) – and head to Bihać.
Day 6 Rafting on the Una River near Bihać.
Day 7 Day trip to Banja Luka (2 hours from Bihać) – visit the old town, the Orthodox churches, the museum and Kastel.
Regional Itinerary – Slovenia, Croatia, BiH, Montenegro
Day 1 Low-cost flight to Ljubljana, Slovenia. Visit Ljubljana city centre.
Day 2 Plitvica National Park, Croatia.
Day 3 Rafting on the Una River, Bihać.
Day 4 Jajce medieval town, Pliva River/Lake.
Day 5 Travnik, the European Istanbul.
Day 6 Kraljeva Sutjeska, Royal Residency.
Day 7 Sarajevo – old town.
Day 8 Sarajevo – Lukomir medieval village.
Day 9 Sutjeska National Park.
Day 10 Rafting on Tara River.
Day 11 Visit Durmitor National Park, Montenegro.
Day 12 Montenegrin coast – Budva, Bar or Sveti Stefan.
Day 13 Dubrovnik, Croatia.
Day 14 Low-cost flight from Dubrovnik.