Eating and drinking
Accommodation
Eating and drinking
Eating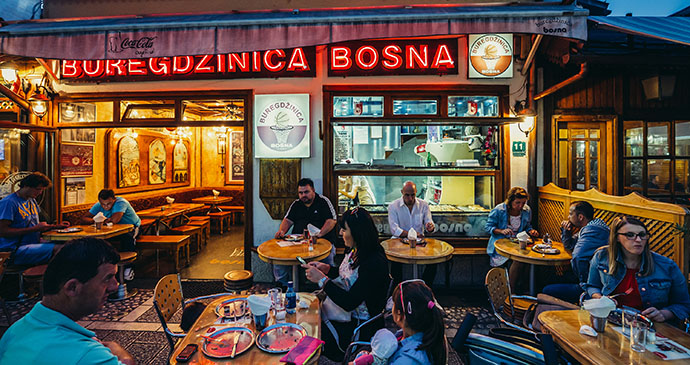 A buregdženica in Sarajevo's Baščaršija neighbourhood © Fotokon, Shutterstock
All travellers should enter a buregdženica and try the famous traditional pita dishes of burek, zeljanica, sirnica and krompiruša.
While ideal for budget travellers, all travellers should enter a buregdženica (savory pie shop) and try the famous traditional pita dishes of burek, zeljanica, sirnica and krompiruša. They are all made from scratch and have been a traditional meal since Ottoman times. Burek is a meat pie wrapped in filo-dough; the zeljanica is made from spinach and cheese; sirnica is made from a fresh, homemade cheese; and krompiruša is diced potatoes with spices. You may be asked if you'd like pavlaka spread on top. This is a fresh cream that tastes wonderful with the pita. Thin yoghurt is also a popular drink alongside your pita.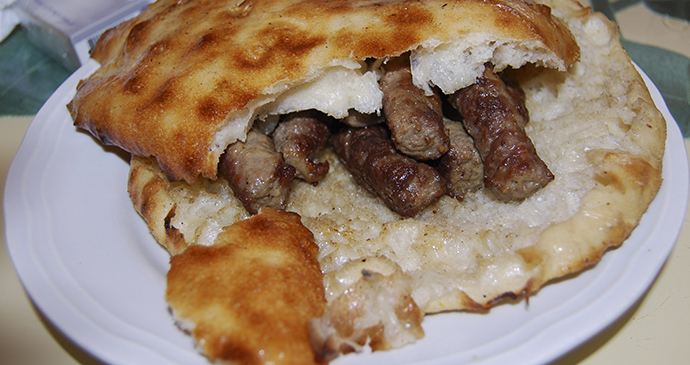 Ćevapi are a very popular quick-bite in Bosnia © Brenda Annerl, Wikimedia Commons
Ćevapi are small meat sausages of lamb and beef mix. They are usually served with fresh onions and pitta bread on the side. Ćevapi usually come in index-finger-sized sausages and are offered as five or ten pieces. Pršut is the equivalent to Italian prosciutto and a speciality with the Bosnian Christians. It is more difficult to find in Sarajevo but readily available in most places in Herzegovina and Republika Srpska.
For those with a sweet tooth, look out for a slastičarnica: a bakery or dessert shop, which focuses on sweets such as cakes, strudel, cookies and chocolates. Sometimes they serve ice cream.
Drinking
Almost every town will have public fountains, particularly in front of mosques. This water is perfectly fine for drinking. Many roadside fountains were built even before Tito's time, for foot or horse travellers. These are all underground aquifer-fed fountains – the water is deliciously cold.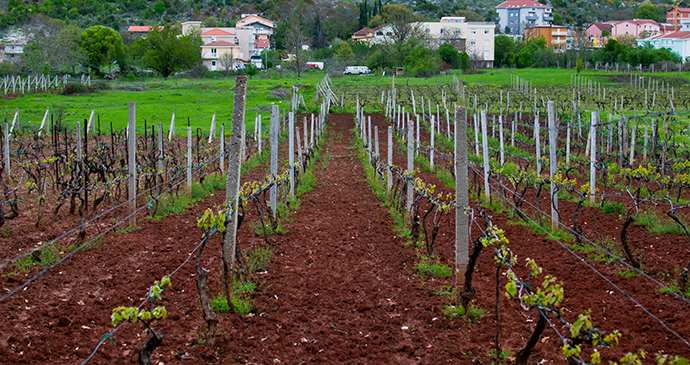 A vineyard near Međugorje in Herzegovina © CJ, Wikimedia Commons
Herzegovina has not yet become a world-renowned name in wine, but don't be surprised if in a few years that great glass of Žilavka or Blatina that you drank while visiting is listed as one of the top new 'third world' wines. Sharing a similar climate and topsoil as Dalmatia, the savoury reds and dry whites of Herzegovina can easily compare to some of Croatia's finest. Ask for domestic wines like Blatina, Vranac and Žilavka from the towns of Mostar, Čitluk, Ljubuški, Stolac, Međugorje and Trebinje.
The men take great pride in the careful process of making homemade spirits and if you get a good batch you can really taste the difference.
Made from plums, pears, grapes, or other fruits the local spirit rakija will put hair on your chest. It is very strong, usually with a 45% alcohol content, and is drunk at all times of the day and at all times of the year. Šljivovica (plum) or kruška (pear) are found more in Bosnia while loza, made of grapes, is more a speciality of Herzegovina and Dalmatia. It is easy to find them on the shelf of any shop but it's well worth the effort to try and find some homemade spirits. The men take great pride in the careful process of making homemade spirits and if you get a good batch you can really taste the difference. Drink slowly and do what the locals do – meza. Meza is drinking slowly and accompanying the drinking with cheese, meat and bread. Sessions can often last all day and night. Taking fast 'shots' of rakija as one might do with vodka is not the norm.
Coffee is the backbone of social life in Bosnia and Herzegovina. Its significance cannot be overestimated. Cafés serve espresso drinks, whereas 'Bosnian' coffee (also known as domaća kafa) is similar to Turkish-style coffee and is made at home or served in very traditional establishments.
Accommodation
There is no lack of good accommodation in Bosnia and Herzegovina. Although the war destroyed much of the infrastructure, including hotels, there have been many
new ones built, with modern facilities. There are, however, still many hotels from the old Yugoslavia that are run-down and out of date.
Hotels
Like most places, hotels in BiH are overpriced relative to the standard of living. When compared with Western prices, however, hotels are certainly affordable. It is definitely wise to check out the hotel before booking in. There are many very nice new hotels and small motels. Many hotels built during the socialist period are not very pleasant, a tad uncomfortable, and although they claim to have hot water they often don't. A simple stroll through the lobby is usually enough to assess the situation.
Private rooms/apartments
Private accommodation is not as well organised as in neighbouring Croatia but many travel agencies in towns throughout BiH do offer accommodation in apartments and private homes. Međugorje is the exception to almost every rule in Bosnia and Herzegovina; here there is a well-developed system for private accommodation, plenty of information, and travel agents that can do direct booking for you.
Anywhere you see the sign sobe/Zimmer/rooms/camere feel free to knock on the door. Prices range from 20KM to 50KM in private homes and are ideal for independent travellers. Most are clean and friendly but the host may not always speak English. A few German words are usually helpful.
Camping
Despite the tremendous potential for ecotourism there are few proper camping facilities in Bosnia and Herzegovina. Pitching a tent on your own is certainly possible but it could be risky if you are not fully confident that you are in a mine free area. The best and safest camping opportunities are found through the rafting operators on the Tara, Neretva and Una rivers.