Over coffee, deals are done, jobs are offered and marriages arranged.
Eating and drinking
Food
Albanian cuisine is rich in Mediterranean ingredients such as olive oil, tomatoes and pimentos, although garlic is not widely used. Lamb, as you would expect in a mountainous country, is excellent, as is fish from Albania's rivers, seas and lakes.
Fruit and vegetables in Albania are delicious. The tomatoes taste of tomato, the watermelons remind you of something other than water, and the citrus fruit is tangy and refreshing. Aubergines, courgettes, green beans and okra figure prominently in summer, with cabbages, carrots and potatoes taking over in winter. It is a frequent boast in restaurants that all the food is organic (bio), but there is no system in Albania for certifying organic produce.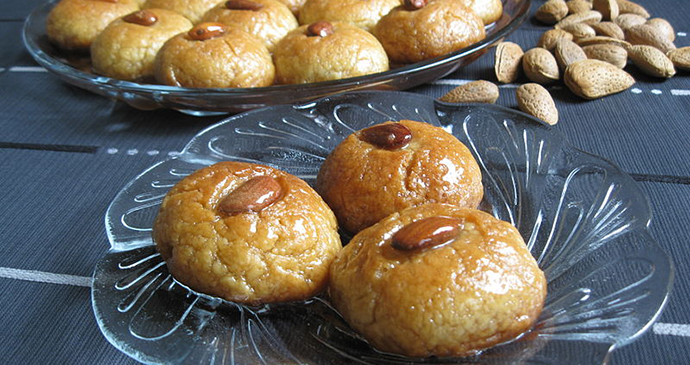 The classic way to eat lamb is spit-roasted, (mish në hell), and the classic place to eat it is at one of the out-of-town restaurants which specialise in this. At weekends and on public holidays these places are filled with extended families at huge tables, tucking into lamb, salad, chips and draught wine.
A variation is paidhaqe, lamb ribs grilled over charcoal. Town restaurants are more likely to serve pork or veal (the calves are not kept in crates and are much older when they are slaughtered than the milk-fed veal calves which used to be eaten in Britain). 
Sheep's heart, liver, kidneys, brains and other organs are very popular. In the big cities, it is not always easy to find restaurants which serve these things, but they always exist and can be tracked down by asking. Albanian specialities include paçë koke, a thick soup made with sheep's head which is a traditional breakfast dish, and kukurec, chopped innards in a gut casing.
Traditional Albanian home cooking uses vegetables, yoghurt and cheese to make meat go further. Potatoes, aubergines, courgettes, peppers and cabbage are all stuffed with minced meat. Pieces of veal are simmered with aubergine, spinach or green beans, or braised in a terracotta pot with pickling onions (mish çomlek).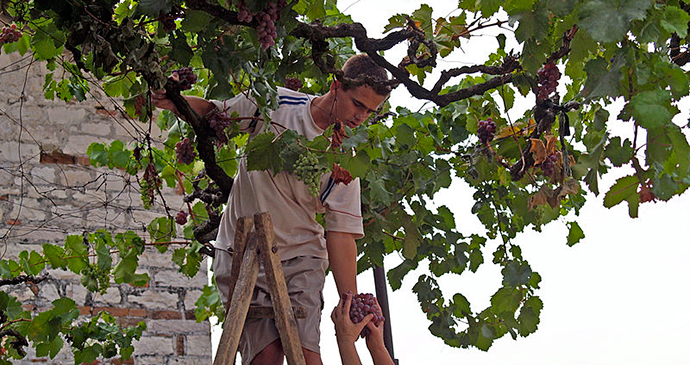 For turli, different vegetables – carrots, aubergines, potatoes, okra or anything else the cook has to hand – are layered with slices of tomato around a veal joint and simmered. Fergesë is made with green peppers and onions, fried together and then mixed with egg and gjizë, a dry curd cheese, before being baked. Pieces of meat or liver are sometimes added to fergesë. In tavë Elbasani, or tavë kosi, yoghurt and eggs are beaten together and poured over pieces of lamb or mutton, before the whole thing is baked in the oven.
Desserts are not usually eaten after meals in Albanian homes. On special occasions xupa might be served, a kind of blancmange sprinkled with walnuts. Sweetmeats are more often eaten with coffee during the xhiro, the early evening promenade. Kadaif and halva will be familiar to anyone who has visited Turkey or Greece, or indeed ever been in a Turkish café. Shëndetlli is a kind of fruit cake, steeped in honey.
Drink
The draught wine in provincial restaurants is normally rather young, but can be very drinkable. Albanian wine in bottles is often excellent. The main wine-producing areas are around Korça and Berati and between Lezha and Shkodra. Most Albanian vineyards use well-known grapes such as Sauvignon and Cabernet.
Beer is brewed commercially in Tirana, Korça (the oldest brewery in Albania) and Vlora; the Tirana and Korça breweries produce dark beer as well as the more widely available lager. Locally produced beer is available in a few other towns, such as Puka.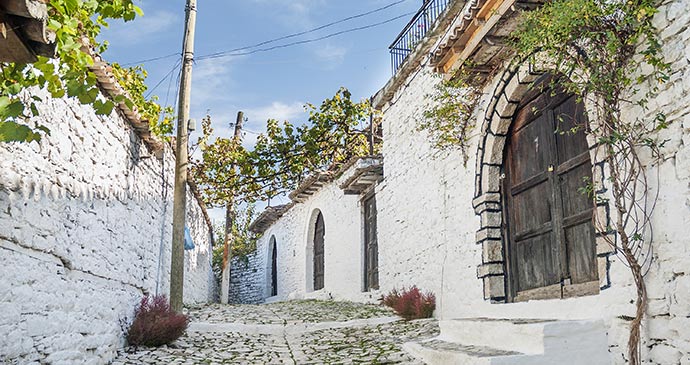 Of the other Albanian alcoholic drinks, raki is the most widely consumed. Despite its Turkish name, Albanian raki is not flavoured with aniseed as it is in Turkey. It is a clear spirit, usually distilled from grape juice, and drunk as a morning pick-me-up, an aperitif, a digestif, or at any other time of day. Albanians also make raki from mulberries (mani), brambles (manaferre) and practically any other soft fruit they can lay their hands on.
Coffee is an even more integral part of Albanian life than raki. Having a coffee with an Albanian takes an absolute minimum of half an hour. Traditionally it was made in the usual Balkan way, with very finely ground coffee, water and sugar all boiled together in an individual pot – in Albanian it is called kafe turke. This is usually what you will be offered in Albanians' houses. In cafés and restaurants in all but the very smallest towns, Italian espresso machines are the norm, when there is electricity to operate them.