Eating and drinking
Accommodation
Eating and drinking
Abridged from the Eating and drinking section in Uruguay: the Bradt Travel Guide
Although Uruguay is famed for its steak and other meat products (even better than Argentina's, at least according to the Uruguayans), there's also a great range of Italian dishes in almost all restaurants which makes the country surprisingly welcoming to vegetarians (restaurants and bars are also now smoke-free). There's also a strong Spanish influence (especially in seafood, where the Basques excel), as well as Slav and Jewish influences.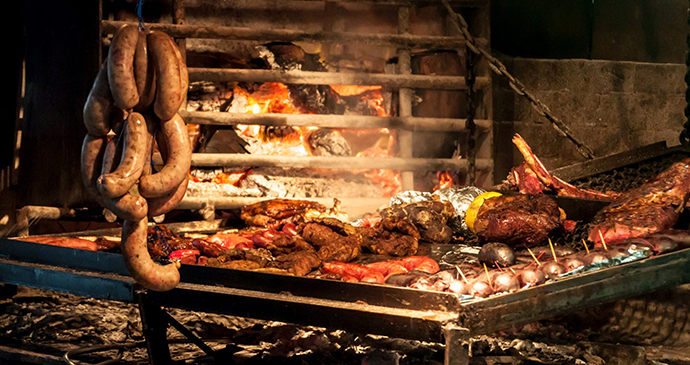 Uruguay is famed for its meat products © Matyas Rehak, Shutterstock
A meal should begin with offal – mollejas (sweetbreads), intestines, chorizo sausage – although strangely gringos often choose to skip this stage, or to have provoleta (grilled provolone cheese with herbs). Then comes the full asado or parrillada, a grilled selection of lomo (steak), chops, ribs and sausages (including morcilla blood sausages), with some grilled chicken for light relief. Potatoes and bread are frowned upon as unnecessary distractions that just fill you up and distract you from the main mission of eating meat. A few peppers, yams and other vegetables are, however, grilled alongside the meat, and use of the ubiquitous and very tasty chimichurri sauce is also encouraged.
If this kind of assault course is not what you feel like, a lighter alternative is a chivito, which is really Uruguay's national dish, not found in the neighbouring countries. In Argentina a chivito is a young goat, as the name implies, but in Uruguay it's a sandwich of skirt steak, with lettuce, tomato, mozzarella, olives and mayonnaise, with possible extras such as fried egg, grilled peppers, beetroot, palm hearts, pickles and ham, served with chips (French fries).
Another Uruguayan speciality is pamplona de cerdo or stuffed rolled pork (although chicken and beef can also be used), with meat wrapped around cheese, chopped olives, peppers and whatever else the chef fancies. The cheese is often very bland, but with something more interesting this can be a delight.
It's also traditional to order faina, a very thin chickpea pancake topped with white pepper, that's derived from the Genoese farinata. Muza topped with faina is known as pizza a caballo (pizza on horseback).
The quintessential restaurant dessert is flan or crème caramel (usually casero, 'homemade'), which can be served with dulce de leche on top. German strudel is popular, most often with an apple filling, while budín inglés (English pudding) is a fruit cake that's associated with Christmas and New Year's Eve.
Drink

Uruguay's national drink (even more so than Argentina's) is, of course maté, the infusion of the leaves of Ilex paraguariensis, a shrub of the holly family. Uruguayan wine can be excellent and almost any restaurant will serve something decent. While it's red wine you need to go with steak, white wine is very popular and is also served with orange juice (as sangría) and with apples, grapes and perhaps melon or pineapple (as clericó). Grappa (brandy) can be quite strong but is made much smoother with the addition of honey, the result being known as grappamiel.
Accommodation
There's a good range of places to sleep in Uruguay, although the country does not have the residenciales (cheap guesthouses) found in neighbouring countries (in fact residencial here refers to a home for senior citizens). In Montevideo there's a very wide choice, from international-class luxury hotels to real dives, as well as several hostels.
Hotels
Cheap hotels often have a choice of rooms with private (en-suite) bathrooms or with shared bathrooms down the corridor; in the latter case you'll probably have a basin in the bedroom, but the hot tap won't work. The showers, however, always produce very hot water, and are far better than the useless Brazilian showerhead heaters. Check-out is usually at 10.00, with check-in from noon.
Better hotels usually claim at least one more star than they'd qualify for in the northern hemisphere – thus the many four-star hotels in Montevideo's Centro are really worth three stars at best. However, the luxury hotels around Punta del Este really are world class.
Moves to stimulate the economy in 2009 included exempting foreigners paying hotel bills by credit or debit card from IVA (value added tax).
Hostels
Some hostels are affiliated to Hostelling International; there's also the looser HoLa grouping of green-minded hostels. There are many other backpackers' hostels in Colonia, Punta del Este and elsewhere. You should bring your own towel if you plan to stay in hostels, plus a padlock for the lockers provided in most of them.
Campsites
Many Uruguayans use campsites for day use only (although they bring enough gear for a week's stay), but you should be able to camp overnight. There are 44 major campsites, all along the coast of the Atlantic and the Río Uruguay, that offer pretty decent facilities, although not luxury. These have chalets or cabañas for two to eight people, the larger ones with private bathrooms, that provide more comfort than a tent. In the smaller beach resorts there are many cabañas and cottages to rent – most Uruguayans just turn up and wing it, looking for alquila (for rent) signs, or they just call the number they call every year, but foreigners may need to use an agency.