You do not want to tell other people about it, for fear of spoiling it for yourself. And yet, at the same time, you do want to spread the word because you love it so much.
The bicentenary celebrations of Paraguayan independence in 2011 prompted a 'face-lift' of the capital city, Asunción, and there has been a rapid growth in facilities for visitors since then. The city now has a burgeoning bar and café scene, while its eastern counterpart, Ciudad del Este, is a neon-swathed boomtown.
Yet dig a little deeper and a different picture emerges: Jesuit ruins echo with centuries of history, rural families keep craft traditions alive and everything stops as people share a leisurely drink of tereré.
And beyond lies the country's incomparable natural beauty, from the wild wetlands of Ñeembucú with herons flying overhead to the vast arid grandeur of the Chaco with its jaguars and bottle trees.
You can explore savannahs dotted with palm trees and red-earth roads, empty river-beaches, damp Atlantic forests, or the wild Chaco's 'green desert', all without running into another foreigner.
You can swing in a hammock chugging slowly upriver, and enjoy some of the best birdwatching in the world. Folk dance, harp-playing and handicraft – particularly in lace-making and filigree silver jewellery – are vibrant, living traditions.
This is still a bilingual nation, with Guaraní spoken alongside Spanish – its character shaped by the legendary Jesuit missions with their romantic ruins and fine sculptures of saints, where the indigenous remained protected from European exploitation for over 150 years.
Paraguay is an emerging tourist destination. It is rapidly improving its facilities but is still mercifully free from tourist tat, and it remains a country with its own traditional culture. Discover it now while it is still authentic.
Margaret Hebblethwaite, author of Paraguay: the Bradt Travel Guide
Related books
Related articles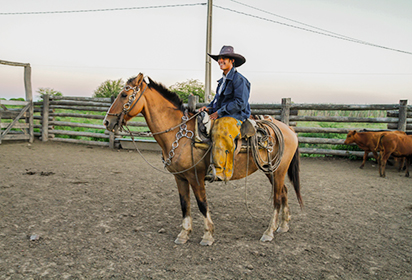 From the rolling fields of the campo to the craft towns of the Circuito de Oro, Paraguay is a place of great contrasts.