Eating and drinking
Accommodation
Eating and drinking
The food on the islands is very British in character with much use made of the homegrown vegetables, local lamb, mutton, beef and fish. Portions are habitually on the generous side with smoko – homemade cakes and biscuits with tea or coffee – being enjoyed in the gaps between meals. Diddle-dee jam and teaberry jam can sometimes be found, the latter being more seasonal and the former often sold in the shops in Stanley. Homemade soup with fresh homemade bread is a common meal at lunchtime and is often welcome after a morning spent wildlife watching. For those looking for something a little different upland goose pate is available as a starter in some restaurants with toothfish (Patagonian sea bass) also a popular choice for a main course. Other fish options can include locally caught trout and mullet. Outside of Stanley there is nowhere to eat out other than the lodges and the larger guesthouses, and then only by prior arrangement. The range of places to go out for a meal in Stanley is changing all the time, from a la carte through to fish and chips and bar lunches.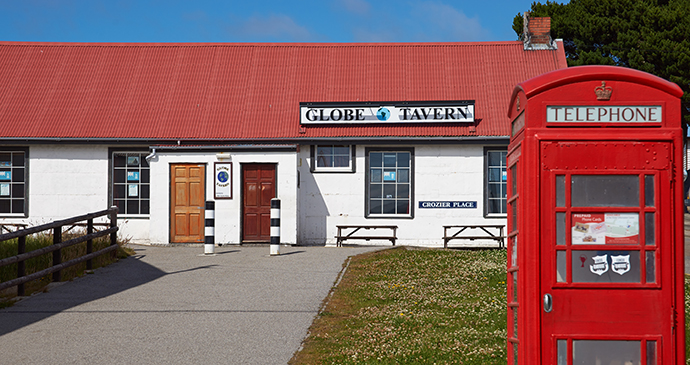 The Globe Tavern is one of Stanley's six pubs © JeremyRichards, Shutterstock
All lodges across the islands are licensed and stock a good range of beers, wines and spirits. The same can be said for the hotels in Stanley. There are also six pubs in Stanley. Most alcohol is imported into the islands and, despite the transport costs, drinks are not as expensive as might be expected owing to the differing tax levy between the islands and the UK, the main source of the imported drink. Draught beer is now brewed on the islands by Falkland Beerworks again after a short-lived brewery in the late 1980s. This Stanley-based brewery opened in 2012 and has been producing four beers: 'Rock Hopper', a natural blonde at 4.2% ABV; 'Longdon Pride', a best bitter at 4.2%ABV; 'Peat Cutter', an oatmeal stout that is a little stronger at 5.5% ABV; and 'Black Tarn', a dark mild at 3.4% ABV. More recently, they have added 'Iron Lady', an IPA (India pale ale) at 5% ABV to their list. Some of these are available on draught in the Victory Bar and at the Malvina House Hotel in Stanley, with bottled beers available at the Waterfront Hotel. Stocks can run low after visits from the larger cruise ships to Stanley.
Accommodation
The accommodation of the islands varies from hotels, to guesthouses, to self-catering and camping. The rates charged vary according to season, so each establishment should be contacted to confirm charges at the proposed time of travel. Popular destinations such as Sea Lion Island, Saunders Island, Pebble Island and Carcass Island can get booked up very early so it is a good idea for independent travellers to get these key accommodations booked in first and arrange other stops around these dates. The local agents are very good at getting this jigsaw puzzle of accommodation to work, but it can mean flying back and forth across the archipelago.
As can be expected, Stanley has the greatest range of accommodation: from the largest hotel, the Malvina House Hotel, to the small B&Bs that also allow camping in their gardens. Some of the latter are recently refurbished and so have a more modern style of decor while others are more traditional, very much like the older-style B&Bs still found in the UK.
In camp there is usually only one place to stay in any given location. These vary from the purpose-built, fully catered lodges such as that on Sea Lion Island and the fully catered, converted farm manager's houses, such as can be found at Port Howard or Pebble Island, through to the smaller self-catering places, typically in some of the smaller settlements on West and East Falkland. These smaller, self-catering properties have become more popular in recent years since the advent of roads connecting all major settlements. They are usually less expensive and less busy, except during holiday periods and in peak summer and are ideal for independent travellers with their own transport as well as being popular with the Falkland Islanders looking for a few days' break.
There are no official campsites on the Falkland Islands. Camping is permitted in certain areas but only with the owner's permission which is best sought by phone when on the islands. Some areas of a farm may well be out of bounds during the spring lambing season (September/October). Campers are usually required to be completely self-sufficient. Certain guidelines should be obeyed, and any further requests by the owners. Four farms owned by Falkland Landholdings Ltd (Fitzroy, Goose Green, North Arm and Walker Creek) allow camping. As above, permission must be granted by the manager.