Dorset is ideally suited to the growing and savouring of seasonal, traditional and local food; its fertile soils, long farming history and food heritage combine to provide a rich variety of tasty treats, from fish caught off the Dorset coast, to artisan cheeses, breads and ciders.
Food
A visit to Dorset would not be complete without sampling Dorset Blue Vinny cheese, Dorset apple cake and Moores Dorset Knob biscuits. And remember, Devon does not have a monopoly on cream teas – the Dorset version is just as delicious. You will find many artisan food producers and suppliers plus numerous local food festivals.
Self-caterers are spoilt for choice when it comes to stocking up the pantry, and a picnic is a great way to enjoy the Dorset countryside. Rather than trudging around the supermarket, you can make gathering your ingredients into a treasure hunt by calling into local bakeries, farmers' markets and farm shops.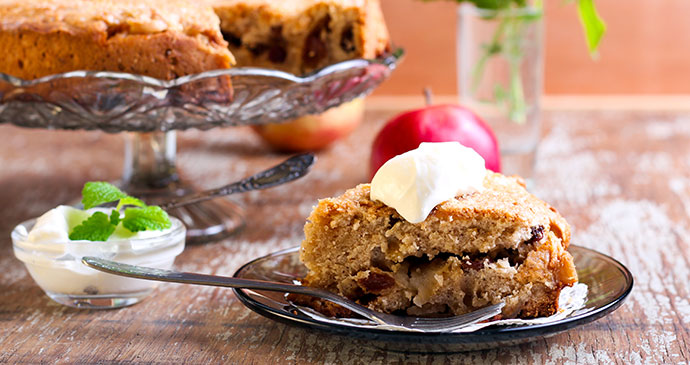 As you are exploring the country lanes, look out for handwritten signs promising free-range eggs, homemade jams, honey, gooseberries and the like, which usually sit on a wonky table next to an honesty box. For dessert you can pick up one of the local farmhouse ice creams, such as those made by Barford Ice Cream and Purbeck Ice Cream.
Drinking Dorset
To wash down your Dorset meal, you could try a locally made cider, like Cider by Rosie. In early October, apple pressing days are held around the county, and many places invite you to bring your own apples for pressing.
My late friend, Alf Wallis, remembered the days when badger leg was eaten in Dorset pubs; happily these days when you hear someone ordering a half a Badger in the pub they are after a beer from the Hall & Woodhouse Brewery. Dorset is well stocked with breweries, such as the Piddle Brewery and Palmers.
The county produces its own wine, thanks in no small part to its temperate climate. Available at farm shops, delicatessens and independent supermarkets. Furleigh Estate near Bridport is a dairy farm that has been transformed into a winery producing white, red, rosé and sparkling wines. Cellar door sales are available and winery tours take place on Fridays and Saturdays, plus Wednesdays in summer.
Wines from the Sherborne Castle Vineyard are available at the castle shop and other local outlets. Melbury Vale Vineyard sells its wines and liqueurs in shops and restaurants in the Shaftesbury area, and also at their winery shop. With 30 acres of land and 38,000 vines, Langham Wine Estate is the largest vineyard in the southwest of England. Winery tours can be booked online, and a tasting room and café operate in August and September. Lyme Bay Winery produces delicious fruit wines and fruit liqueurs, as well as cider and mead.
As we all know, dairy farmers have had to diversify. A creative diversification is Black Cow vodka, a smooth vodka made from milk and with a distinctly creamy quality. It is available in delicatessens and farmshops around Dorset.
For our author's selection of recommended places to eat see Slow Travel Dorset.