It's not so long ago that Cornwall's culinary identity rested squarely on its traditional pasties and cream teas, while crab sandwiches and early asparagus were push-the-boat-out treats. And it would probably be fair to say that until recently (with one or two noble exceptions) Scillonian cuisine was best described as…conventional.
How things have changed! Both Cornwall and Scilly have completely reinvented themselves as high-class foodie destinations and I'm struck by the pace at which this change is occurring. It started, we all remember, with Rick Stein in Padstow, who was followed by a large scoop of celebrity chefs nailing their colours to the Cornish mast and doing much to promote not only the superb local seafood but also award-winning Cornish cheeses, meats and charcuterie.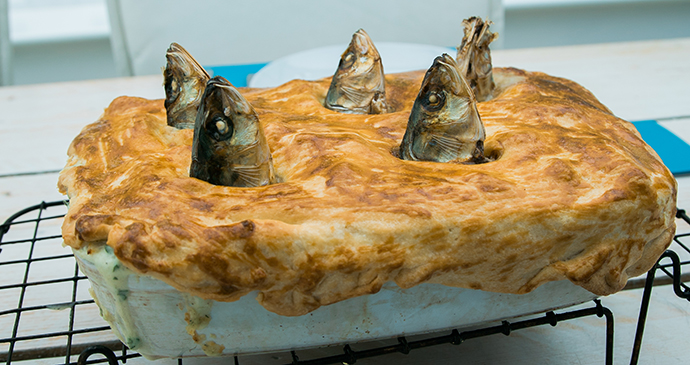 But Cornwall's reputation as a top foodie destination has changed direction over the past few years. You no longer have to go to the big-name restaurants in Padstow, Newquay or Rock to fall in love with Cornish food, for even larger crowds seem to be drawn to places like Simon Stallard's Hidden Hut – a coast-path café near Portscatho, where outdoor evening cook-ups sell out online in seconds.
A host of other informal venues that celebrate seasonal, local produce cooked simply but with passionate regard for the quality of the ingredients –and often served at shared convivial tables – have sprung up. Canteen in St Agnes, The Kitchen in Falmouth, The Crab Shack on Bryher or the Tanglewood Kitchen Company and On the Quay in St Mary's are all places where solo travellers feel as though they are among friends, drawn together by a love of good food, cooked by good people.
Nor do you have to eat out to get a taste of the way things are heading. I admire the way that village and community shops have pitched in to support local producers and I've derived huge pleasure, while researching this edition, from making a point of buying all my weekly groceries – from salt and ketchup to flour and teabags – from Cornish suppliers or producers in village shops and from farmers' markets and the Great Cornish Food Store in Truro.
A rising number of artisan bakeries – Vicky's, Baker Tom's, Stones, Da Bara's – have acquired devoted followings too, and the peculiarly Cornish saffron bun is selling in record quantities from Sennen to Bude. Ice cream has also become an artisan affair, and coupled with the Kea plum that most desirable and local of fruits – is something you'll not find anywhere else in the country. Cornish-grown and blended tea? Look no further than Tregothnan. Gorse-flavoured chocolate? That's made in Cornwall, too.
Cornish ciders, ales, craft gins and wines have made a powerful impact on the drinking scene in recent years: there are almost 50 Cornish and Scillonian breweries and micro-breweries at the time of writing, while ciders made with Cornish apples can hold their own among the best that Devon and Somerset can offer and the latest generation of sparkling wines from Camel Valley and Polgoon continue to scoop awards by the bucketful.
And as for gin… I'm not alone in thinking that Westward Farm on St Agnes in the Isles of Scilly produces some of the finest botanical flavoured gins ever tasted. No doubt about it: Cornwall and Scilly have become hugely rewarding destinations for foodies of every persuasion.
With such an abundance of local produce and culinary talent, it's no surprise to discover that Cornwall and Scilly host more festivals dedicated to food and drink than any other region of Britain. Some celebrate a local speciality, such as the Falmouth Oyster Festival or the Newlyn Fish Festival, others bring all kinds of specialist growers and producers together, like the Great Cornish Food Festival in Truro, the Food and Farming pavilion at the Royal Cornwall Show in Wadebridge, or the Taste of Scilly Festival held every September – a wonderful excuse for an island-hopping, gastronomic adventure. Porthleven, St Ives, Mevagissey and Rock are also riding the wave of success, hosting food-and-drink festivals that attract greater numbers each year.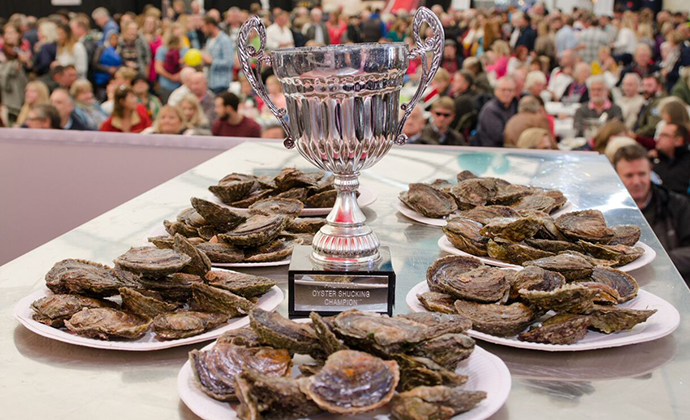 Away from the hustle of the foodie-fests, I've also discovered the joys of foraging in Cornwall. Rachel Lambert (www.wildwalks-southwest.co.uk), a neighbour of mine when I lived near Penzance, introduced me to the thrill of returning to the kitchen with a bag filled with fresh green alexanders, wild sorrel, crunchy pennywort, pungent threecornered leeks and young nettle tips. I must give special mention also to Liz Woods, whose blog, Feasts and Festivals, opened my eyes to the rich traditions of celebratory Cornish cooking, from stargazy pie to hot spiced cider; the blog became a book, Cornish Feasts and Festivals (Alison Hodge, 2013); and the recipes are now an established part of my own culinary adventures.
Another individual making tireless and inspirational efforts to promote quality Cornish produce is Ruth Huxley. Her books, The Great Cornish Food Book (Cornwall Food and Drink Ltd, 2014) and its companion volume The Great Cornish Fish Book (Cornwall Food and Drink Ltd, 2015), present a very contemporary picture of the richness and diversity of the Cornish culinary scene and are highly recommended. Ruth has also been instrumental in the opening of a terrific shop called, appropriately, Great Cornish Food, beside Truro's new (and long-awaited) Waitrose.
So, what has become of the humble pasty and cream tea? The good news is that they are as popular as ever, but the bar has been significantly raised. The long-established supremacy of Ann's Pasties is now challenged by the likes of Nicola Willis at The Dog and Smuggler in Falmouth, or Aunt Avice's Pasty Shop in St Kew Highway. And a Cornish cream tea – jam first, cream on top unless you want to be thrown out of the county and into Devon where they practise the heresy of putting cream on first – is still a fine objective for a clifftop or moorland walk.
For our author's selection of recommended places to eat see Slow Travel Cornwall.