Get better acquaintainted with national hero Amir Timur in his hometown of Shakhrisabz.
There has been a settlement here, in the upper reaches of the Qashqa Darya River, for at least 2,700 years. The modern highway from Samarkand overlies a much older route across the mountains, but though it was a well-situated trading post, it would never have come to our notice if it were not for the city's most famous son: the 14th-century emperor, Amir Timur.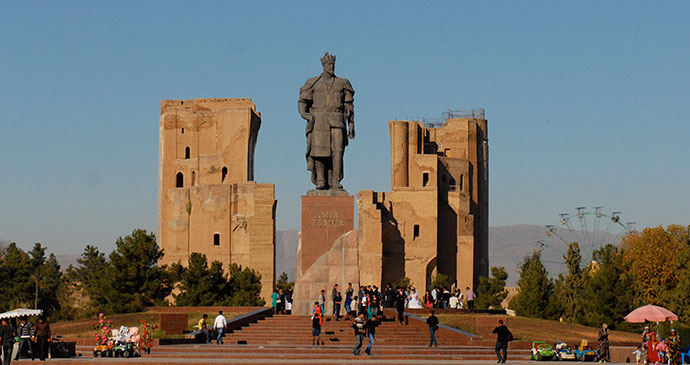 Amir Timur dominates Shakhrisabz, and quite rightly so. Join the throngs of wedding goers in Amir Timur Park to have your photo taken with the modern bronze statue of the great man himself and, more importantly, to see what's left of the Ak Serai, his once-mighty palace with its unrestored medieval tilework. Then head through the park to the Dor at-Tilyavat and Dor as-Siadat for the Timurid mosque and family necropolis.
There is very little in the way of practicalities here (including no ATMs). Everything is in limbo until the town recovers from the clearing of the Old Town and redevelopment – until then, bring essentials from Samarkand.