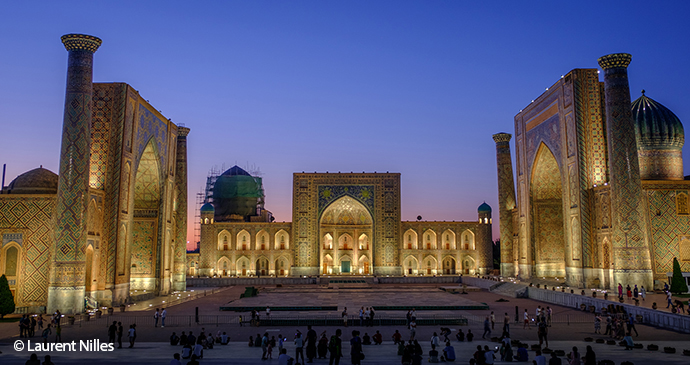 The Registan is one of the world's greatest examples of medieval Islamic architecture © Laurent Nilles, @societyofexploration
The manmade wonders of Samarkand never cease to amaze even the most sated of culture vultures. A dynamic city of well over half a million people, Samarkand is quite rightly a must-see stop on every tourist's itinerary.
Buildings of breathtaking beauty in the heart of regal Samarkand caught imaginations long before Flecker's and have continued to do so ever since. Medieval merchants must have marvelled at every sight, from the exotic goods on sale to the spectacular manmade backdrops of madrasas, mosques and mausoleums. Centuries on, visitors are still struck by the beauty, the number and the scale of Samarkand's architectural sites, and are often moved by thoughts of the ambition, dedication and, no doubt, personal sacrifices required to turn dreams into concrete reality.
The Registan Square, with its three exquisite madrasas, is Samarkand's biggest draw and makes for a picture-postcard scene. It's far from the only attraction, however, as the ruins of Afrosiab, the observatory of Ulug Beg and the Shah-i Zinda, the necropolis of the Living King, are sights that you'll never forget. The time of year you visit Samarkand will have a significant impact on your experience: coming out of season, especially in the autumn months, will enable you to get close to the building's physical details and to linger for as long as you like. The city always was a bustling, cosmopolitan place, however, so even if you are sucked into the summertime crowds, your experience will be no less authentic: the residents of Samarkand have for centuries made money from the foreigners passing through.