Eating and drinking
Accommodation
Eating and drinking
Uzbek food is typically Turkic, dominated by mutton, noodles and bread, but with many Persian flavours added, such as saffron, pomegranate, pistachio, almond and dried fruit. Uzbekistan's national dish is plov (also known as osh), an oily rice-based dish with pieces of meat, grated carrots, onions and, if you are particularly fortunate, roasted garlic and hard-boiled egg. It is typically only available at lunchtime, and is popular at weddings and other large celebrations when male chefs (oshpaz) cook huge quantities outdoors in giant dishes known as kazans. Plov is invariably washed down with green tea, its astringency helping to cut through the mutton fat.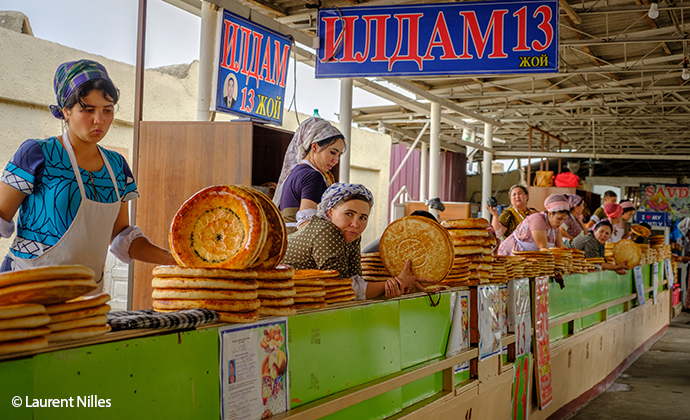 Round flat breads are served at every meal and are treated almost reverentially © Laurent Nilles, @societyofexploration
Other notable national dishes include shurpa, a soup with fatty mutton and vegetables; norin and lagman, two mutton-broth soups with noodles that may also be topped with a piece of horse meat; dimlama, meat and vegetables stewed slowly in a tightly sealed pot; and the ubiquitous shashlik, grilled kebabs with cubes of mutton or beef and fat, which is considered to add to the flavour. For a quick snack, consider either manti (also called qasqoni and found across the Turkic lands), a steamed dumpling containing minced mutton, the similar chuchvara, or somsa, a fried or baked pastry parcel (not quite a samosa) that contains either mutton or, occasionally, mashed potato.
Every meal is accompanied by the flat, round loaves of bread known as non. The most common form, obi non, is cooked in a clay tandoor oven. Non is generally torn into chunks rather than sliced, and you should show respect by not placing it upside down on the table.
Vegetarians are in for a tough time: the concept is little understood, and even less frequently catered for. Meat-free versions of the classic Uzbek dishes tend to be pretty dull, but you should at least be able to get a Greek or achichuk salad, consisting of tomato, onion, cucumber and dill. Luckily, Uzbek breakfasts are excellent, with plenty of eggs, cheese, bread and fruit, and will set you up for the day. If you are in Uzbekistan in summer and early autumn, the country is bursting with fresh fruits. Stalls in bazaars and by the roadside sell an amazing variety at knockdown prices.
An Uzbek's veins run with tea as much as blood, and the chaikhana (tea house) is central to any community: people go to do business as much as to gossip and relax. Green tea (zilloniy chai) is most common in the provinces, but black tea (chorniy chai) is preferred in Tashkent. Both are available wherever you go, but expect a funny look if you want your tea with milk (tea with sugar is fine). In summer you may also be offered ayran or kefir (chilled yoghurt drinks).
Accommodation
Uzbekistan has hotels for all budgets, and types of accommodation range from large, Western-style hotels to converted madrasas (religious schools), and family-run guesthouses to desert yurt stays. At the top end of the market (luxury and upmarket), Tashkent has hotels with marble bathrooms, quality restaurants and hot- and cold-running 'flunkies'. They typically fall into the four-star bracket, though the prices they charge might suggest otherwise.
Mid-range hotels are a mixed bag, with some charging excessive sums for fairly basic facilities. The Soviet-era hotels often fall into this bracket, and are generally to be given a wide berth, but there are also an increasing number of pleasant, affordable choices. The best options are in Bukhara, Khiva and Samarkand, where competition has led to an improvement in quality but kept prices low. The midrange bracket also includes a small number of boutique or heritage hotels, where historic buildings have been restored and converted into atmospheric places to stay. In addition to an attractive exterior, you can expect your room and public spaces to have ornately plastered or hand-painted ceilings, antique or hand-craft ed furniture, and colourful, locally produced textiles.
Uzbekistan has plenty of budget rooms. Family-run guesthouses (some now calling themselves hostels) are frequently the best option (and ideal for meeting other travellers); many of them offer beds in shared dorms as well as simple doubles. The room rate typically includes breakfast, and hosts may be able to arrange evening meals as well. Uzbekistan has a small number of homestays, all of which fall into the budget bracket. The purest homestays are the yurt stays around Aidarkul where you will stay with a family in their traditional tent and see how they really live: tourists bring additional (and much-needed) income but host families do not lay on facilities over and above what the family already requires.
Shoestring options typically provide accommodation in dormitories; you may have a basic single bed or, more likely, a mattress and blankets on the floor. The bathrooms, as you might expect at this end of the market, are a little bit hit and miss, so prepare yourself for the occasional squat toilet and cold water in a jug.
Campsites are relatively uncommon in Uzbekistan and those informal sites that do exist are frequented almost entirely by foreigners. While it is permitted to camp in the national parks and in the deserts (for example at the camel camps), setting up a tent in other public places is generally frowned upon. If you wish to put up a tent on private land, you will need to ask the owner and will usually be expected to pay a few dollars for the privilege.