Climate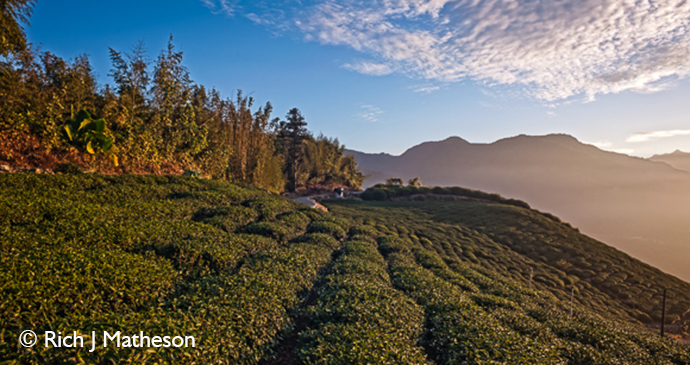 As you'd expect of a country that straddles the Tropic of Cancer, Taiwan is wet and warm. Seasons are distinct in terms both of temperature and the likelihood of rain. Daytime highs of 38°C have been recorded in urban areas during the summer. In December and January, northerners shiver as the mercury hovers around 10°C. The south doesn't get so cold, but jackets and gloves are essential if you're out early in the morning.
Taiwan's annual average rainfall is 2,471mm. The north gets more than the south; the north's wet season is longer but less pronounced. A few places near Keelung receive close to 6,000mm of rain in a typical year. Taipei (an average of 170 rainy days per year) is noticeably wetter than central Kaohsiung (92 wet days each year). The ROC's outlying islands are relatively dry: Kinmen gets just 1,049mm of rain a year. Snowfall is uncommon below 2,000m in the northern half of Taiwan and below 3,000m in the south.
Taipei gets 1,408 hours of sunshine per year. Kaohsiung gets 2,082 hours, while in Tainan – where they used to produce salt by using sunshine to evaporate seawater – the annual average total is 2,264 hours. The days are relatively short, even in summer. In Taipei in early July, the sun rises about 05.10 and sets before 19.00. At the end of December, the times are around 06.40 and 17.20.
Taiwan's Central Weather Bureau publishes detailed English-language forecasts on their website.
When to visit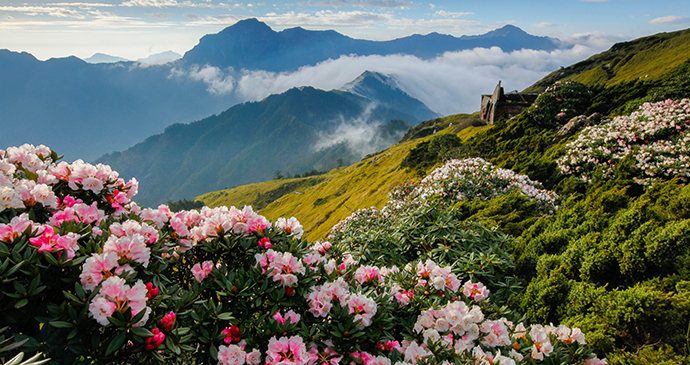 Even if you're sure you can endure the heat and humidity of a Taiwanese summer, avoid July, August and early September because of the typhoons that blow in from the Pacific. From late June to the end of August, thousands of local college students crowd Kenting National Park and Green Island. Yet for those who can handle the temperatures Taiwan's summers are wonderfully vivid: the skies are blue, the rivers are full and mountain peaks are clearly visible from the lowlands, and butterflies and flowers are abundant.
Overall, October to March is the best period to visit because temperatures are comfortable and there's little chance of getting caught in a downpour. That said, it can get downright frigid in the mountains. Because of landslides, mountain areas are occasionally inaccessible during the summer wet season. The best times of year for high-altitude hiking – or any kind of mountain exploration – are October to November and the early spring.
During the colder months, excursions to Penghu County and Orchid Island are less pleasant and more prone to delays. People with very sensitive respiratory systems should avoid Taiwan's southern lowlands during the winter because air quality declines during the season's long dry spells. Also, don't come around Lunar New Year – accommodation rates go through the roof, trains get booked out and the roads are jammed with sightseers and people visiting relatives.
Calendar
January
Train your binoculars on black-faced spoonbills
Drawn by Taiwan's mild winters, vast numbers of waterbirds descend on wetlands and abandoned salt pans along the island's southwest coast. Among the star avians are the rare and elegant black-faced spoonbills.
February
Grab your helmet for Yanshui's Beehive Fireworks Festival
Marking the defeat of a 19th-century cholera epidemic, this audience-participation fireworks celebration is to east Asia what running with the bulls at Pamplona is to Europe. Don't go anywhere near the frontline without a full-face motorcycle helmet, gloves, multiple layers of clothing and a scarf to prevent stray rockets from getting under your visor.
March
Witness tang-ki in action at Nankunshen Daitian Temple
Nankunshen, one of Taiwan's busiest folk shrines, is also the best place in Taiwan to see tang-ki, entranced spirit mediums who cut and slash themselves to demonstrate the protective powers of the gods which possess them.
April
March with the sea goddess
On the 23rd day of the third lunar month (usually late April) over a million devotees of Taiwan's most popular deity, the sea goddess Mazu, celebrate her birthday with an immense parade and a nine-day pilgrimage through central Taiwan.
May
Springtime is outdoors time
As the mercury rises and the first rains falls, Taiwan's countryside bursts into life. Wildflowers are everywhere; creeks gurgle and dragonflies flit across ponds. Get away from the cities and off the main roads. Rent a bicycle or explore the National Trail System.
June
Relax in Meinong's glorious Yellow Butterfly Valley
Lemon emigrants are just one of this valley's 110 butterfly species, but they dominate between May and July. Bring a picnic and paddle in the pristine stream before returning to downtown Meinong for a Hakka-style meal.
July
See Taiwan from the air
A recent but hugely popular addition to the tourist calendar, the Taiwan Balloon Festival runs through the summer from its base at Luye, a district in the southeast renowned for tea-growing and paragliding as well as stunning scenery.
August
Carry sunblock and an umbrella
Typhoons are a distinct possibility at this time of year, and if you're told one is coming, plan to spend the next few days in a major city, visiting museums and restaurants. Between showers expect scorching sunshine and dazzlingly blue skies.
September
Tour temples in Tainan
Like Kyoto, Tainan is a former capital which has retained a huge amount of traditional character. The city's Confucius Temple is one of the most sublime in Greater China, but no walking tour is complete without stops at the shrines where the city god, Guan Gong and the Jade Emperor are worshipped.
October
Hike in the high mountains
The wet season is over but the days haven't shortened too much, making it the best time of year to tackle Mount Jade (3,952m) or Snow Mountain (3,886m). If you lack the energy to climb, dip your toes into Taiwan's alpine national parks at Tataka or Wuling Farm.
November
Pedal your way through the east
Taiwan's east has few of the island's people and virtually none of its industries, yet a disproportionate share of the country's natural attractions. Cycle from Hualien to Taitung on Highway 11, the coast road, then return through the stunning East Rift Valley on Highway 9 and Road 193. Really serious cyclists can attempt the King of the Mountains Challenge through Taroko Gorge.
December
Head to the beach
Christmas isn't widely celebrated in Taiwan, and locals save their cash and vacation time for the Lunar New Year around the end of January, so everywhere is open but nowhere gets crowded. Kenting National Park is a good choice this month as the weather is reliably dry and sunny yet uncomfortably hot. Also, the scuba diving is good year-round.