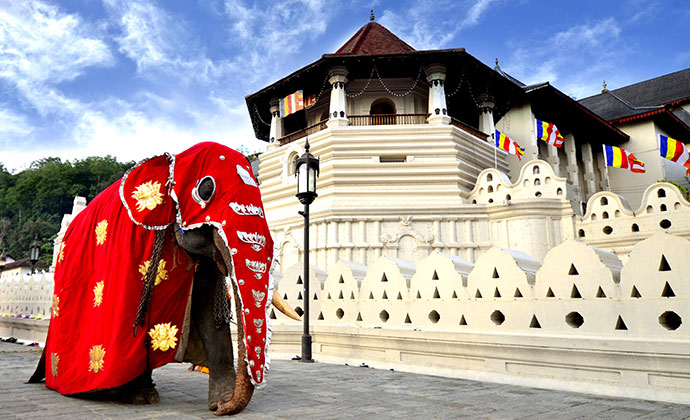 Those wanting to visit cultural sites like Temple of the Tooth should worry less about rainfall patterns © claire, Shutterstock
Sri Lanka can be visited at any time of year, provided that you tweak your itinerary to allow for regional seasonal variations that are unusually divergent for such a small country. Climatically, the popular west and south coast of Sri Lanka are at their best during the winter months (December–April), when the sea is calm and rainfall is relatively low.
By contrast, the less feted but increasingly popular east coast, from Trincomalee south to Arugam Bay, is driest and most agreeable to visit during the summer months (late April–September), while the little-visited north receives the bulk of its precipitation over the stormy months of October to December, leaving the rest of the year quite dry.
Rainfall patterns are less of a consideration when it comes to visiting Kandy and the archaeological sites of the Cultural Triangle, but ideally you would want to avoid the wettest months of October to December. The Hill Country around Nuwara Eliya and Ella has a more even monthly rainfall spread than the rest if the country, but the wettest months are again October and November, while the driest are January to March.
Sri Lanka has a near equatorial location and it mostly stands at altitudes of below 100m, which means that it tends to be hot and humid throughout the year, seldom dropping much below 25°C, even at night. Because it lies in the northern hemisphere, conditions are slightly cooler and more pleasant over the northern winter, especially from December to March.
The only part of Sri Lanka to diverge significantly from this sweltering tropical climate is the temperate Hill Country around Nuwara Eliya and Ella, which stands at altitudes of over 1,000m and is almost always moderate by day and cool by night. 
Another important factor in deciding when to visit is the extent to which you want to avoid the crowds. December to late April is the peak season in most parts of the country, but accommodation tends to be much cheaper from May to November (indeed, many establishments drop their rates by 50% out of season, and will negotiate even lower rates).
The more popular archaeological sites and temples in the Cultural Triangle also tend to be far less crowded and more enjoyable out of season. By contrast, visitors with a strong interest in wildlife will find the country to be at its best from November to April, when resident birds are supplemented by 100-odd migratory species from India and further afield.
Itineraries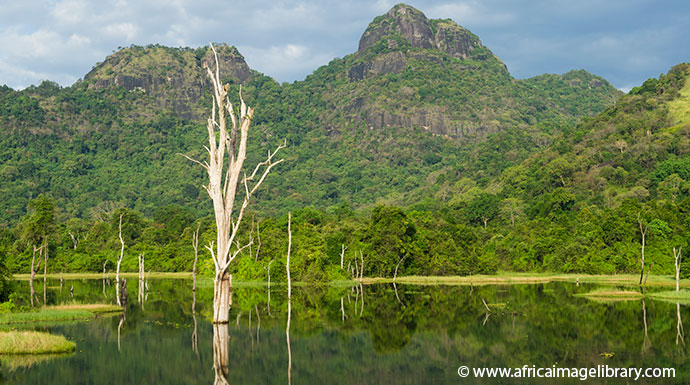 Visitors to Sri Lanka shouldn't miss out on a trip to its national parks © Ariadne Van Zandbergen, Africa Image Library
Many visitors to Sri Lanka are quite content to book into one or other beach resort for up to a fortnight, and to spend their days sunbathing, swimming and otherwise relaxing, possibly broken up with the odd excursion to the likes of Galle, Kandy or Yala National Park.
For more active travellers, the standard 10- to 14- day itinerary offered by most operators first takes you from Colombo or Negombo to the Cultural Triangle, where you could spend anything from one to four days exploring the likes of Anuradhapura, Dambulla, Sigiriya and Polonnaruwa. Many tour operators use one hotel, usually centrally located in Dambulla or Sigiriya, as a base for exploring the triangle, an approach that saves the hassle of moving hotel every day, but also means that you tend to end up exploring more outlying sites in the midday heat rather than the cooler and more photogenic early morning or late afternoon.
Heading south from the Cultural Triangle, it is normal to spend a couple of nights in Kandy, then to head to the High Hill Country around Nuwara Eliya, Ella and Adam's Peak, and on to Yala or Udawalawe National Park for a half-day safari, before settling into one of the beach resorts along the southwest coast for the rest of the duration. Travelling between April and August, a sensible variation on this route would be to slot in your beach stay on the east coast, which is far more amenable at this time of year.  
The route above also makes sense for independent travellers using public transport, though with longer than two weeks to spare, you could slot in additional diversions north to little-visited Mannar or Jaffna, spend a little more time exploring some of the less publicised sites that dot the Cultural Triangle, head east to the likes of Trincomalee and Arugam Bay, or settle into Ella or Dalhousie for a few days' walking in lovely hill country.
Indeed, with Sri Lanka being such a small country (about a quarter the size of the UK or Colorado), and well equipped with cheap and reasonably efficient bus and train services, it is very easy to explore whimsically, cutting across the country – from beach to town or archaeological site to national park – as the mood takes you.