The next thing I knew I was on the international Trans-Siberian Railway en route to Ulaanbaatar; the first leg of my journey had begun, and a long love affair followed.

Jane Blunden author of Mongolia: The Bradt Guide
Discover the history behind this incredible country, from prehistoric times to when Genghis Khan and his descendants established one of the world's largest land empires in the 12th century. Witness modern Mongolia emerge with many of its ancient traditions intact, alongside mining activities that have already transformed the capital, Ulaanbaatar, and some of parts of this vast country.
Mongolia is a fabulous wide-open land of extreme climate and extraordinary natural environment: it is the home of wild horses, of nomads herding cashmere goats, sheep, horses and camels; it is one of the last great undisturbed wilderness areas on earth. Participate in some of Mongolia's cultural traditions, attend a Naadam (games), take a turn at milking a yak or ride out with a party of Kazakh eagle hunters.
Enjoy Mongolia's wildlife, mountains, rivers and streams from horseback, or when driving and hiking under clear blue skies. Experience camping in the countryside or stay in the comfort of a modern Mongolian ger camp. Whatever you do, you are sure to leave this beautiful place with a sense of wonder and a desire to return as soon as possible.
Food and drink in Mongolia
Traditional Mongolian food
Traditional Mongolian food has two main ingredients – meat and flour, in some shape or form. The most popular dishes are buuz (small, steamed meat dumplings) and huushuur (flat meat-filled fried pancakes). There are also soups, plain steamed buns (mantuu) and salads (usually potato, cabbage or carrot), although increasingly green-leaf salads are finding their way on to menus. Mongolia is becoming a nation of urban gardeners (at least in the capital), producing lettuce on 30,000 private vegetable plots, much to the surprise of visitors who expect all Mongolians to be carnivores. In the past, Genghis Khan and his warriors survived on meat but many people forget that in ancient times, as well as today, Mongolians have supplemented their protein diet with local herbs and greens when they could find, or grow, them!
Out of necessity, Mongolians have found creative ways to use the milk of sheep, cattle, goats, camels and horses. Öröm is clotted cream; aaruul are the dried curds seen soaking up the sun on the ger tops in summer; and tsötsgii is cream. Tarag is a delicious sour-tasting yoghurt drink. Shar tos is made from melted butter and tsagaan tos is a mixture of boiled öröm with flour or fruit. Dried products are prepared during spring and summer to last over the long winter. One speciality is to cook the whole carcass of a goat, filling it with hot stones and roasting it on a spit over an open fire. Whole marmot is cooked in the same way.
Meat is usually mutton, boiled, fried in pancakes or served as dumplings. It can be fatty and taste strongly of sheep but it supplies the vitamins that are needed. A variation on this is borts – dried meat, usually beef and sometimes goat or sheep – similar to the South African biltong. It will keep for months and can jazz up otherwise dreary rice and noodles. The soldiers of the Mongol Empire used to keep dried meat under their saddles and chew a piece of it as they rode along. The strips of meat are incredibly dry and brittle but will soften up if broken into manageable pieces and stewed in boiling water. Beware of toothache if a piece of meat is trapped between your teeth. Travel with a good supply of strong toothpicks. During the summer, most families in the countryside dry large quantities of meat in preparation for the winter and, if asked politely, will be happy to sell you some.
Summer in Mongolia is known as the 'white season' and herders and nomads work around the clock to process milk – turning it into cheese and a variety of other products to last them through the winter. Rock-hard curd, fermented mare's milk, distilled milk resembling vodka (arkhi), soured cream, milk skin – the list is endless. Fermented horses' or camels' milk, known as koumiss or airag, is, most definitely, the most popular – a slightly fizzy, cheesy beverage which is both refreshing and thirst-quenching after a long day's ride. However, it is important not to overdo the intake of dairy products, as travellers are known to become ill. Mongolians attribute the problem to foreigners' guts!
Health and safety in Mongolia
Health
Thanks to the climate (although extreme) and its small population, Mongolia is a reasonably healthy place to travel. Some of the most likely hazards in Mongolia are from severe heat or cold. There are several immediate things to watch out for, such as sore throats from the dry atmosphere – bring plenty of throat lozenges – and the possibility of stomach upsets due to a change of diet. One of the best tips is to keep your fingernails very short and wash your hands more often than usual. Countryside cooking in Mongolia usually involves boiling or steaming. Vegetables and fruit are plentiful in the capital but not in the countryside, so you may need to travel with additional fibre in a pill form. Remember to drink plenty of water.
No vaccinations are compulsory for Mongolia but the following are the minimal recommendations – hepatitis A, typhoid, tetanus, diphtheria and polio. Other vaccinations to consider are hepatitis B, rabies and, for those who are travelling and camping in the northern provinces and coming in contact with ticks via animals, tick-borne encephalitis. Vaccinations for rabies are ideally advised for all travellers as there is unlikely to be all the treatment needed to prevent rabies in Mongolia, if the pre-exposure vaccines have not been taken. For those travelling in the spring and summer months who want to do forest walking then be aware of tick-borne encephalitis. There is a tick-borne encephalitis vaccine available for those aged one and above, which comprises a minimum of two doses given at least two weeks apart.
It is wise to go to your doctor or a travel clinic about eight weeks before departure to arrange your immunisations.
Travel clinics and health information
A full list of current travel clinic websites worldwide is available on www.istm.org. For other journey preparation information, consult www.travelhealthpro.org.uk (UK) or http://wwwnc.cdc.gov/travel/ (US). Information about various medications may be found on www.netdoctor.co.uk/travel. All advice found online should be used in conjunction with expert advice received prior to or during travel.
Safety
If a foreign visitor is arrested and taken to a police station, the visitor is entitled to make a telephone call. The police must contact the visitor's representative embassy within 24 hours of the arrest. To make life easier if you lose your passport, take extra passport-size photographs with you and a photocopy of the main pages of your passport, and a separate record of all details. An emergency one-way document can be issued by your embassy should there be insufficient time to replace a passport. Report the loss immediately to the local police. Report theft to the Ulaanbaatar Robbery Unit.
If you lose your cash or credit cards, Western Union is a quick and efficient way to have cash sent from home. Inform your bank immediately of lost cards (keep a record of details) and please don't forget that mobile phones are as important to report stolen as soon as possible – especially if you are under contract to a provider (keep a separate record of emergency numbers). For medical emergencies, give the hospital photocopies of all documentation but not the originals of your passport and other travel documents. If possible, take away any notes or X-rays when you are discharged. Keep all receipts. Also, as general travelling rule: don't bring valuables and keep jewellery to a minimum.
Female travellers
Many women travellers have survived alone in Mongolia without too many problems – they tell the usual funny stories about being chased around a ger by a friendly drunk. However, on a more cautionary note, women should be aware of heavy drinking and associated behaviour problems in Mongolia, as elsewhere. There is little to no danger from a cultural and social point of view. Use common sense, and when hitchhiking do not accept a lift if the driver's breath reeks of alcohol. Sometimes in isolated situations you have little choice but to accept the first lift that comes along – that being the case, the consoling thought is that there is very little to hit in the wide expanse of the Mongolian steppe except, in order of seriousness, a large boulder, a deep rut or a dried-up riverbed!
Travel and visas in Mongolia
Visas
A valid passport and entry/exit visa are required prior to travel. Visitors to Mongolia should carry their passports with them at all times. For information on Mongolian visas go to www.mongoliavisa.com or www.embassyofmongolia.co.uk. The first step is to check with the Mongolian Embassy/Consular Department if you need a Mongolian visa, which depends on your nationality and length of stay. It is highly advisable to obtain your visa in advance from Mongolian embassies or consulates abroad rather than at points of entry, train stations and airports, as this facility, once on offer, has been withdrawn. You will be required to submit your passport, one passport photograph and to complete a visa form. This may be done online, but if not, allow two weeks and be sure to attach your full return address for your passport.
A 30-day tourist visa for UK citizens (at the time of writing) costs £40 (£60 fast track) and takes two to five working days; a double entry and exit visa costs £55 (£75 fast track); a multiple-entry visa costs £70 (£90 fast track); and a transit visa costs £35 (£55 fast track). Check with the embassy for the current cost.
Getting there and away
By air
The main connection to Mongolia from Europe is via Berlin with MIAT (Mongol Irgenii Agaaryn Teever – Mongolian Airlines). MIAT flies to international destinations such as Moscow, Beijing, Seoul, Irkutsk, Berlin, Huhhot (in Chinese Inner Mongolia) and Osaka. MIAT has branch offices in Korea, China, Taiwan, Japan, Germany, Italy, Holland, France, Russia, Canada and the United States. It no longer flies domestically.
Turkish Airlines launched its first flight to Ulaanbaatar (UB) in 2012. You may also fly from most European capitals directly to Beijing in China and change planes (if on another carrier) to Air China (www.airchina.com) in Beijing for the two-hour flight to Ulaanbaatar. There are direct flights from Moscow to Ulaanbaatar with Aeroflot (www.aeroflot.com). Costs vary, depending on when you travel – high or low season. Air fares normally increase by 4% to 5% annually.
Before departure remember the following three things:
• Reconfirm your return flight at least 24 hours prior to your departure.
• Check in two hours before your departure time for international flights.
• International departure tax of around T18,000 (US$12) is payable in local currency.
Buyant-Ukhaa (Chinggis Khaan International) Airport is situated 18km southwest of the capital. Facilities at the airport include a restaurant, a café, bureau de change and several duty-free shops selling souvenirs, spirits and perfumes.
By rail
One of the most exciting railways in the world – the Trans-Siberian Railway – runs from Moscow to Vladivostok. There are several branches on this line – one through Mongolia, another through Manchuria, while the main Siberian line continues to Vladivostok, the eastern terminus on the Pacific coast. The Trans-Mongolian (Ulaanbaatar) Railway is connected to the Trans-Siberian by a branch line from Ulan-Ude, providing a link between the Trans-Siberian and the Chinese railway system.
The total distance from Moscow to Ulaanbaatar is 6,304km, and from Moscow to Beijing is 7,865km. The Trans-Mongolian covers 1,000km from the Russian border to the Chinese border, passing through Ulaanbaatar and several other towns. The Trans-Mongolian railway line is of great economic importance to the country, since it handles most of Mongolia's export and import goods. The main line and its various branch lines in Mongolia carry internal freight, especially coal. It is also a transit route for goods traded between Russia and China.
There are three services a week between Beijing and Moscow that run throughout the year on the Trans-Mongolian and Trans-Manchurian routes. It takes six days from Moscow to Beijing (a day from UB to Beijing). Train #3 leaves Beijing weekly at 19.40 on Wednesday and arrives in Moscow at 19.00 on Monday. China Train #4 leaves Moscow weekly at 19.50 on Tuesday and arrives in Beijing at 15.30 on Monday.
By road
The two most used borders into Mongolia are on the main road from Russia in the north at Altanbulag near Sükhbaatar and in the south at Zamyn-Üüd in Dornogobi on the Chinese–Mongolian border. However, note the restrictions on driving in China for foreigners. There is a further border open to foreigners in the west near Tsagaannuur in Bayan-Ölgii Aimag, complete with a brand new border post building. From Tashanta in Russia the paved road (M52) reaches the Mongolian border and this road continues to Tsagaannuur and Olgii. There are currently no border crossings for visitor traffic in the east.
Road border crossings are still limited to nationals of the border countries only on any of the other 40 bilateral crossing points into Russia or China – except with permission (for rallies and other) on the main crossings already mentioned – in the west, north and south.
By motorbike
The celebrities Ewan McGregor and Charlie Boorman have put motorbiking on the map – especially in Mongolia – on their epic motorbike ride around the world, described in their book (and film) Long Way Round. The Mongolian section of their journey was arranged by Panoramic Journeys.
Getting around
Transport systems in Mongolia failed to develop in the same way as they have developed in the West for the simple reason that the horse and the camel are the most natural and effective means of travel in a land like Mongolia. This has resulted in an almost total lack of road and bridge building. Rivers were more easily forded on horseback and camels and horses could travel faster than any other means of transport in the 19th and early 20th centuries. But, with the arrival of the first American motor vehicles in the 1920s, followed by Soviet cars, jeeps and lorries from the 1930s and increasing numbers of Japanese motorbikes in the 1990s, things are beginning to change and motorised transport is threatening to replace the nomads' four-legged friends.
By road
The red lines marked on many maps of Mongolia suggest that there is an established network of main roads, but few Mongolian roads have a hard surface.That is starting to change – however, most highways or paved roads are in or between the main towns. Otherwise, what you drive on are simply sets of wheel ruts which criss-cross the countryside and following them can be hazardous, particularly after dark. Driving anywhere outside the towns takes a long time and is often rough and uncomfortable.
Most Mongolians leave the city by various modes of transport ranging from bus and train to minivan, shared jeep or taxi. Hitching rides is considered a normal occurrence in Mongolia, especially in the countryside, when often there is no public transport, but expect to pay a nominal sum for your ride. Travelling overland by jeep is the best option to reach the more remote areas, and a network of roads (mainly unpaved) connects the 21 aimags to the capital, and urban areas to smaller centres and remote settlements throughout the country. You may end up travelling with the help of a compass across virgin territory in the most remote regions – following no roads or tracks.
To experience the Mongolian spirit, take a journey by public transport (bus or jeep). You will be jostled and tossed together with your fellow passengers over many kilometres of bone-rattling roads and you'll find yourself clinging on to one another for mutual comfort and survival. It is somewhat disconcerting to see abandoned or broken-down trucks in remote areas. Do not be alarmed; Mongolians are helpful, hospitable and resourceful and will always come to the rescue should your vehicle break down, although you may experience long hours of waiting by the roadside for a spare part to arrive.
To cheer yourself up on particularly monotonous sections of the journey, the tedium may be broken by singing traditional 'long songs', which provide great entertainment when everyone joins in. However, it can be unsettling to discover that your driver navigates according to his instinct and you may find that you are heading in the wrong direction, or about to strike a huge pot-hole. Somehow a sixth sense always seems to rescue Mongolian drivers, just in time to avert real disasters. In the summer months the rivers tend to flood and the search for a safe crossing point may divert you dozens of kilometres from your intended itinerary.
By water
Lake Khövsgöl and some of Mongolia's northern rivers are navigable during the summer but are rarely used as transport routes. You can hire a fishing boat on Lake Khövsgöl for between US$5–10 an hour.
When to visit Mongolia
The focus of Mongolia's tourism is nature and the environment, the nomadic way of life and places linked with Genghis Khan. In the final decade of the 20th century this 'last place on earth' opened its doors to the world and, with air travel and the advantages of the internet, Mongolia is, virtually, a step away.
Summer (including the short spring and early autumn) is the main Mongolian tourist season, starting in May and ending in September (sometimes until mid October if the weather holds). However, Mongolia now offers a winter holiday season, which includes some skiing. A Swiss-owned downhill ski resort, Sky Resort (www.skiresort.info/ski-resort/ulaanbaatarsky-resort), is located in the Bogd Khan Uul, some 13km outside Ulaanbaatar: it uses man-made snow, has nine runs with two chair lifts and evening skiing is floodlit from 18.00–22.00. This is a far cry from the original use of overland skis by Kazakh Mongol hunters in the Altai border areas of western Mongolia, as seen in rock paintings. It is notoriously difficult to date petroglyphs, but according to some scientists they could be as early as 8,000 years ago but are more likely dated around 3,000 years ago.
Most people would not choose to visit Mongolia in the depths of winter, but it is an interesting season to travel, bearing in mind that arrangements are equally limited by the weather. Tourists visiting in winter must be prepared to wrap up warmly as the temperatures drop to below –35°C. Central heating is turned up so high in the major hotels and offices that it reaches tropical temperatures indoors. The solution is to dress in light layers (eg: silk, cotton and wool) and to keep furs, gloves and hats handy when nipping outside.
There are so few tourists that you will get wonderful individual attention, especially if your visit coincides with Tsagaan Sar, the New Year festival – held between January and March, depending on the Mongolian moon calendar. Winter journeys need special planning. There is the possibility of skating on frozen rivers or heli-skiing, if you are super adventurous and prepared to fund it. Bring warm clothes and appropriate boots; otherwise, the thick felt boots worn by Mongolians are best and a Mongolian fleece-lined deel (the local winter attire) can be purchased on arrival. Several tour companies offer winter travel, especially to the Ice Festival held annually in March on and around Lake Khövsgöl.
Climate
Mongolia has an extreme continental climate: that is, hot summers and very cold winters. The country lies at the heart of continental Asia, far from seas and oceans, in the lee of surrounding high mountains – all factors that contribute to its dry climate. There is a marked decrease in cloudiness from north to south, where average annual sunshine reaches 3,200 hours. As a result, Mongolia is known as the 'Land of Blue Skies'.
In winter, the weather is dominated by a stable high-pressure region over northwestern Mongolia; there is little cloud and little snow cover, but intense cold. In spring, warm winds from the south meet cold winds from the Arctic Ocean, and wind and dust storms are typical of this season. Winds are stronger in the southern regions and violent dust storms whip the ground at speeds that could knock over a ger, although these regions are virtually uninhabited. Weather changes can be abrupt and storms can strike with little or no warning.
Precipitation exceeds 500mm a year in the mountains, 200–300mm in the steppe and less than 150mm in the Gobi; 65–75% of annual precipitation falls as rain in the three warm summer months, while autumn is cool and dry. The Khentii and Khövsgöl regions are the wettest parts of Mongolia. Marshes in mountainous areas are sometimes a barrier to summer travel, and drought is not uncommon elsewhere because of low average soil water levels. High mountains are snow-covered from October to April, but elsewhere snowfall is usually not significant and does not accumulate but melts, evaporates or is dispersed by the wind. The most serious condition for animals is zud, which causes massive losses to livestock in severe winter weather.
January is the coldest month of the year, with the average temperature at –35°C in the valleys and –20°C in the Gobi. The lowest recorded temperature was –55°C at Lake Uvs in northwestern Mongolia. July is the warmest month, with the average temperature 15–20°C in the mountains and 20–25°C in the south. A temperature of 40°C has been recorded at Sainshand in the Gobi. An important consequence of the Mongolian climate, with its hard winters, late spring and early autumn frosts, is the short period of plant growth, which is limited to about 100 days – from late May to the end of August.
If you travel in Mongolia during summer time you will have an illusion of richness – knee-deep grass as far as the eye can see and meadows garlanded with millions of wild flowers. But in fact the flora is not as diverse as that of neighbouring China, Siberia or eastern Kazakhstan. In Mongolia, due to the altitude, relief and wind, there is considerable diurnal variation in temperature which may fluctuate by up to 30°C. You may experience blistering hot days and chilly or freezing nights – days that warm up and cool down equally dramatically as the sun rises and sets.
Although the Mongolian winter is the longest season, lasting from about November to March, it is also the sunniest. Throughout the year the skies are blue and the sun shines for over 250 days. There are four distinct seasons, each with its own special attraction. In winter, because of the dry air, there is a crisp atmosphere, even when the sun is out and the daytime temperatures rise; without the damp chill factor even the cold seems less biting. Beware though, when the sun goes down, the temperatures plummet, so you have to wrap up well at night.
Spring can be cool, windy, dusty and changeable. Summer is short, hot and sometimes rainy. The warm October days in autumn are the finest, with ideal temperatures, when the lowering sun casts long amber shadows across the craggy boulders that tower above the burned, summer grasslands. Overall, Mongolia is a very dry country, and the almost continuous blue skies help you feel on top of the world. However, bring warm clothes – even in summer. These are, of course, essential in winter when temperatures drop to –30°C.
What to see and do in Mongolia
Bayan-Ölgii
The aimag (province) of Bayan-Ölgii is in the far northwest of Mongolia with about 1.5 million head of livestock and a human population of roughly 100,000, mainly Kazakhs. They speak their own language and their culture is quite unlike the rest of Mongolia. Whereas most Mongolians are Buddhists the Mongolian Kazakhs are mostly Muslim, and they love to hunt with their eagles.
The Kazakh word for eagle is berkut and a hunter who trains and hunts with a berkut is known as a berkutchi. They use golden eagles that live and breed in their mountains, and they only use the female of the species, as she is larger than the male. This size difference is typical of all diurnal birds of prey, the larger female berkut is used mainly for hunting foxes; the hunting season is in winter, usually between early October and early February.
Hunting is done on horseback as is virtually everything in Mongolia; the berkut is carried on the right arm as opposed to Western falconers who carry their hawks on their left. The greater weight of the female berkut is supported by a forked support fitted to the saddle called a baldark. She is hooded with a specially made hood called a tomega to keep her calm. It is removed when scanning vast areas of steppe from a high vantage point to take advantage of those wonderful 'eagle eyes'.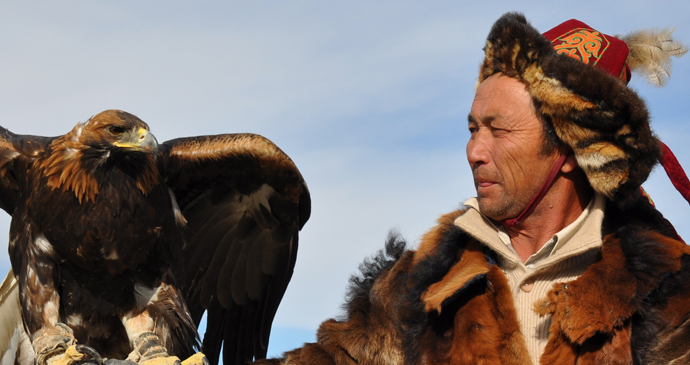 The Mongolian Kazakh eagle hunters, known as berkutchi, hunt on horseback and use only female golden eagles © Altaihunters, Wikipedia
An eagle can spot movement, even the slightest twitch, from a great distance – sometimes a mile or more. An experienced berkutchi can read his berkut's body language and will release her to fly, sometimes from just the feel of her tightening grip on his gloved arm, indicating she has spotted prey. When the berkut is in pursuit the Kazakhs show their mastery of horsemanship, and often the high-speed descent of the mountain and subsequent race across the steppe is an exhilarating experience.
The Kazakh tradition of using the berkut to hunt foxes, and at one time wolves, goes back centuries. The skill and knowledge has been passed down through the generations: father, son and grandson. It is not unusual to see boys of ten years old and younger handling their father's berkut, who can be nearly as big as they are. To experience some time living with a berkutchi family and going out on a horseback hunt with a trained berkut is best done through a guide/interpreter.
Winter in Mongolia can be cold, and winter in the highest aimag can be even colder, so it is wise to pick the month to visit with some thought. October is the first month that hunting with the berkut really starts, and for most of the month the temperature is not seriously low. October is also when the Altai Eagle Festival is held in Ölgii, a celebration of the Kazakh tradition and their love of the golden eagle. Generally held over two days and attended by up to 70–80 berkutchi dressed in their finery, they compete for the best livery of themselves, their horse and their berkut.
On the second day they compete on the steppe in a number of flying tests to find the overall winner. If successful hunting is your goal, then a visit in November holds more promise. The temperature has dropped, the berkuts are fitter after the lazy days of summer, and if you are lucky there is a dusting of snow. During December, January and February the temperature is getting serious with midday temperatures sometimes not getting above –20°C.
Five Rivers near Lake Khövsgöl
Khövsgöl Aimag is named after Lake Khövsgöl, one of Mongolia's largest lakes. The lake and its surroundings are spectacular and the area is a natural draw for tourists. Mongolia's northernmost province is situated on the border with the Tuvan and Buryat republics of the Russian Federation. Local minorities include Tannu Uriankhai (Tuvans), Darkhad, Khotgoid and Tsaatan (reindeer people).
The western and eastern parts of the aimag are mountainous with an intricate system of wetlands and lakes in the northwest Darkhad Basin, which includes Lake Tsagaan. Rivers such as the Ider and Selenge cross the southern part of the province, joined by the Delgermörön, which flows from the northwest through Mörön, the aimag centre.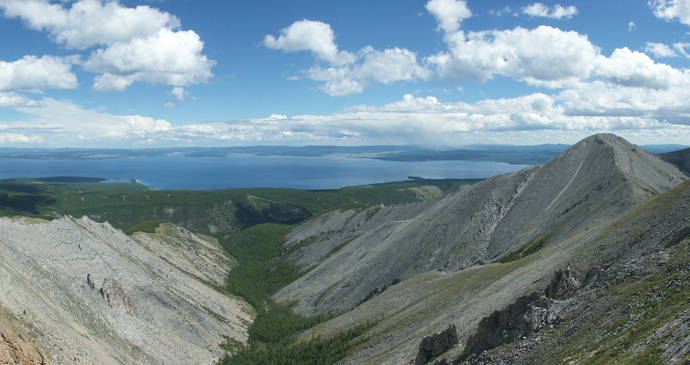 A panoramic view of Lake Khövsgöl, one of the largest lakes in Mongolia © Zoharby, Wikipedia
The Five Rivers area, approximately 50km south of Mörön, on the border with Arkhangai Aimag, is where five rivers (the Ider, Delgermörön, Bügsei, Selenge and Chuluut) converge. The area offers excellent fishing, and specialised companies have set up their own fishing camps here. This is one of the highlights of this aimag and offers some of the best fishing in Mongolia.
Flaming Cliffs
The Mongolian Gobi is a paradise for palaeontologists. One of the major attractions has been the accessibility of fossils near the surface in areas like the famous Flaming Cliffs, the red sandstone cliffs and canyons of Bayanzag ('Rich in Saxaul'), 65km northwest of Dalanzadgad, where the American palaeontologist Roy Chapman Andrews first discovered fossil beds of dinosaur bones and the first ever recorded dinosaur eggs in 1922. These discoveries made world headlines.
Subsequent expeditions by the American Natural History Museum followed and, though they were discontinued during the socialist period, they have now been resumed. Nine years after a communist government came to power in Mongolia in 1921, Andrews's expeditions were stopped. This signalled the end of all Western exploration from 1930 until 1990. In the early 1990s, at the invitation of the Mongolian government, American scientists Malcolm McKenna, Mark Norell and Michael Novacek of the American Museum of Natural History gained access to remote regions in the Gobi where they found numerous new fossils which included a complete protoceratops skeleton, oviraptor eggs, velociraptor claws and a collection of ancient mammals. One significant discovery was the skull of a juvenile hadrosaur, possibly the first hadrosaur found at the Flaming Cliffs area in the South Gobi.
Scientists say that the dinosaurs were buried under the soil by sudden landslides. The barren cliffs look strikingly flame-like, especially at sunset. Look out for the desert wheatear and Asian desert warbler. Nearby there are two areas worth exploring: the dunes at Moltsog Els (22km northeast of Bayanzag) where, alongside, there's a stand of saxaul; and a site called Tögrögiin Shiree, northwest of Bayanzag, where the dinosaur protoceratops was discovered. These areas can be reached only by jeep, a day's outing with jeep and driver costing around US$100 (T142,500).
Gobi Gurvansaikhan National Park
Gobi Gurvansaikhan National Park covers over two million hectares and lies within a few kilometres of Dalanzadgad. It extends 380km from east to west and some 80km north to south. The park is the largest of Mongolia's national parks and the second-largest protected area in Mongolia. It comprises gravel and rubble plains, salt wetlands, dry valleys, springs and oases. Surprisingly, despite the barren landscape and hostile climate, the Gobi Gurvansaikhan provides a home to a wealth of wildlife.
Fifty-two mammal species have been recorded in the park including wild ass, pikas, hamsters, gerbils, jerboas, Gobi bear, wolf, snow leopard, wildcat, argali, ibex and gazelles. There have also been 246 kinds of birds recorded: the majority are resident breeding birds. Look out for kestrels, lammergeier, vultures, saker falcon and altai snowcock. Part of the park is a strictly protected area, although it welcomes visitors in non-restricted areas and ecotourism is one of its strengths.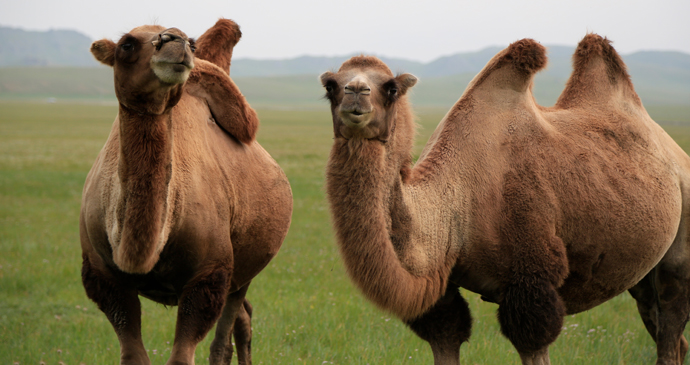 The nomads and small settlements of Gobi Gurvansaikhan National Park depend on animals such as bactrian camels for their livelihood © Barbara Barbour, Shutterstock
In the mountains you might find snow leopard trails although it is virtually impossible to spot them. Their haunts are known and it's easy to see their droppings. Keep a look out for ibex and argali (wild sheep) on mountain climbs. Views to the distant horizons from the summits are stunning. The foothills of the mountains consist of red cretaceous sandstone which has eroded into gorges. The shortage of water limits the living conditions for people and animals. Drinking water comes from wells and domestic animals are watered in the Gobi by means of hand-drawn water, bucketed into wooden troughs.
One thousand families (around 5,000 people) live within the national park, either as nomads or in small settlements. Their livelihood depends on their camel and goat herds, totalling over 250,000 animals. A number of herders supplement their income by undertaking park activities such as monitoring, research, or collecting park entrance fees.
The peak tourist season tends to be between mid-June and September when the climate is more favourable – a slightly longer season than other parts of Mongolia. The park welcomes between 3,000 and 5,000 foreign visitors each year, the majority from east Asia, Australia and western Europe and most arriving through Mongolian tour operators. There remains a lack of tourist infrastructure.
Kharkhorin and the Great White Lake
Located 373km southwest of Ulaanbaatar, Kharkhorin is modern, agricultural service town is built near the site of ancient Karakorum, the great Mongolian capital, established in 1235. It offers limited tourist facilities and most groups stay in ger camps around the town, buying picnic and other food supplies in the central market. The indoor market sells clothes, hats and a limited supply of camping equipment. East of the markets there are cafés and restaurants serving simple but edible dishes for around T1,000–1,500. Fresh drinking water can be found on the western outskirts of the town for which you must pay the person who runs the tap a fee of around T500 per 2.5 litres.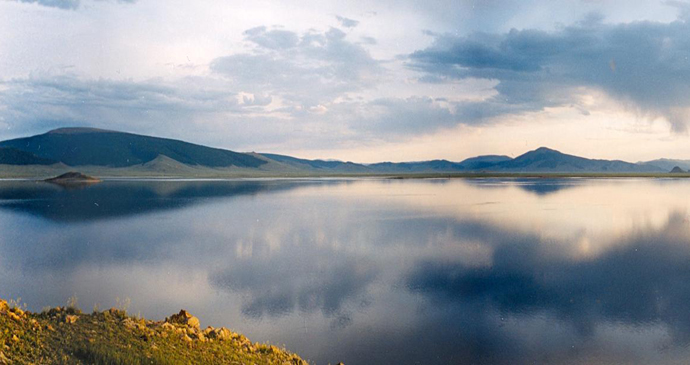 Terkhiin Tsagaan Nuur, located in the northwest part of the province, is a stunning lake surrounded by extinct volcanoes © Doron, Wikipedia
From Kharkhorin, you can head to the northwest part of the province to Terkhiin Tsagaan Nuur ('White Lake of River Terkh'), a beautiful body of water surrounded by extinct volcanoes. The lake covers 16km x 20km, and is 10m deep. Some parts of its shoreline are sandy and in summer the water is warm enough to swim in. The area offers excellent opportunities for fishing (pike and perch). It is also possible to hike from the northeastern shore to Khorgo Uul Volcano (2,965m). A local guide will help you to find the best route. On the way there are caves worth exploring. You may also spot deer, argali (wild sheep) and wild boar. The lake, the surrounding volcanoes, and the animal and birdlife are now protected within the 73,000ha Khorgo-Terkhiin Tsagaan Nuur National Park. Birdlife includes swan goose, Pallas's fish eagle, saker falcon, hooded crane and common merganser.
Khustain Nuruu National Park
Located about 100km west of Ulaanbaatar, the Khustain Nuruu National Park is part of UNESCO's 'Man and the Biosphere' reserves included in its World Biosphere listing of Nature Reserves. Its 50,620ha is home to the takhi, the Mongolian wild horse. It is now run as an NGO by the Hustai National Park Trust; formerly run by the Mongolian Association for the Conservation of Nature and the Environment and the Dutch Foundation Reserves for the Przewalski Horse set up by a Dutch couple Mr and Mrs Jan Bouman and their friend Annette Groenveld; and in Mongolia, with the help of the Mongolian scientific researcher Tserendeleg, in 1992. The steppe and forest-steppe environment is also inhabited by maral, steppe gazelle, deer, boar, wildcat, wolf and lynx; there is interesting birdlife including Eurasian eagle-owl, boreal owl and Eurasian nightjar as well as migratory cranes.
The park is easily reached. You can take a local bus to the turn-off for Khustain Nuruu along the main UB–Kharkhorin road, signposted 10km south of the park's entrance. It is best to have your own transport (jeep); cost US$100 round trip. Note that it is worth spending a night at Khustain Nuruu, if possible, as the wildlife is best seen at dusk and dawn. The Takhi Information Centre inside the park has poster displays that tell the story of the wild horses' return to Mongolia. Park entry costs around US$10, less for locals. To see the wild horses in their enclosures you must be accompanied by a park guide; keep to existing tracks.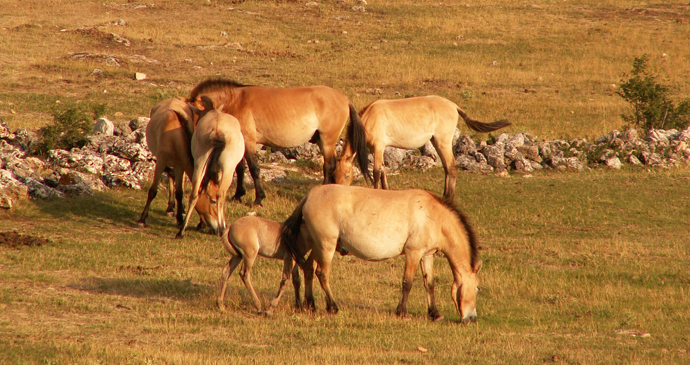 This beautiful national park is home to the takhi, or Mongolian wild horse, reintroduced here after the species went extinct in its native land © Jairo S Feris Delgado, Wikipedia
There is plenty to do, from hiking to horseriding; horse hire costs T14,500 per day; there are Turkic graves southeast of the park which you can ride or drive to see in a day's outing. To go fishing, you will need your own transport to drive 30km (a half-hour's drive) to the River Tuul. A fishing permit, obtainable from the park's office (or the Central Parks Office, Baga Toiruu 44 in UB), costs from US$50–100. Eco-volunteer programmes (of three weeks) help to fund research projects like that of the takhi and other current projects; see http://en.cybelle-planete.org.
Orkhon Valley
The Orkhon Valley was listed by UNESCO in 2004 (www.unesco.org) as one of its World Heritage Sites in Mongolia, along with the Great Lakes Area in Uvs Aimag (in 2003) and the Petroglyphs of the Altai (in 2011). One reason this beautiful river valley in Arkhangai Aimag was selected is that it clearly demonstrates how a strong nomadic culture led to the early growth and development of ancient trading routes and archaeological remains dating back to the 6th century. The control of this valley was of strategic importance.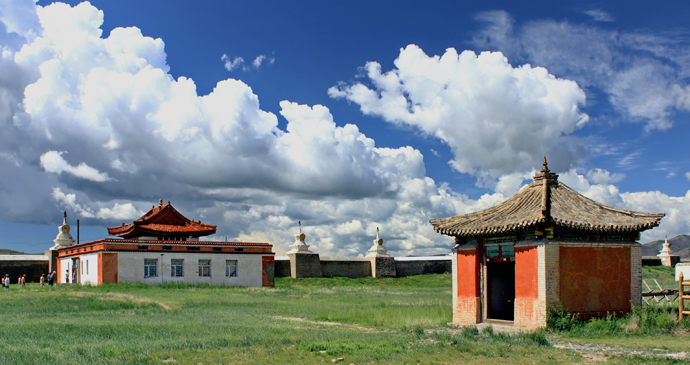 Erdene Zuu Monastery is Mongolia's oldest Buddhist monastery, founded in 1586 by Abtai Khan, and was one of the few monasteries to survive, partly intact, the destruction of religious establishments in the 1930s © Hons084, Wikipedia
The valley is principally known as the site of the Mongol khans' capital Karakorum in the 13th–14th centuries. Despite the fact that the capital moved to Beijing in 1264, the Orkhon Valley has dominated the country as a centre of nomadic culture – illustrating even today how nomads respect nature and live in harmony with it. The valley is an outstanding example of various significant stages of development in human history, from trading posts to capital. The World Heritage Site includes a core zone on both banks of the River Orkhon and a buffer zone of over 14,000ha.
Terelj
Northeast of Ulaanbaatar, the Gorkhi-Terelj National Park is situated in Töv Aimag (central Mongolia). It is one of the most visited national parks in Mongolia because it is so close to the capital and it offers beautiful scenery and the region is well established for tourism with its ger camps around the Terelj resort.
Terelj has long been a holiday resort for people from Ulaanbaatar. The entrance to the national park is 16km from Terelj village on the main UB–Terelj road. Established as a national park in 1993, the area covers 293,168ha; precious stones have been mined there for over 100 years and continue to be mined. Parts of the park are permanently inhabited by local herders who keep livestock in the buffer zones.
Lying in the valley of the Terelj River 80km northeast of Ulaanbaatar, Terelj Resort is part of the Gorkhi-Terelj National Park. It is one of the most visited areas in Mongolia on account of its magnificent scenery and its proximity to Ulaanbaatar. During the summer season there are great opportunities for hiking, rock climbing, swimming, rafting, riding and birdwatching. In winter frozen rivers provide skating and the snow-covered valleys are ideal for cross-country skiing. Also here is the Ariyapala Meditation Centre. Tours are offered to the centre – a temple-style building set apart on a mountainside in Terelj area 1km from Turtle Rock – by Selena Travel (www.selenatravel.com). The resort provides good accommodation with first-class hotels like the Terelj Luxury Hotel.
The Great Lakes Basin
Great Lakes Basin, a chain of lakes, wetlands, sand dunes and marshes sitting beside mountains and forests, stretches across the province from Uvs Aimag's southwestern boundary with Bayan-Ölgii and Khovd to its eastern boundary with Zavkhan, around the enormous Uvs Lake. In 2003, Uvs Nuur was nominated by UNESCO as a World Heritage Site. The avifauna is diverse: geese, swans and rare pink pelicans inhabit the lakes and wetlands, while pheasants are found in the highlands.
The economy of the province is dominated by livestock breeding. Recently some light industry has developed. Uvs supplies the western region with fuel from its coal and lignite mines. Ethnically the area is dominated by the Dörvöd (almost 50%), from which the aimag received its original name 'Dörvöd'. Historical monuments include the Oirat Altan Khan's Palace. The main attractions of the province are its natural sites – lakes, mountains and birdlife. Volcanic ruptures and faulting can be seen on the journey between Öndörkhangai and Züünkhangai.
Ulaanbaatar
Ulaanbaatar (UB) is a thoroughly modern, concrete city, teeming with people and humming with taxis and buses, where only 100 years ago men on horseback drove camel caravans and mule wagons along unpaved streets past hundreds of temple buildings, bells on the animal harnesses ringing loudly to attract attention to imported wares sold by Chinese, Russian and Mongol traders in the open-air markets.
Today it is the general base for all business and development and it is the natural headquarters from which to plan all major travels to the countryside. Tourism operates essentially from the capital. Make the most of this opportunity and organise events in advance if travelling outside a tour group. International companies, UN and other development agencies are located in the capital, and political and government life is centred here.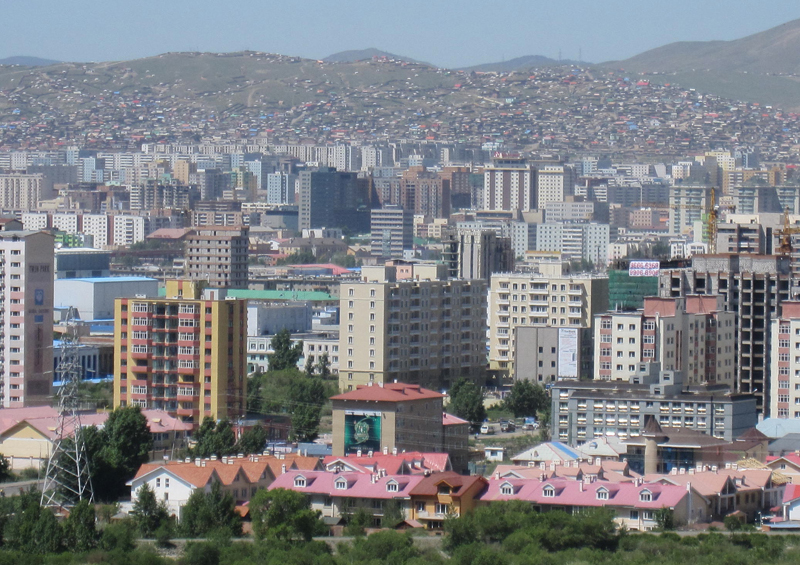 A view of colourful downtown Ulaanbaatar from the Zaisan memorial © Shoyuramen, Wikipedia
Ulaanbaatar is situated in the broad mountain valley of the River Tuul, surrounded by pine and fir forests that cover the hillsides. For much of its history, Ulaanbaatar was known as Urga, a name that originated from the word örgöö, meaning 'a temple ger'. In the mid 17th century, the monk Zanabazar, who became Mongolia's first religious leader (Öndör Gegeen), established a mobile capital. His residence moved from place to place along the Orkhon, Selenge and Tuul river valleys. In 1778, long after Zanabazar's death, the mobile capital of Mongolia finally settled on its present site.
Thus Ulaanbaatar was once a felt-tented capital made up of thousands of gers and temples; indeed, it was known as Ikh Khüree Khot, the Great Monastery Town. Brick and stone temples were not constructed until 1837. In 1911, the city was renamed Niislel Khüree (Capital Monastery), when it became the political capital of autonomous Mongolia. In 1924, after further political upheaval, the city was renamed Ulaanbaatar after the revolutionary leader, Sükhbaatar. During the 20th century, most of the felt encampments gave way to high-rise apartment blocks and government buildings in the Soviet style. Most temple buildings were either destroyed or closed during the religious purges of the 1930s; one exception was Gandantegchinlen Monastery.
In the 21st century there have been huge changes and development as mentioned, built around the new mining industry. The Guardian newspaper in the UK declared on 7th November 2011 that Mongolia was fast becoming 'the centre of the planet's greatest resource boom … On the brink of one of the most dramatic transformations in human history.' On the ground things are sometimes seen differently and not everyone is on the receiving end of the benefits. But undeniably the country is changing fast.
This vast lake area of over one million hectares in western Mongolia was selected in 2003 by UNESCO (www.unesco.org) as a World Heritage Site – and was joined in 2004 by the Orkhon river valley, another nominated site of special interest. Uvs Nuur Basin (Uvs meaning 'salty water') was chosen because of the richness and variety of its landscape – the site is made up of 12 protected areas, each representing a different ecosystem. Such great diversity brings with it many species of plants and animals along with a variety of birdlife – migrating birds, waterfowl and seabirds. The closed salt lake system is of particular scientific importance for climate and weather studies. The range of ecosystems include semi-desert, dunes, steppe grasslands, forests and mountains. Snow leopard, argali (wild sheep) and ibex roam the hills far from human contact.
---
Related books
Related articles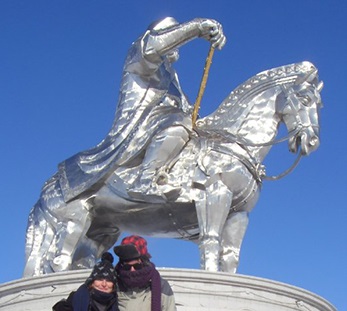 In this extract from her contribution to our Roam Alone anthology Suzy Pope finds herself travelling solo in the freezing Mongolian winter after a friend bails on their trip.