Climate
There's quite a wide range of climates in Georgia, from the warm, humid, subtropical Black Sea coast, via the colder, wet, alpine climate of the High Caucasus, to the arid steppes of the east.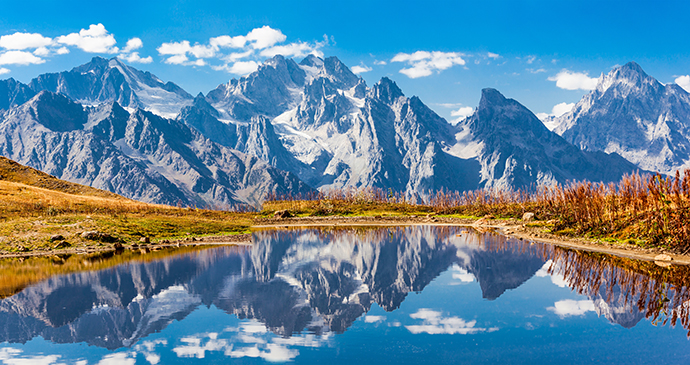 Climates in Georgia range from humid to alpine © saiko3p, Shutterstock
Temperatures in the mountains range from an average –4.6°C in February to 16.4°C in July and August. In Svaneti the winter lasts for up to eight months, with an average temperature of –15°C; it gets even colder on the high bare plateaux of Javakheti where temperatures drop to –30°C. On the coast of Adjara, average temperatures range from 5.8°C in January to 23.8°C in August; on the Abkhaz coast temperatures are slightly lower in winter, noticeably warmer in April and May, but virtually the same in high summer. In eastern Georgia temperatures range from 0.5°C in January to 23°C in August, and in the south they range from –2.1°C in January to 20.1°C in August.
The weather in the Caucasus is more stable than in the Alps. In June there may still be too much snow for high hikes; July and August have the best weather, but even then it can drop to –10°C at 3,000–3,500m. Lower altitudes can often be hot and humid at this time of year, and the inhabitants of Tbilisi and Kutaisi flee to the coast or the mountains.
Precipitation ranges from 2,800mm in Abkhazia and Adjara to 300–600mm in the east (with 462mm in Tbilisi), and about 1,800mm at the main Caucasian passes. There's an average of 1,350–2,520 hours of sunshine per year (3 hours a day in December, over 8 hours from June to August) in Tbilisi.
When to visit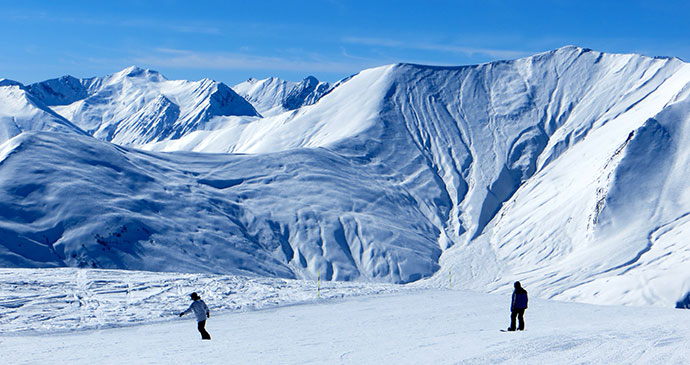 Visit in winter if you're interested in skiing © Maria Oleynik
Georgia may not suffer so much from energy shortages these days, but winter is still not the smartest time to visit, unless you are just interested in Tbilisi and the ski resorts. High summer can be too hot and humid, but spring and autumn are ideal times to visit; in particular the golden autumn colours can be spectacular, and the wineharvest makes this a great time to visit Kakheti; however, beach resorts such as Kobuleti close by the end of September.