Eating and drinking
Accomodation
Eating and drinking
Food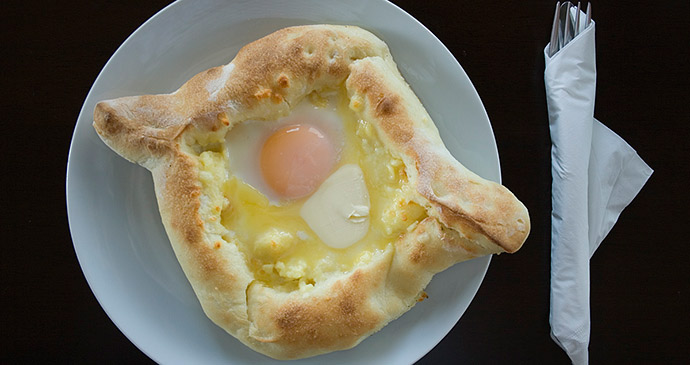 Khachapuri is a popular traditional snack © Tony Hanmer
Georgian cuisine is far closer to that of Turkey and Iran than that of Russia, with plenty of garlic, walnuts, cumin and coriander; huge feasts are traditional, though not as huge as in the Brezhnev years, when food was absurdly cheap. Meat is central, but a Georgian meal is served with many dishes (many cold), including vegetable ones, on the table at once and everyone helping themselves to whatever they want (so the concept of pairing specific wines and foods doesn't work here). Menus are rarely displayed outside restaurants, especially in English, and dishes come as and when – don't expect a flight of orders to arrive simultaneously. It's best to pace yourself, as it's likely to be a long evening with plenty of wine. In Tbilisi there are fast-food joints selling shwarma (kebabs), burgers, hot dogs and a poor approximation to pizza. Cafes everywhere sell khachapuri and other traditional snacks. Street traders sell marozhni (ice cream) and semichki, the sunflower seeds which are chewed and spat out everywhere, and probably use more energy than they provide. Those who would like to try their hand at reproducing some of the dishes they enjoyed in Georgia will find a wealth of inspiring and knowledgeable food and wine bloggers discovering Georgia.
Drink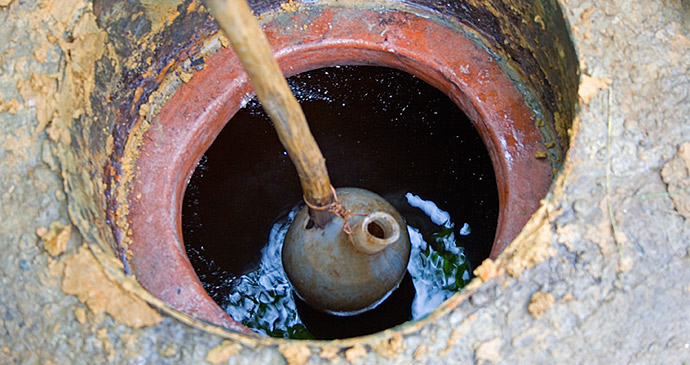 Wine is central to the Georgian lifestyle © Tony Hanmer
Wine is absolutely central to the Georgian lifestyle and to their self-image, and everyone (especially men) drinks large quantities and will want you to do the same. In theory Georgians drink red wines in winter, and whites in summer, but in practice it's hard to tell the difference, as even 'red' (literally 'black' or shavi) wines may in fact be straw-coloured. There are lots of amber or orange wines, made with white varietals but with the skins, seeds and stalks left in contact for up to six months, producing something with tannin that's more like a red and is great with food. Most families make their own, storing it in kvevri, large sealed clay vessels set into the floor of a room known as the marani. In every ancient site you visit, such as Vardzia or Uplistsikhe, there'll be a marani or three.
Vodka is drunk in Georgia, but far less than in Russia and the other Slav countries; the national spirit is chacha, a firewater made at home, as a rule from grain, although in Svaneti, where grain doesn't grow, they use bread instead!
Accommodation
Finding somewhere to sleep can be a problem in some towns. Many of the older Soviet-period hotels have been used to accommodate Georgian refugees from Abkhazia, and although many of these have since moved on, there are others who have settled in for the duration as they pay just a peppercorn rent. However, even some of these hotels usually have a few rooms available for travellers, while many have been totally emptied of refugees to allow renovation. Thankfully, there are now many new, better hotels, especially in Tbilisi. Many of those on the Black Sea, in resorts such as Kobuleti, are well up to European standards, while those in remoter areas such as Svaneti and Tusheti are more basic, although this is compensated for by the ambience.
There are plenty of guesthouses in Tbilisi, but these evolved as upmarket abodes for businesspeople and official visitors. Some really are luxurious, and some might appear amazingly pricey for a country in which the standard of living is still low. Until recently there were few affordable alternatives in Tbilisi, but in recent years a handful of hostels and mid-range hotels have emerged to fill the gap. In hotels a single room often in fact has a double bed, and you may just be able to pay a bit more for a second breakfast; but a double room often has twin single beds.
Details of local guesthouses can usually be obtained from tourist information centres. Houses in beach/spa villages often have signs offering komnati or sdaetsya ('rooms' in Russian). If in doubt, you can simply ask a taxi driver or policeman if he knows anyone who has a room free; in villages you'll never be allowed to go without a bed. Georgian hospitality is renowned, and you'll usually find liberal amounts of alcohol included in the cost of a homestay, as well as food. Although hotel beds can be absurdly soft, in homes they're usually firm enough, and washing facilities, which are quite clean in hotels, tend to be even more so in homes. Most hotels include value-added tax of 20% in their rates, but it's worth checking; smaller ones and guesthouses don't pay it.