Climate
When to visit
Highlights and suggested itineraries
Climate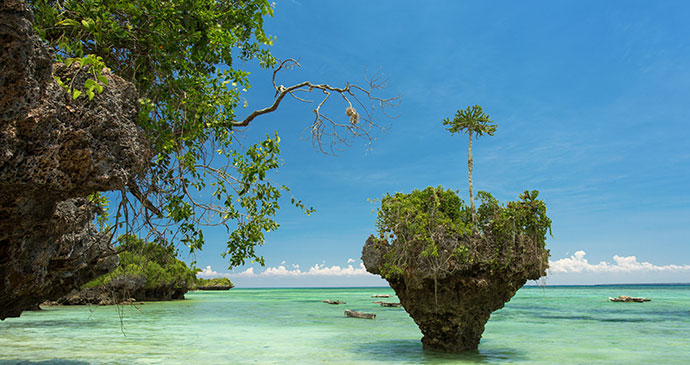 A wild beach on Uzi island, off the south coast of Zanzibar © danm12, Shutterstock
The climate of Zanzibar is dominated by the movements of the Indian Ocean monsoons, and characterised by wet and dry seasons. The northeast monsoon winds (known locally as the kaskazi) blow from November/December to February/March, and the southwest monsoon winds (the kusi) blow from June to September/October. The main rains (the masika) fall from mid March to the end of May, and there is a short rainy season (the vuli) in November.
Throughout the year, humidity is generally quite high (less so in the rainy season), although this can be relieved by winds and sea breezes. Temperatures do not vary greatly throughout the year, with daytime averages around 26°C (80°F) on Zanzibar Island from June to October, and around 28°C from December to February, although in this latter period the humidity is often higher, so temperatures feel hotter. Pemba tends to be cooler and gets slightly more rain than Zanzibar Island.
When to visit
The best time to visit these islands is during the dry seasons – December to February and June to October – but generally speaking, from December to February any wind comes from the northeast, so beaches on the southern and western parts of the islands are more sheltered. Conversely, from June to October it tends to come from the southwest, so northern and eastern coasts are best. Ultimately, however, these islands are at the mercy of the ocean, and their weather patterns can be unpredictable at any time of year.
Even during the 'dry' seasons, afternoon showers are not unknown, although they tend to be short and pleasantly cooling.
It is also possible to visit the islands during the rainy season, when there are fewer visitors and you are more likely to get good bargains from lodges and hotels (the ones that remain open) and trips. The rain can be heavy, but is not usually constant; the sunsets can be particularly magnificent; and pineapples are in season! Travel can be more difficult at this time, with roads damaged and buses delayed, but you'll get there eventually.
At holiday times, such as Christmas and Easter, the islands are popular with expats from Dar es Salaam and Nairobi as well as overseas visitors. Expect full flights and higher hotel rates. Conversely, during the Islamic fasting period of Ramadan, many restaurants and shops are closed during the day, and life runs at a generally slower pace.
Highlights and suggested itineraries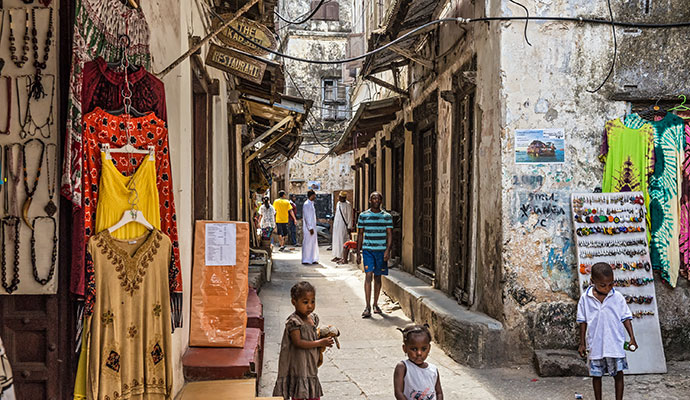 Locals in Stone Town © Nick Fox, Shutterstock
A highlight of many trips to Zanzibar and Mafia is the diving, which is good at many places around these islands. The best diving spots would certainly include the reef around Mnemba Island, those in Mafia's marine park, and for advanced divers, the challenging waters around Pemba. The less aquatic might prefer to go snorkelling, and if so they should add Chumbe Island to this short list of reefs. Chumbe has world-class, pristine coral, and no scuba diving is allowed there. Chumbe's also worth visiting for its guided forest and intertidal walks, which are both attractions in their own right, especially for nocturnal sightings of huge coconut crabs.
A sunset dhow cruise can be magical and romantic, but better still is a dhow trip to a remote sandbar: lie on a deserted beach, snorkel on the reef, eat fresh seafood and look out to nothing but tropical ocean. The upmarket lodges on Mafia all arrange these trips from Chole Bay, whilst on Zanzibar Island, Fumba Beach Lodge, Unguja Lodge and ethical operator Eco+Culture all run similar trips in the Menai Bay Conservation Area.
If you're in the Nungwi area, then do wander along to see the turtles at the Mnarani Natural Aquarium. It's a great conservation project and a rare chance to see hatchling turtles at very close quarters. Meanwhile, those in search of a much more original, albeit less predictable, experience should consider visiting the community beside Ufufuma Forest.
More generally, any trip to Zanzibar Island should include a spice tour. The trip idea may seem clichéd, but plucking everyday spices from what seems like a tangled bit of unruly forest can be fascinating. For something slightly different, combine the spices with some Zanzibari history on the acclaimed Princess Salme tour. Starting at Mtoni Palace, the day trip takes in the palace ruins, a traditional coffee ceremony, the Kidichi plantations and a delicious Swahili lunch, and even helps fund the palace conservation initiatives.
For animal lovers, visit the colobus monkey colony in Jozani-Chwaka Bay National Park, and maybe even drop into the Zanzibar Butterfly Centre next door.
For some genuine community insight and interaction, the Jambiani Cultural Tour is really very good. Tailored to the particular interests of the visitor, it offers some hands-on entertainment and enlightening insights into the lives of the rural population, and ensures a percentage of the tour is reinvested into necessary village development. Equally, the newly opened Seaweed Center in Paje offers tours and valuable insight into the importance of this marine agriculture to local villagers.
No trip to Zanzibar is really complete without a night or two in Stone Town. Whilst here, take a walk around the narrow alleys, venture into the bustling market on Creek Road, stroll through Forodhani Gardens, relax in Mrembo Traditional Spa, and treat yourself to a rooftop meal on a balmy evening.