Eating and drinking
Accommodation
Eating and drinking
In Zanzibar Town there are several good restaurants catering specifically for visitors, specialising in local dishes, seafood or curries. Zanzibar Town also has some small eating-houses catering mainly for local people where you can eat. They usually only have one or two types of food available, such as stew and rice, but they also serve chapattis, samosas and other snacks.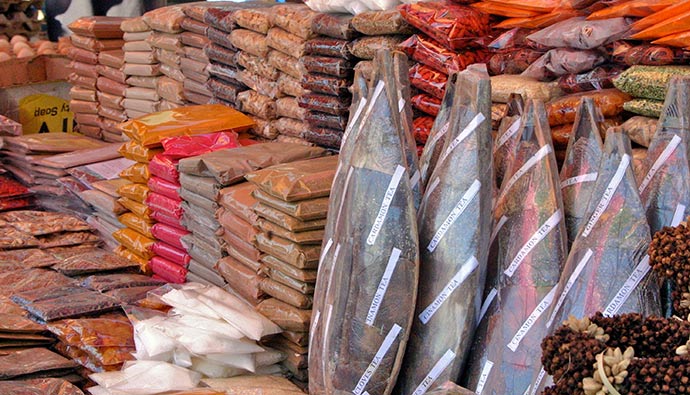 Spices on a market stall © Barbara Barbour, Shutterstock
Many places serve drinks as well as food, although at busy times you may be required to buy a meal rather than have a drink on its own. You can buy international and Tanzanian brands of fizzy drink, plus local and imported beers. At larger hotels and restaurants in Zanzibar Town or on the coast you can also buy imported beers, wines (mostly from South Africa) and spirits.
Outside Zanzibar Town, in the smaller towns and villages on Zanzibar, Pemba and Mafia, there are relatively few places to eat. Local people tend to eat in their own houses and there are not enough tourists around yet to create a substantial market for cafés and restaurants. On the coast, hotels and guesthouses usually have restaurants attached, where food and service generally reflect the overall standard of the accommodation. A few small restaurants have opened by the most popular beaches, catering for the growing influx of visitors.
Accommodation
Zanzibar Town
At the upper end of the range, Zanzibar Town has the Serena Inn, part of a chain of other properties in Tanzania and Kenya. There is little else of the same quality and size, although several grand old buildings have been renovated and opened as quite lovely, smaller boutique hotels. They combine good quality with local flavour and often some style, although they lack the same extensive facilities.
Zanzibar Town has a wide choice of mid-range hotels, where rooms are en suite, clean and comfortable, perhaps with air conditioning at the upper end of the scale.
At the lower end of the price range there are many small hotels and guesthouses which offer a basic room. Rooms may not be spotless, and facilities are likely to be shared, but these are generally popular with budget travellers and it's worth looking around for the better places.
Zanzibar Island
Around Zanzibar Island, away from Zanzibar Town, nearly all of the hotels and guesthouses are built on, or very near, idyllic tropical beaches, complete with palm trees, white sand and warm blue waters. Some travellers come here for a couple of days, just to relax; others linger for weeks. Places to stay range from large hotels and resorts with many facilities to small but comfortable lodges and bungalows to very basic local-style guesthouses. More recently, this range includes private villa rentals.
Pemba and Mafia
Visitor numbers to Pemba and Mafia are absolutely minuscule compared with Zanzibar; these islands therefore offer far less choice. Mafia's clutch of small beach lodges represents particularly good value if you value a fairly high degree of exclusivity without wanting anything that is too luxurious or expensive. Pemba has only a few real beach lodges, all very different.