Climate
The climate on Ascension may be sub-tropical, but it is much cooler and drier than that would suggest, with temperatures kept relatively moderate by the persistent southeast trade winds.
At sea level, they average around 79°F (26°C) year-round, peaking in the mid 80s (30s) during the early part of the year, when humidity can be quite high. On Green Mountain, it's usually about 10–15°F (4–7°C) cooler.
Showers occur throughout the year, with a tendency to being heavier around February and March, but Green Mountain is considerably wetter than the lower-lying areas.
When to visit
The main tourist season on St Helena is from November to March, when it is summer in the southern hemisphere and the days are predominantly sunny and hot.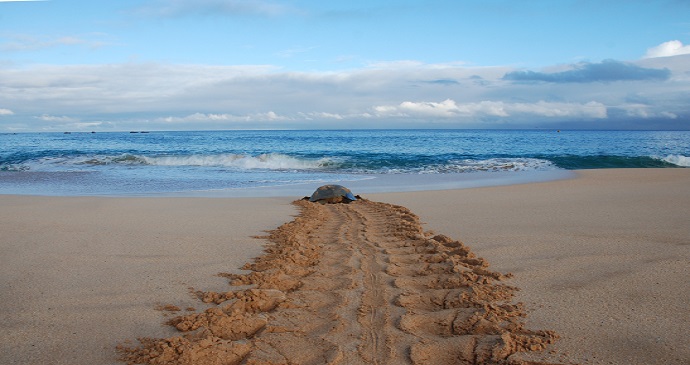 You can expect some rainfall, especially out of Jamestown in March, but rarely does it last long at this time of year. Between April and October there are fewer tourists, but it is noticeably cooler than in the summer months, and generally wetter too.
Events calendar
January
Swimming with whale sharks, St Helena
One of the world's greatest wildlife attractions, whale sharks congregate off St Helena throughout the summer months, but January offers the best chance to see them. If you're extra lucky, you'll get to swim in crystal-clear waters alongside these giants of the oceans.
February
Witness nesting turtles, Ascension
It's a humbling thought: every year, hundreds of green sea turtles make the 2,200km journey from the coast of Brazil to their birthplace on Ascension Island. After dark, head down to Georgetown's Long Beach with a guide and you'll be witness to a female turtle, laying her eggs in the sand. Then return in the morning and watch as the last of the night's lumbering creatures makes her way back to the waves.
March
Diving with endemics, St Helena
March is a great time to dive on St Helena, when the waters are usually calm, clear and still warm. There are swim throughs, caves and wrecks, but best of all are the endemic fish: readily seen creatures that live nowhere else in the world but here. Just how cool is that?
April
Fishing for the big ones, St Helena & Ascension
One of St Helena's best-kept secrets, sportfishing regularly results in catches of tuna, wahoo and dorado – and if you've a handy stove, you get to eat your catch! You can fish all year round (and on Ascension, too), but it's arguably best between October and May.
May
Pay your respects to Napoleon, St Helena
Love or loathe the erstwhile emperor, there's no denying his impact on the island of his exile after the Battle of Waterloo, 200 years ago. Join the people of St Helena as they mark the anniversary of his death, on 5 May 1821, at his tomb in the beautiful Sane Valley.
June
Dolphin acrobatics, St Helena
Pods of pan-tropical spotted dolphins some 200 strong perform off the northwest coast throughout the year, so why wait for the summer crowds? Have them – and the rest of St Helena's attractions – almost to yourself in June, when temperatures are cooling down.
July
Festival of Running, St Helena
Calling all runners! London and New York might get the entrants, but for sheer originality, how about the St Helena marathon? It may be less well known, but it's guaranteed to be more scenic, and if you can't face the full distance, there's always a half marathon, a 10K road race, or – not for the faint-hearted – a timed ascent of the 699-step Jacob's Ladder.
August
Humpback whales, St Helena
Humpback whales arrive in St Helenian waters during the winter months, between July and December. Come in August to see the first calves, swimming alongside their proud mothers.
September
Break out those binoculars: St Helena, Ascension and Tristan
Birding may not be your thing, but who isn't thrilled at the sight of something unique? The endemic St Helena wirebird is surprisingly easy to spot year round, as is the Ascension frigatebird, while the islands of Tristan da Cunha – designated an 'important birding area' en masse – have no fewer than six endemic species. Just as rewarding is the huge sooty tern colony on Ascension, while boat trips from all the islands offer the chance to get up close to great offshore stacks where seabirds take up residence in their thousands.
October
Develop a hiker's head for heights, St Helena
Scenic grandeur and St Helena are close on synonymous, and with 21 postbox walks to challenge hikers there's huge variety, though a head for heights is handy. Look down from on high at millions of years of geology, or turquoise blue seas lapping the cliffs, or tiny islands clustered with seabirds – or just take a picnic and savour the day!
November
A botanist's dream, St Helena
Holding in there in some of the most inhospitable terrain are St Helena's 45 endemic plants, many on the brink of extinction. Trees on the peaks flower in succession, so there's no best time to see them, but to spot species like babies' toes in flower, come around November to January.
December
It's party time, St Helena
Join the crowds in Jamestown to celebrate Christmas with the Festival of Lights, a colourful street parade with plenty of music and dancing, St Helena style.