Eating and drinking
Imagine the freshest seafood, flavoured with coconut milk, garlic, ginger, limes and chillies, and cooked to perfection by chefs who know how to make a thousand different fish dishes! Creole cuisine combines the subtlety of Asian food with the spices of Indian cooking, all moulded by fine French flair. Rice is the staple and fish is eaten almost every day. Soup is a tasty starter and is often made from tectec, a tiny shellfish. Bouillon blan, a fish soup that uses a whole, small fish with loads of garlic, ginger and chilli, is a meal in itself. Salads are made with sweet, little purple onions, tomatoes and crisp bilimbis which resemble tiny cucumbers. Millionaire's salad used to be prepared from the heart of the rare palmiste palm, but now the heart of the coconut palm suffices. Curries are traditional – usually fish or octopus – and quite delicious. For something really exotic you could try the fruit bat curry which is reputed to be tasty, though not as tender as chicken. Breadfruit, plantain, cassava and sweet potatoes provide alternatives to rice. , which is fried with a little onion and served in fresh lime juice or vinegar with ginger and garlic. Dried fish such as shark or tuna can also be prepared this way. Little chillies are often served on the side – they can be dynamite, so try with caution! Breadfruit, with the addition of island spices and coconut milk, is also used for sweet desserts. Other desserts are prepared from coconut and bananas and are usually very sweet and sticky.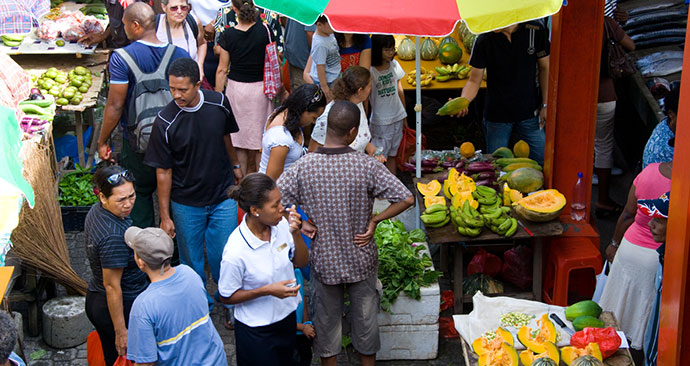 Markets offer a colourful opportunity to explore Creole life © Seychelles Tourism Board
Accommodation
The Seychelles is marketed as an exclusive destination, and visitors pay for the privilege of having secluded beaches and open spaces. There are no high-rise hotels or massive edge-to-edge tourist resorts lining the shores, nor are there squalid areas with fly-by-night, low-life accommodation, and camping is forbidden. Although there is no official 'star rating' system there is, generally, a good standard of accommodation, ranging from large, resort-type hotels with casinos to small hotels and guesthouses. Only two hotels have over 200 rooms, and they are on Mahé, while the largest hotel on Praslin has only 88 rooms. The newer resorts or hotels favour the single villa approach which spreads the footprint over a larger area. There are also ultra-exclusive, luxurious lodges set on private islands as well as self-catering and family-run bed and breakfast establishments.