Eating and drinking
Accommodation

Eating and drinking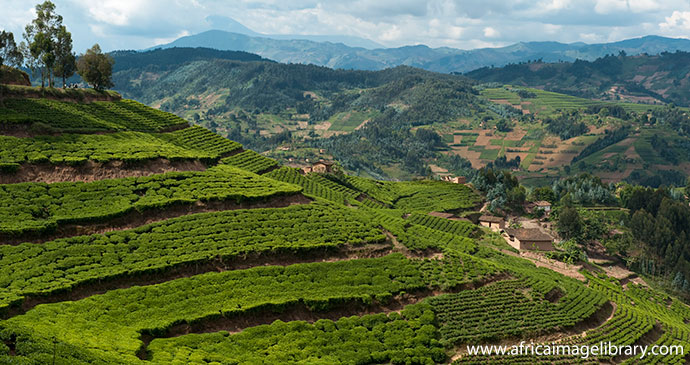 Tea is the most widely drunk hot beverage in Rwanda © Ariadne Van Zandbergen, Africa Image Library
Kigali boasts an impressive and growing range of restaurants representing international cuisines such as Indian, Italian, Chinese and French. In most other towns, a couple of hotels or restaurants serve uncomplicated Western meals – chicken, fish or steak with chips or rice. Possibly as a result of the Belgian influence, restaurant standards seem to be far higher than in most East African countries, and Rwandan chips are among the best on the continent. Servings tend to be dauntingly large, and prices very reasonable – around Rfr1,500–3,500 (US$2–4) for a mélange (mixed plate) at local eateries and Rfr5,000–10,000 (US$6–12) for a main course at a smarter restaurant.
Buffet or self-service meals are also on offer, often at very inexpensive rates, and are said to originate from a period in the 1980s when the government decreed that civil servants should have shorter lunch breaks. As a result, enterprising restaurantsdreamed up this way of enabling them to eat faster. Smarter restaurants, especially in Kigali, may be closed or take a while to rustle up food outside of normal mealtimes.
Wherever you travel, local restaurants serve Rwandan favourites such as goat kebabs (brochettes), grilled or fried tilapia (a type of lake fish), bean or meat stews. These are normally eaten with one of a few staples: ugali (a stiff porridge made with maize meal), matoke (stewed cooking banana/plantain), chapatti (flat bread), and boiled potatoes (as in Uganda, these are somewhat mysteriously referred to as Irish potatoes) – not to mention rice and the ubiquitous chips.
Unless you have an insatiable appetite for greasy omelettes or stale mandazi (deep-fried dough balls not dissimilar to doughnuts), breakfast outside of Kigali (where very fine pastries, croissants and coffees are to be had) can be a problematic meal, though this too is changing with the opening of good cafés in cities around the country.
One area in which Rwanda is definitely influenced more by its anglophone neighbours than by its former coloniser is baking: in common with the rest of East Africa, the bread is almost always sweetish and goes stale quickly. In such cases a bunch of bananas, supplemented by other fresh fruit, is about the best breakfast option: cheap, nutritious and filling.
Cooking for yourself

The alternative to eating at restaurants is to put together your own meals at markets and supermarkets. The variety of foodstuffs you can buy varies from season to season and from town to town, but in most major centres you can rely on finding a supermarket that stocks frozen meat, a few tinned goods, biscuits, pasta, rice and chocolate bars. If you're that way inclined, and will be staying in hotels rather than camping, bring a small electric immersion heater for use in your bedroom (sockets take standard continental two-pin plugs), plus some teabags or instant coffee, so you can supplement your picnic with a hot drink. Fruit and vegetables are best bought at markets, where they are very cheap. Potatoes, sweet potatoes, onions, tomatoes, bananas, sugar cane, avocados, paw-paws, mangoes, coconuts, oranges and pineapples are seasonally available in most towns.
For hikers, about the only dehydrated meals available are packet soups. If you have specialised requirements, you're best doing your shopping in Kigali, where a wider selection of goods (cheese, local yoghurt…) is available in the supermarkets; there are also a handful of excellent bakeries, with mouth-watering goodies hot from the oven.
Drinks
Brand-name soft drinks such as Pepsi, Coca-Cola and Fanta are widely available, and cheap by international standards. Tap water is debatably safe to drink in Kigali, although the smell of chlorine may put you off; bottled mineral water is widely available if you sensibly prefer not to take the risk. Locally bottled fruit juice (passion fruit, orange, pineapple…) isn't bad and comes in concentrated versions too.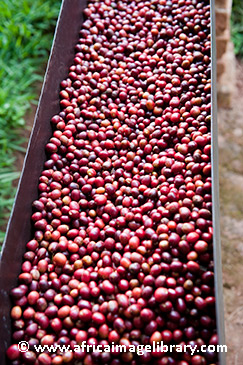 The most widely drunk hot beverage is tea (icyayi in Kinyarwanda, sometimes also referred to by the Swahili name chai). In rural areas, the ingredients are often boiled together in a pot: a sticky, sweet, milky concoction that is sometime referred to as African tea, and that definitely falls into the category of acquired tastes. Most Westernised restaurants serve tea as we know it, but if you want to be certain, specify that you want black tea. The milk served separately with it is almost always powdered, but of a type that dissolves well and doesn't taste too bad. Coffee is one of Rwanda's main cash crops, but you'd hardly know it judging by the insipid slop that passes for coffee in some restaurants and hotels – though this may soon be a thing of the past as something akin to café culture has taken hold in Kigali and seems to be spreading throughout the country.
(Coffee is one of the main cash crops of the country © Ariadne Van Zandbergen, Africa Image Library)
The most popular alcoholic drink is beer, brewed locally near Rubavu. The cheaper of the two local brands is Primus, which comes in 700ml bottles which cost around Rfr800–1,200 in local bars and as much as Rfr3,000 in Kigali's swankiest hotels. The most popular alternative is Mutzig, which tastes little different, costs about 30% more and comes in 700ml or 350ml bottles. Skol and Gatanu are also ubiquitous and rather generic lagers, while fans of darker beers will want to give Turbo King or Virunga Mist a try.
South African and French wines are sold at outrageously inflated prices in a few upmarket bars and restaurants. Far more sensibly priced are the boxes of Spanish or Italian wine sold in some supermarkets. If you want to check out your capacity for locally brewed banana wine (also called urwagwa) before ordering it with a meal, most supermarkets and some small grocers/snack bars have bottles on sale. It comes in many varieties – some have honey added, and I've heard of a kind made in the northeast that contains hibiscus flowers. There's also a banana liqueur.
As for the harder stuff, waragi, a millet-based clear alcohol from Uganda, is available everywhere; either knock it back neat or mix it as you would gin. (In its undistilled form it could strip away a few layers of skin!) The illegal Rwandan firewater, kanyanga, is also available widely: treat with care.
Accommodation
Accommodation options in Rwanda range from five-star international hotels to dingy local guesthouses, and prices vary accordingly. The main concentration of high-quality accommodation is in Kigali, but there are also facilities to international standards in and around Volcanoes, Nyungwe and Akagera National Parks and the Lake Kivu resorts of Karongi/Kibuye and Rubavu/Gisenyi. Elsewhere, there are usually mid range hotels geared to local businesspeople as much as to tourists, and cheaper local guesthouses favoured by genuine budget travellers.
Most accommodation establishments are recognisably signposted as a hotel, logement, guesthouse or similar, but some local places are signposted as Amacumbi (pronounced 'amachoombi') – which literally means 'Place with rooms' in Kinyarwanda. Note, too, that in the Swahili language – not indigenous to Rwanda but more widely spoken by locals than any other exotic tongue – a hoteli is a restaurant, which can create confusion when asking a non-French speaker for a hotel.