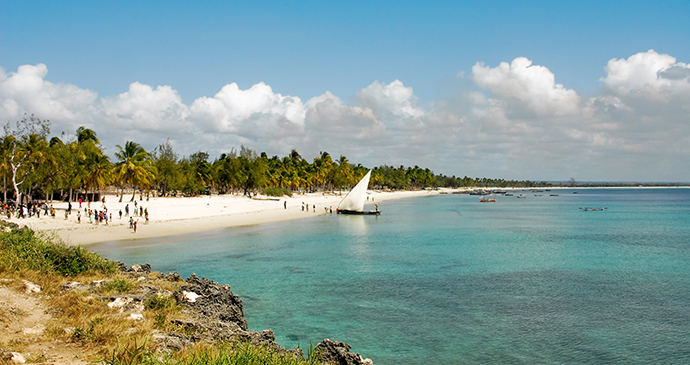 Beautiful Pangane Beach in Mozambique © Alberto Loyo, Shutterstock
Climate
When to visit
Highlights and suggested itineraries
Climate
The climate in most of Mozambique is tropical and warm with a dry cooler season from April until September and a wet hot season with temperatures of around 28˚C at the coast from October until April. In winter the weather at the coast is sunny and pleasantly warm (the average temperature in Maputo in June and July is 19˚C). The dry and relatively cool winter months between April and September offer the most comfortable and easy travel conditions.
There is no major obstacle to visiting Mozambique during the summer months of November to April, except that climatic conditions are oppressively hot and humid at this time of year, especially along the north coast.
Temperatures and rainfall figures vary widely across the country. Hottest and most humid are the northeastern coast and the upper Zambezi Valley, while the coolest areas are those at higher altitudes, such as the highlands of Niassa and Nampula provinces. Most of northeastern and central Mozambique has an annual average rainfall in excess of 1,000mm, with the wettest part of the country being the highlands east of Malawi, where several areas experience almost 2,000mm of rain annually.
The south is generally much drier, with coastal regions south of Beira generally receiving around 900mm of rain and some parts of the interior of Gaza Province dropping to an average of below 500mm annually. The rainy season in the south runs from October to March, while north of the Zambezi it tends to start and end a month or two later.
When to visit
The coastal regions of Mozambique are best visited in the dry winter months of May through to October, when daytime temperatures are generally around 20–25°C. There is no major obstacle to visiting Mozambique during the summer months of November to April, except that climatic conditions are oppressively hot and humid at this time of year, especially along the north coast. Because most of the country's rain falls during the summer months, there is also an increased risk of contracting malaria and of dirt roads being washed out.
Unless you are a South African with children at school, it is emphatically worth avoiding the south coast of Mozambique during South African school holidays, when campsites as far north as Vilankulo tend to be very crowded and hotels are often fully booked. The exact dates of South African school holidays vary slightly on a provincial basis, but the main ones to avoid are those for Gauteng (the province that includes Johannesburg, South Africa's most populous city and only a day's drive from Maputo).
To give a rough idea of the periods to avoid, there are four annual school holidays in Gauteng: a three-week holiday that starts in the last week of March and ends in the middle of April, a month-long holiday running from late June to late July, a two-week holiday starting in late September, and a six-week holiday from early December to mid-January (for exact dates, check www.schoolguide.co.za/school-holidays.html or contact a South African embassy).
If you do visit southern Mozambique during school holidays, then you should make reservations for all the hotels and campsites at which you plan to stay. School holidays in landlocked Zimbabwe see a substantial influx of Zimbabwean tourists into southern Mozambique, so that most resorts between Beira and Xai- Xai are more crowded than usual. Provided you have a tent, you shouldn't get stuck at these times. Few South Africans or Zimbabweans currently venture north of the Beira Corridor (the road and railway line linking Beira to the Zimbabwean border town of Mutare), so school holidays have no notable effect on tourist patterns in northern Mozambique.
Highlights and suggested itineraries
What follows is not a suggested itinerary, but an annotated list of some of Mozambique's most alluring attractions – all of them worthy of being included in your itinerary. If you want to view and compare sample itineraries, please see the Mozambique holidays section on SafariBookings. This comparison website lists tours offered by both local and international tour operators.

Deserted beaches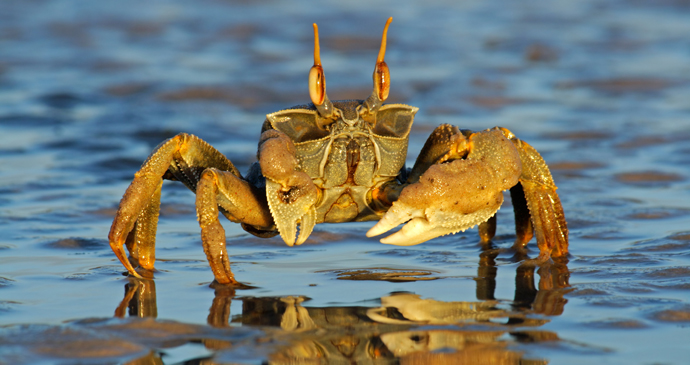 Ghost crabs are a common sight on the beaches of Mozambique © EcoPrint, Shutterstock
Most people who visit Mozambique, whether they're from South Africa, Zimbabwe or further afield, do so for the country's coastal attractions. Indeed, there are few other countries in the world with such an extensive, beautiful and largely undeveloped coastline. This means that travellers will find truly deserted beaches, many of which stretch for kilometres on end, even at the more built-up resorts. The top upmarket beach destinations in Mozambique are the Bazaruto and Quirimba archipelagos, while more affordable mainland options include Ponta do Ouro, Tofo (near Inhambane) and Vilankulo.
Diving and fishing
Once you have made the effort to get to these beaches, the opportunities for diving and fishing are among the best in southern Africa. Once again, the infrastructure underpinning these activities is still in its infancy, which means that dive sites are uncrowded and the fish varied and plentiful.
Whales
Another attraction of the southern Mozambican coastline is the very high probability of seeing humpback whales between July and October as they head north with their newly born calves, and Tofo has a reputation as being one of the best places in the world to see manta rays.
Birdwatching
Nature lovers, especially birdwatchers, will find plenty to see on dry land provided that they are prepared to make the effort to get to the country's national parks and reserves. The most accessible of these are Limpopo and Gorongosa national parks, both of which have seen considerable development in recent years. Animals are less numerous here than in the well-stocked parks of neighbouring countries, but the atmosphere is 100% wild.
Historic towns

And then there are the towns. Sleepy, historic Inhambane would be a highlight on any African itinerary, and should not be missed by travellers to Mozambique. Ilha de Moçambique and Ibo Island are no less historic and even more compelling, although it will take slightly more effort to get to them. Maputo, meanwhile, is as clean and safe a city as you'll find in Africa; and with an increasing number of quality hotels, restaurants and other facilities, it's the perfect base for a trip around Mozambique.
(Photo: the famous architecture of the Ciné Teatro Tofo in Inhambane © Eric Lafforgue, www.ericlafforgue.com)
The people
The main highlight of a trip to Mozambique is the people. Generally unassuming, helpful, funny and honest, the Mozambicans are what really makes Mozambique one of the greatest travel destinations in Africa.