Eating and drinking
Accommodation
Eating and drinking
Food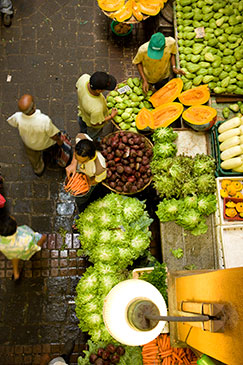 Just thinking about the food I've eaten in Mauritius makes my mouth water, from the delicious French-style crêpes served with local coffee for breakfast to the delight of salade de palmiste (heart of palm salad) and the beguiling taste of fish vindaye (fish curry) for lunch, then a dinner of samoussas and Chinese soup from a street stall.
If you have your meals only in your hotel, you may wonder what I mean. However exceptional its standards, by definition a hotel catering for tourists has to serve international dishes that are familiar to guests and with a taste that is tolerable to nervous palates. Most hotels make an effort to showcase local cuisine and will have Creole and Indian nights at least once a week. The true adventure of eating in Mauritius is for the streetwise since so many delicious – and cheap – dishes are available from pavement hawkers or in noisy dives. Of course, there are also many restaurants that specialise in Creole food or European dishes with a local zest.
(Photo: Fresh fruit is on sale in markets across the islands © Mauritius Tourism Promotion Authority)
The influences of Creole cuisine are African and Indian, with a dash of French. The recipes of slaves and indentured labourers have been blended with French ingenuity to produce an array of irresistible dishes, most of which are mildly spiced. The Chinese influence has been confined to particular areas, such as mine (noodles) and the ever-popular fried rice.
A favourite local dish, available from street vendors, is dholl purées: thin pancakes, made from wheat flour dough and ground split peas and cooked on a griddle. They are served plain, or rolled around a spoonful of rougaille or brèdes, and wrapped in paper. The Indian-originating purée, with its African/French filling, is an example of the successful blend of culinary traditions. Rougaille is a spicy condiment often made with pommes d'amour, the tiny cherry tomatoes that are grown and eaten all over the island. Brèdes are part of the daily diet of Mauritian country dwellers, cooked either plain or with meat or fish. They are green leaves – such as watercress, spinach, the leaves of tuber plants and Chinese cabbage – tossed with onions, garlic and red chillies in hot oil until the water has evaporated.
More substantial meals are also available from street sellers, such as poisson vindaye, seasoned fried fish coated with a masala of mustard seeds, green chillies, garlic and turmeric, often eaten cold with bread. Achards légumes, pickled vegetables mixed with spicy paste and vinegar, are also sometimes eaten with bread.
The sweet tooth is catered for with many Tamil specialities, such as gâteau patate, a wafer-like pastry of sweet potato and coconut. There is an abundance of tropical fruit too, especially the small pineapples dextrously peeled into spirals, with the stem remaining as a handle.
Drink
A popular Mauritian drink is alooda, sold on the streets and in markets by energetic salesmen praising their own product. It consists of dissolved, boiled china grass (agar agar) and sugar, which has been strained and allowed to set and then grated, to which is added water, milk, rose syrup and soaked tookmaria (falooda) seeds.
Accommodation
Mauritius provides a vast range of accommodation, from budget guesthouses to some of the world's most luxurious hotels; camping, however, is not encouraged and there are no official campsites.
Service throughout Mauritius is superb, a fact which owes much to the Hotel School of Mauritius. The school offers courses for all hospitality and tourism personnel, from chefs to airline cabin staff.
Until recently there was no official rating or classification system for hotels in Mauritius, rather hotels which used a star rating would award it themselves. In April 2012, the MTPA launched an official hotel classification system based on international standards. For the purposes of this guide, we have divided accommodation into five categories, determined principally by the hotel's public rates. The categories, which are defined below, are luxury, upmarket, mid range, budget and shoestring.
Almost all hotels in Mauritius publish their rates in euros only as most of their guests are Europeans and the euro is considered more stable than the Mauritian rupee.