Climate
When to visit
Highlights and itineraries
Climate
The overall climate can be characterised as tropical, with hot days and balmy nights. However, local temperature variations are influenced greatly by altitude and season. The hottest parts of the country are the Lake Malawi hinterland and the Shire Valley, which lie below 500m. Highland regions such as Mulanje, Zomba, Nyika, Dedza and Viphya are more temperate, and they can be very chilly at night during winter.
There are three seasons. The months between November and March are hot and wet, those between April and August are moderate and dry, while September and October are hot and dry. July and August can be very cold at night. Despite the large amount of surface water in Malawi, much of the country is prone to drought; the absence of any irrigation schemes means that local famines are a serious threat in years of low rainfall.
When to visit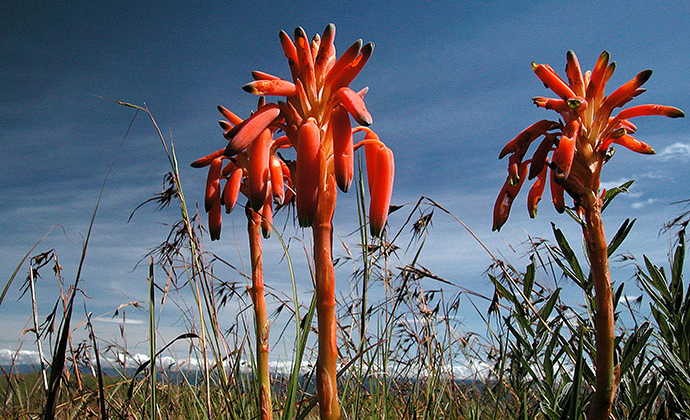 October is the best time to visit Nyika, as the wild flowers flourish then © Malawi Tourism, www.malawitourism.com
Malawi can be visited throughout the year, but for those with flexible schedules, a few seasonal factors merit consideration. Climatically, the most pleasant time to travel is during the southern hemisphere winter, from May to October, which is characterised by warm to hot days and temperate to cool nights, depending greatly on altitude (October is very hot in most of Malawi, but it's the optimum time to visit the Nyika, as the wild flowers flourish then). Winter is also the dry season, so rain is unlikely to cause road damage or otherwise disrupt your travel plans, the risk of contracting malaria is greatly reduced, and game viewing is at its best as the vegetation dies back, increasing visibility, and animals congregate on perennial water sources.
An advantage of travelling during the summer months of November to April is that rain transforms the parched winter landscape to a lush paradise alive with green foliage, colourful wild flowers and a wealth of fresh fruits and vegetables. Climatically, while the lakeshore can be oppressively hot and humid in summer, the higher-lying areas are balmier, remaining warm at night. A special-interest group for whom summer is the optimum time to be in Malawi is birdwatchers: between November and April, resident species are boosted by a variety of Palaearctic and intra-African migrants, and many species shed their dowdy winter plumage for brighter breeding colours.
Highlights and itineraries
What follows is a list of some of Malawi's most alluring spots, some well known, others more obscure, all of them worth visiting.
Highlights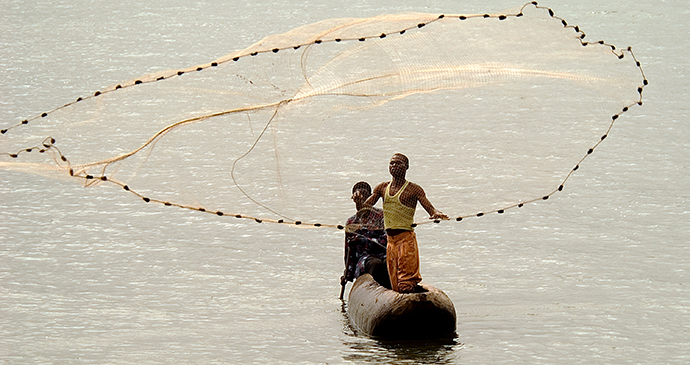 Lake Malawi fishermen from Likoma Island use a casting net to catch fish © Kaya Mawa
Cape Maclear
The most popular resort on the southern lakeshore, Cape Maclear is centred on the relaxed fishing village of Chembe, and great for snorkelling, diving and kayaking in the cichlid-rich waters of Lake Malawi National Park.
Chintheche and Kande
The long white sands and rocky bays of the northern lakeshore might make you stop longer than you'd planned. There's accommodation for all budgets and activities for all tastes.
Chongoni Rock Art Area
Easily explored out of Dedza Town, the prehistoric rock art of Malawi's only terrestrial UNESCO World Heritage Site ties in with dances still performed in Chewa villages today.
Dzalanyama Forest Reserve
An excellent weekend trip out of Lilongwe, with some of the most rewarding birdlife in Malawi, and plentiful walking opportunities.
Elephant Marsh
Inexpensive, little-visited, atmospheric, with prolific waterbirds – ideal for adventurous backpackers with some days to spare to achieve the journey there.
Kasungu National Park
Seasonal game viewing, a majestic lodge and good camping facilities for those heading north on the M1 from Lilongwe.
Lake Chilwa
A great and surprisingly accessible off-the-beaten-track excursion for backpackers on a tight budget.
Likoma Island
A good place to get away from it all, Likoma has a friendly atmosphere, attractive scenery and some historical interest.
Livingstonia
Livingstonia is the site of a turn-of-the-20th-century mission on the Rift Valley Escarpment, overlooking the lake and close to the beautiful Manchewe Falls.
Liwonde National Park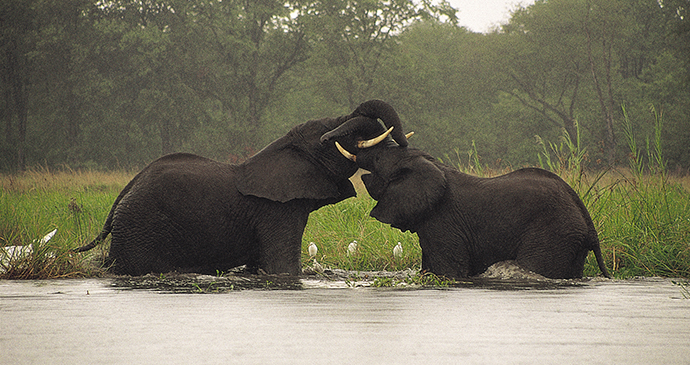 Elephant are among the most prominent of the large mammals present in Liwonde National Park © Dana Allen, Central African Wilderness Safaris
Among the best game viewing in Malawi, stunning birds, a wonderful atmosphere, and excellent facilities, ranging from campsites to one of the country's finest game lodges.
Majete Wildlife Reserve
This once-obscure reserve has been the subject of an intensive programme of reintroductions, and it's now one of the country's best game-viewing areas, with a range of facilities including an impressive new luxury safari lodge. It's an excellent excursion from Blantyre in private transport.
Mua Mission
The finest ethnographic museum in Malawi lies on the site of this rustic mission at the Rift Valley base near Dedza and Salima.
Mulanje Massif
The best montane hiking in Malawi, accessible and affordable to those on a limited budget.
Mwabvi Wildlife Reserve
This is wonderful hiking country, with very few roads through an unspoilt wilderness.
Nkhata Bay
With a thriving backpackers' scene and cheap dive courses, Nkhata Bay has a habit of transforming short visits into extended stays.
Nkhotakota
An area ready for discovery, with the idyllic combination of lakeside lodges and a large wildlife reserve home to two fine tourist lodges and a camp.
Nkopolo
Here you'll find the major cluster of tourist-class hotels on the southern lakeshore.
Nyika National Park

Malawi's largest national park, offering plentiful hiking opportunities in fantastic scenery. Good game viewing, too.
Senga Bay
The closest lakeshore resort to Lilongwe boasts a clutch of stylish hotels, hippo pools and breeding colonies of birds.
Viphya Plateau
The hiking and birding are not as good as in some other montane areas, but it's still a lovely spot, and Luwawa Forest Lodge is great for mountain biking and other adventure activities.
Vwaza Marsh Wildlife Reserve
The most underrated game reserve in the country – plenty of animals, very accessible and reasonably affordable.
Zomba Plateau
The most accessible of Malawi's large mountains, this plateau has good walking, camping facilities, horseriding and views that stretch to the edge of the world.
Suggested itineraries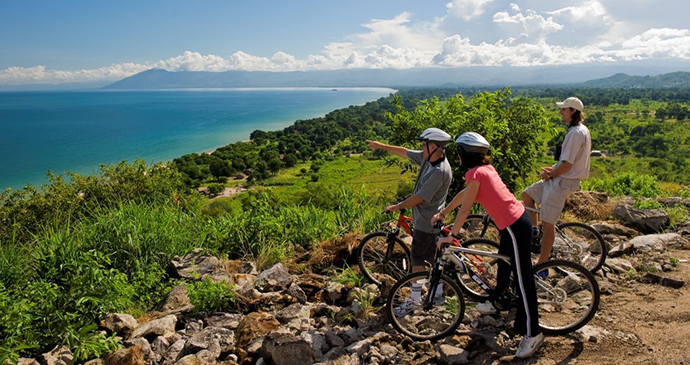 Cycling is popular way to explore the scenic shores of Lake Malawi © Dana Allen, Central African Wilderness Safaris
Itineraries can be occasionally somewhat restrictive, since there are so many variables for which they cannot allow, for instance means of transport, special interests, budget, season and available time. So, Malawi being a relatively compact country, the best starting point in planning an itinerary is to pick out a few potential highlights, then work out a rough route that connects them, fleshing it out with other activities or stops en route. If you are working with a reputable tour operator, they will be able to advise you as to what is and isn't realistic, and to tailor an itinerary to your requirements. If you'll be travelling independently, there's a lot to be said for picking out a rough circuit but retaining the flexibility to adjust it as you go along, travelling at a pace dictated by events.
You'll have a more relaxing holiday if you settle on a relatively compact itinerary rather than trying to cram in the whole country over two weeks. This particularly applies to travellers using public transport, unless they want their predominant memory of Malawi to be waiting for buses or sitting on them. As a rule of thumb, try to allow at least one day 'off' between travelling days. And when it comes to lakeshore resorts, better perhaps to spend a few days at one resort and settle in there than to visit two or three resorts for a night or two each.
To compare itineraries see the Malawi holidays on SafariBookings.