Eating and drinking
Few outside Ivory Coast are aware of her delectable cuisine, which fuses French fi ne dining with traditional African ingredients and techniques. More than anywhere else, Ivorians abide by George Bernard Shaw's aphorism: 'There is no love sincerer than the love of food.' Furthermore, the choice is far broader and the ingredients generally of higher quality than neighbouring countries such as Ghana and Guinea.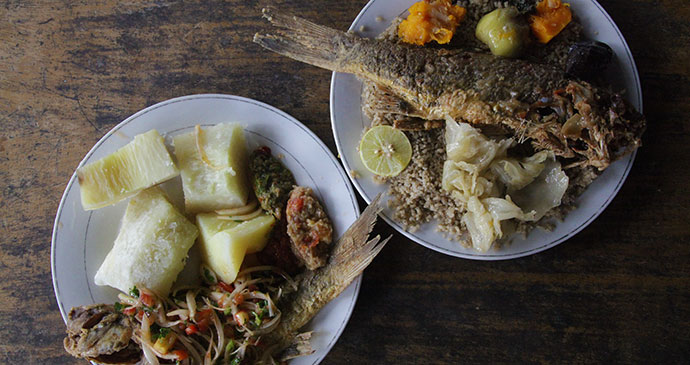 Poisson braisé – a popular dish across the country © Alex Sebley
The most common dishes are juicy barbecued meat and fish, and hearty stews liberally dosed with palm oil and accompanied by either rice or foutou, a kind of dumpling made from pounded cassava and a touch of plantains, which gives the concoction a slightly sweet undertone. A more rare – but in our view tastier –alternative is toh, a maize-based foutou with the consistency of blancmange. Poulet braiséis chicken that hasn't been braised so much as marinated in garlic, lemon juice,mustard, pepper and chillies, and then cooked on an open charcoal grill and served with a tomato and onion salad, attiéké (a light, couscous-like preparation made from ground cassava pulp) and/or alloco (sliced plantains pan-fried with onions, chilli and salt). is prepared and presented in exactly the same way but the chicken is substituted with carpe (carp), machoiron (sea catfish) or capitaine (hogfish). Brochettes are decent-quality chunks of chicken, beef, fish or liver cooked on skewers on the same types of barbecue used for the braisé dishes above.
Accommodation
By global standards, accommodation in Ivory Coast tends to be of poor quality and rather overpriced. True, there are a handful of Ivorian hotels – in Abidjan, Yamoussoukro, Assinie and in a few of the major coastal resorts – that genuinely conform to international four- or five-star standards, but these tend to be exceptionally expensive since their main clientele comprises government, NGO, business and other travellers who are not footing their own bills. The country also boasts a scattering of pleasant budget to mid-range beach resorts and urban guesthouses, many of them owner managed. The overwhelming majority of accommodation options in Ivory Coast, however, consist of unremarkable town or beach hotels geared primarily to the local market, and characterised by some or all of the following flaws: indifferent staff, aesthetically challenged décor, ugly furniture, low standards of cleanliness, an erratic power or water supply, and slack maintenance (often manifested by broken fittings, leaky plumbing, noisy air conditioning, or advertised facilities that don't work).