Tangibly steeped in history and tradition, yet paradoxically also building towards a brighter future, Ghana is simply one of Africa's most rewarding and exciting travel destinations.
Ghana is a travel destination of immense natural and cultural diversity. It stretches inland from a sultry Atlantic coastline on the Gulf of Guinea through to the dry Sahelian plains bordering Burkina Faso. Only six hours' flight from most European capitals, this famously hospitable West African nation is both an ideal holiday venue for first-time visitors to Africa and a rewarding destination for more seasoned travellers. Delightfully down-to-earth and free of tourist-circuit trappings, Ghana also has the advantage, at least for Anglophone travellers, of being one of the few West African countries where English is widely spoken.
Architectural attractions include the string of European forts and castles that line the former Gold Coast, some more than 500 years old, as well as the fantastic adobe mosques of the north, and the ancient fetish shrines that dot the countryside around Kumasi, capital of the venerable Ashanti Kingdom. For outdoor enthusiasts, the vast Mole National Park offers the opportunity to track elephants on foot, while the dense rainforests inland of the coast are home to a wealth of rare birds and monkeys. Hikers are drawn to the waterfalls and scenic slopes of the easterly Volta Region, while beach lovers can choose between the bustling surf scene at Busua or more isolated resorts in the vicinity of Cape Three Points and Beyin.
Philip Briggs, author of Ghana: the Bradt Guide
(First slider image © David Coles, davecoles.wordpress.com)
Related articles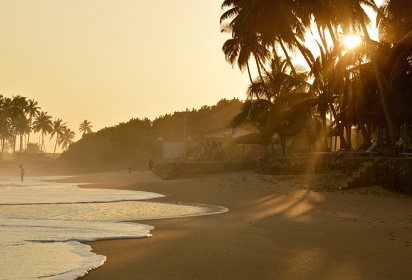 Experience Ghana first-hand with photographer Dave Coles as he takes over our Instagram to share some of his photos and stories from his time in the country.