Dominated by the contrasting waterscapes of the choppy Atlantic Ocean and more serene River Gambia and literally teeming with tropical birds and monkeys, The Gambia is a beautiful country full of opportunities for adventurous travellers.
The smallest country on mainland Africa, The Gambia is a rather low-key Anglophone nation whose serpentine shape mimics the meandering course of the Gambia River for 300km inland of its tropical Atlantic coastline.
Surrounded on three sides by Senegal, this famously welcoming country is also one of the few in West Africa to boast a genuinely thriving tourist industry, thanks to its proximity to Europe and the plethora of beach resorts – catering to all tastes and budgets – that line the 80km stretch of tropical coastline running from the capital Banjul to the remote southern border.
Although perceptions of The Gambia are dominated by the well-organised coastal resorts, the interior offers rich picking to moderately adventurous travellers. Justifiably popular with birdwatchers, the lush mangrove- and jungle-fringed river is also home to crocodiles, hippos, chimpanzees and a variety of monkeys.
Historic attractions include the mysterious megalithic stone circles at Wassu and Ker Batch, and the fortified James Island and former slave-trading village of Juffereh (to where Alex Haley traced his ancestry in the book and TV programme Roots) – all of which form part of the country's two UNESCO World Heritage Sites. All in all, this safe, welcoming and decidedly tourist-friendly English-speaking country makes for an ideal short-stay introduction to the unique atmosphere of Africa.
Related books
Related articles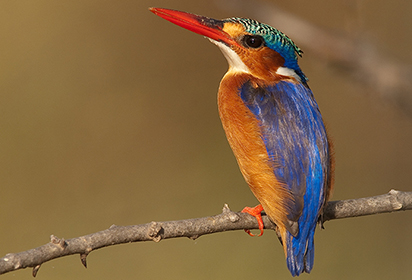 Close to 600 species of bird have been recorded in The Gambia. To be in with the best chance of spotting some of them, you should head to one of these sites.