Food in Gabon
It is possible to eat very well in Libreville and Port-Gentil if you can afford the international prices. Some of the world's most popular cuisines are readily available, notably Italian, Chinese and, of course, French. There are French-style boulangeries selling all manner of croissants and pastries, and the supermarkets are stocked with cheeses, wines and even meat and vegetables imported from France. The choice is supplemented by goods imported from Cameroon, Equatorial Guinea and South Africa.
In Libreville, Port-Gentil and other places where there are tourist restaurants and hotels, it is usual to find both European and African dishes on menus, and often tasty grillades (barbecued fish or meat) as well. In smaller towns and out-of-the-way places there may be a handful of small African restaurants or maquis. These tend to be Senegalese or Cameroonian, and the best serve generous portions of good food for not very much money.
The quickest and cheapest sources of prepared food, however, are les bédoumeuses. These are the women selling doughnuts, small brochettes of meat and filled baguettes on the street. Amazingly, fresh baguettes are sold every morning in just about every market in the country, no matter how remote. French baguettes are one of the Gabonese staples, alongside smoked or salted fish, manioc, plantain and rice.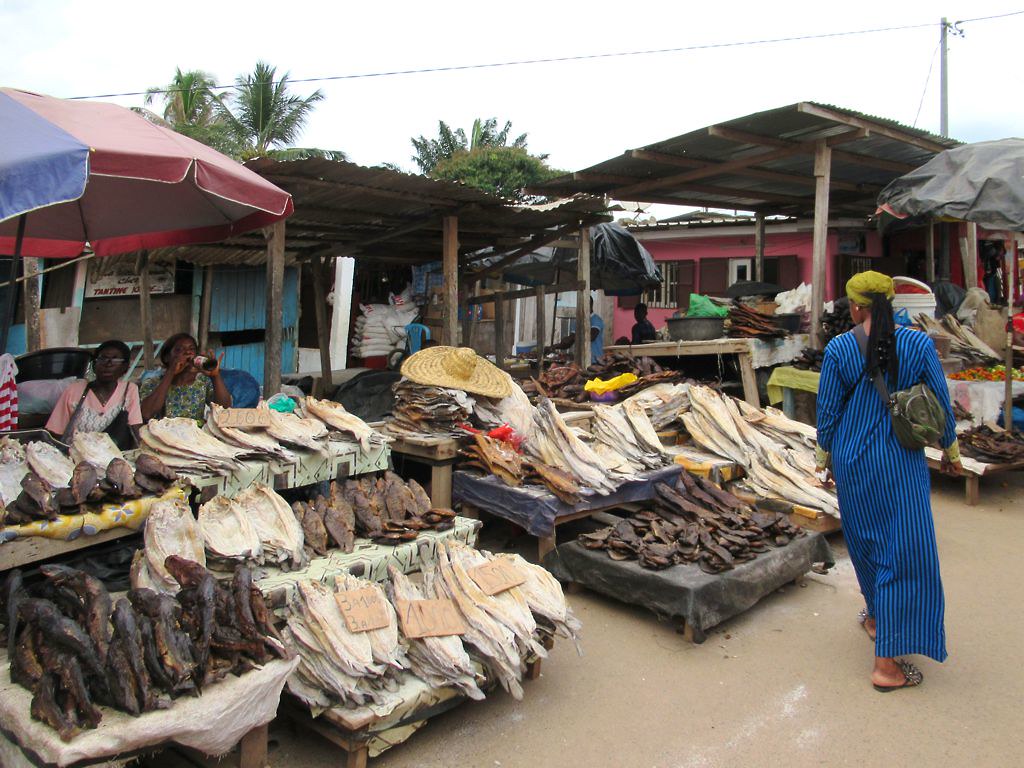 Fish-lovers will be in heaven in Gabon as fresh fish is available all over the country, from upmarket restaurants to local maquis. Gabonese-style crabes farcis (stuffed crabs; made from shredded crab meat cooked with onion, garlic, chilli, lemon juice, parsley and other spices then baked in the shell) are a must-try.
No meal is complete without piment, a very hot sauce made of peppers and herbs. Othr typical sauces are prepared with arachides (peanuts), nyembwe (the pulp of palm nuts) or odika (an oil-producing seed also known as chocolat). Chocolat in fact consists of crushed, fermented odika seeds. This paste of crushed seeds is stuffed into plastic bottles used as moulds, and dried until the chocolat is solid. Readymade chocolat can be found in the big supermarkets in Libreville.
Bushmeat – antelope, porcupine, monkey, snake and so on – has traditionally been an important part of the Gabonese diet. However, attitudes are slowly changing, largely because of the bad publicity of ebola fever and growing awareness about endangered animals.
Vegetarians will probably end up relying on omelettes, hard-boiled eggs and avocados (if they are in season) for protein if they are travelling outside of Libreville. In the capital they will be able to vary their diet with pizzas and the occasional pasta dish. There is also, of course, no shortage of fresh fruit; locally loved atanga fruits make a good savoury option – their buttery flesh is generally boiled or roasted and eaten with salt.
Drink in Gabon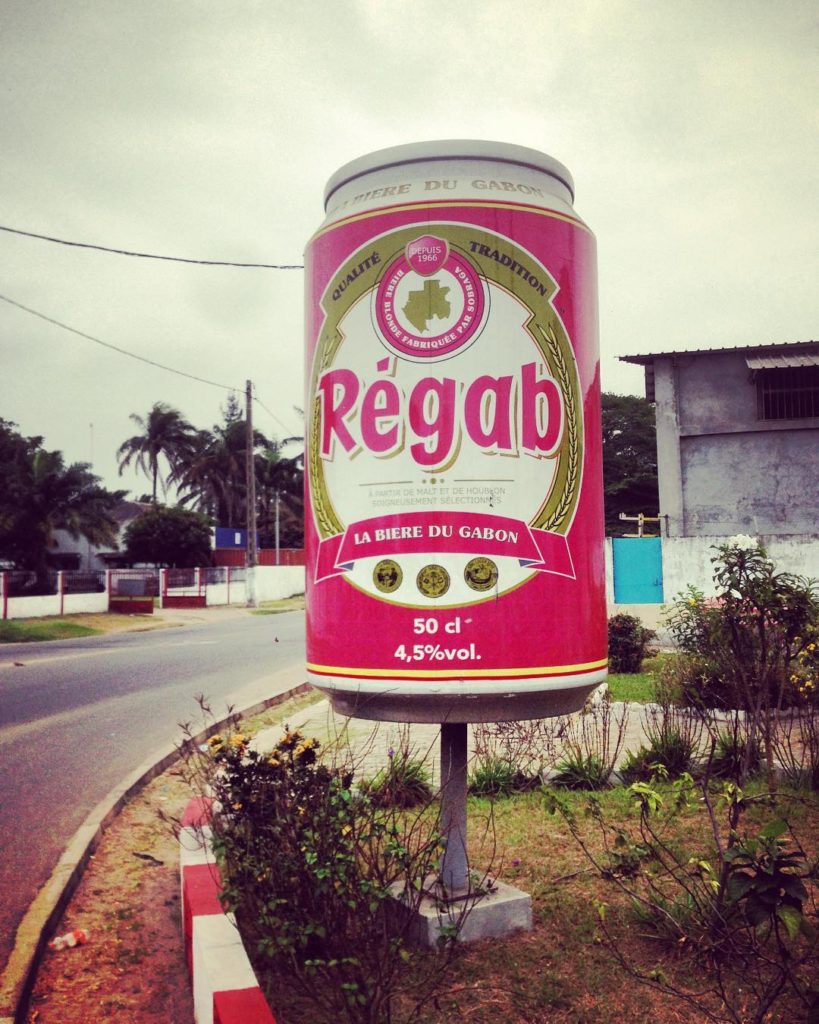 Drinking is an extremely popular pastime and, particularly in rural areas, it's quite often easier to find a bar than something to eat. The local beer Régab, a light lager sold in 65cl bottles, is good value. Its brewery, the Société de Brasseries du Gabon (Sobraga, owned by the French Groupe Castel), is one of the country's biggest employers. Sobraga also brews Guinness, 33 Export, Castel and Beaufort under licence. Count on paying 600CFA for a Régab in the local wooden shack, rising to 1,000CFA in a mid-range bar or restaurant, and over 1,500CFA in an upmarket hotel or restaurant.
In rural areas, the ubiquitous palm wine is the usual tipple. It's extremely cheap and easy to produce by extracting the sap from a wine palm and leaving it to ferment over the course of a day. The wine produced is sweet in the morning, but starts to pack a punch by nightfall.
To be on the safe side, it is better not to drink the tap water in Gabon unless you have water-purifying tablets. Bottled water is widely available, as are beers, wines and spirits, and soft drinks (often simply – and somewhat confusingly – referred to as jus) like Coca-Cola, Sprite, Fanta, and local brand D'jino.