Climate
When to visit
Highlights and suggested itineraries

Climate
Far from being the uniform thirstland of Western myth, Ethiopia is a land of dramatic natural contrasts and variety. Altitudes span the second-lowest point on the African continent as well as its fifth-highest mountain, while climatic conditions range from the drenched slopes of the fertile southwest to the scorching arid wastes of the eastern borderlands. Vegetation is diverse. The most extensive indigenous rainforest anywhere in the eastern half of Africa is concentrated in the well-watered highlands of the south and west. The central highlands, though more openly vegetated, are equally fertile, supporting a mosaic of grassland and cultivation throughout the year, and blanketed in wild flowers towards the end of the rains. The drier northeast highlands are generally quite thinly vegetated, except during the rains. The Rift Valley floor south of Addis Ababa has a characteristically African appearance, dominated by grasses and flat-topped acacia trees. Elsewhere, there are the steamy, marshy western lowlands around Gambella, the brittle heathlike Afroalpine moorland of Sanetti Plateau, and the riparian woodland that lines rivers such as the Blue Nile or Omo and freshwater lakes such as Tana, Ziway and Hawassa. Indeed, it is only the vast but seldom visited eastern and southern lowlands that conform to the image of Ethiopia as a featureless desert.
When to visit
Ethiopia can be visited at any time of year. People are sometimes advised against travelling during the rainy season, which peaks over June to August, but there are advantages to travelling at this time, notably that you'll encounter fewer tourists at popular sites such as Lalibela, and that the scenery is so much more impressive when the countryside is green and well watered. A lovely time of year is September through to early October, when the rains subside but the countryside is still a riot of green punctuated by yellow meskel wild flowers. Mid-October to January, when the rains are over but the countryside is still quite green, is the peak tourist season.
Many travellers try to schedule their trip to coincide with important festivals such as Ethiopian New Year, Ethiopian Christmas, Timkat or Meskel. The European winter is also the best time for birds, as resident species are supplemented by large numbers of Palaearctic migrants.
Highlights and suggested itineraries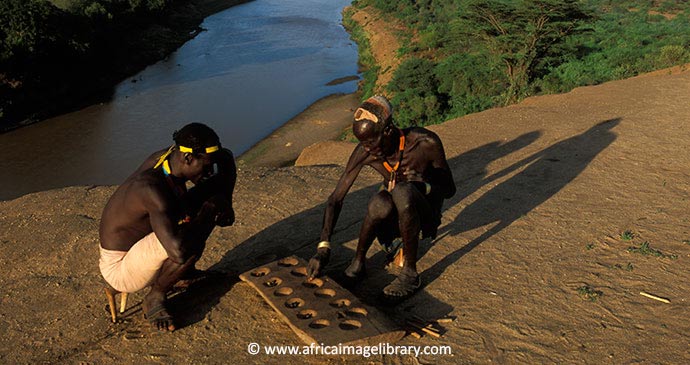 South Omo is an undoubted highlight of any trip to Ethiopia © Ariadne Van Zandbergen, Africa Image Library
Itineraries are subjective things, dependent on how much time you have, your chosen or enforced style of travel, and your interests. So rather than prescribe a few specific itineraries, this section attempts to itemise what is and isn't possible within the confines of a normal vacation period. Perhaps the most important single item of advice when it comes to travel in Ethiopia is to allocate your time realistically. You can, for instance, easily cover the four main attractions of the historical circuit by air in eight to ten days. You could also do it in five to seven days at a push, but if you were constrained to that sort of period, it would be more realistic and enjoyable to cut one of the four main sites from your itinerary. Much the same can be said for visitors bussing around the historical circuit. If you really wanted to, you could cover the main attractions in under two weeks, but only if you are prepared to have at least half your days consumed by long and often uncomfortable bus trips. If you want to view and compare specific itineraries, please see the listing of Ethiopia holidays on SafariBookings. This comparison website lists Ethiopia tours offered by both local and international tour operators.
The historical circuit
Ethiopia's main tourist focus is the well-defined historical circuit in the north. This route incorporates five of the county's most established tourist centres, namely Bahir Dar (on the shore of Lake Tana close to the Blue Nile Falls), Gondar (famed for its 17th-century castles and also the gateway to Simien Mountains National Park), Axum (with its wealth of ancient stelae and ruins), Lalibela (home to the country's most famous cluster of rock-hewn churches) and Mekele (a popular springboard for visits to the sensational Danakil Desert and the rock-hewn churches of Gheralta), along with a host of other less-publicised attractions.
Two other attractions on the historical loop that might be of interest to short-stay visitors are Simien Mountains National Park and the rock-hewn churches of Tigrai. The Simiens are visited from Gondar – you can reach the park headquarters at Debark in a morning by bus or taxi. The prime attractions here are spectacular scenery and the opportunity to see three of Ethiopia's four endemic large mammal species. Travelling by car, allow at least two nights to see the Simiens properly. Hikers would need to set aside at least four days (including travel to or from Gondar), but six days – or even longer – would be better. The rock-hewn churches of Tigrai lie north of the regional capital of Mekele. The possibilities in this area are practically endless, ranging from visiting some of the more accessible churches over a day or two on public transport through to seven-day hikes or driving trips in the Gheralta area. All that need be said here is that Ethiopian Airlines fly to Mekele, though visiting from Axum is another viable option.
The south

There is no single obvious circuit through the south, but there is no desperate need to think through your timing in advance. Shashemene, the transport hub of the south, is less than 5 hours from Addis by bus, and even from more dispersed spots such as Harar, Arba Minch, Negele Borena or Goba, you are now within one day's reach of the capital. In other words, travel in most of this region can be as organised or as whimsical as your temperament dictates.
If you veer towards organised travel, the best way to see a fair amount of the south is to join a tour or hire a vehicle and driver (in Ethiopia, tours and car hire generally amount to the same thing) through an Addis Ababa operator. Tours can be arranged to cater for most tastes, but generally you would be looking at two or three days to see a few Rift Valley lakes, and you could extend this by a day or two by appending either Awash or Nech Sar National Park to your itinerary. To see South Omo properly, eight days is the absolute minimum duration for a round road trip from Addis Ababa.
A more whimsical approach is just that. You could spend weeks exploring the south and east and it would be silly to try to suggest a specific public transport itinerary. The one place in the south that should be singled out here is Bale National Park. Not only is this southern Ethiopia's prime hiking destination, but it is also a good place to see endemic mammals and birds.
Off-the-beaten track travel

If you have only a short time in Ethiopia, common sense dictates that you should focus your attention on the places you really want to see. But if you have the luxury of a longer period of time, it is worth exploring some of Ethiopia's less visited areas. You need not actually head 'off the beaten track' to do this – stopping along the beaten track can amount to the same thing. Ideas of this sort are scattered throughout, but Tigrai and its rock-hewn churches offer particularly rich pickings for travellers who want to take things slowly.
A couple of relatively quick off-the-beaten-track trips suggest themselves. One, if you are visiting Bale, is to return to Shashemene via Dola Mena and Negele Borena. A good overnight trip from Addis is to the wonderful but little-visited cluster of historical sites around Melka Awash. And then there is the mother of off-the-beaten-track routes, the loop west through the forested mountains around Nekemte and Jimma to the remote river port at Gambella, a ten–14-day round bus trip.