Climate
Caught in the Sahel zone, Cape Verde is really a marine extension of the Sahara. The northeast tradewind is responsible for much of its climate. It blows down particularly strongly from December to April, carrying so little moisture that only peaks of 600m or more can tease out any rain. The high peaks, particularly on Fogo, Santo Antão and Brava, can spend much of the year with their heads in the clouds.
Added to that wind are two other atmospheric factors. First is the harmattan – dry, hot winds from the Sahara that arrive in a series of blasts from October to June, laden with brown dust which fills the air like smog. The second factor is the southwest monsoon, which brings the longed-for rains between August and October. Often half the year's rainfall can tumble down in a single storm or series of storms. Unfortunately Cape Verde's position is a little too far north for the rains to be guaranteed each year: it lies just above the doldrums, the place where the northeast and southwest tradewinds meet and where there is guaranteed rainfall.The longest recorded time Cape Verde has gone without being watered by the southwest monsoon is 18 years. For 12 years from 1968 there was also a drought.
In the ocean, the cool stream known as the Canary Current reaches the archipelago from the north and mitigates the heating effect of the northeast tradewind. Temperature variation on the islands is small – it remains between 22°C and 27°C on Santiago throughout the year. But these figures mask big variations between and even within islands. In the desert centre of some of the flat islands it can reach 40°C between July and September, while on the moist peaks of Santo Antão early in the year it can be as cool as 10°C.
Cape Verde's rainfall figures tell a similarly strange story. A recurring theme is the wide variation in rainfall even between different slopes of the same island – the northeastern slopes are the wettest. On Fogo for example, the average rainfall over 35 years for the northeastern slope of Monte Velha is 1,190mm, while the average on its leeward side is 167mm. Monte Velha's figures also reveal how precious rain can deluge an island over a very short period. In a single month, 20 years ago, 3,000mm of rain fell there. The lower islands, the flat ones, São Vicente and Santa Luzia, receive much less moisture, leaving them almost totally barren.
These chaotic figures can be processed to give mean average rainfalls in the range 10–900mm. Most regions of Cape Verde are classified as arid or semi-arid.
When to visit
The islands are warm and sunny all year round so for many visitors without any special interests, it doesn't really matter when they go. For windsurfers the best months are January and February while divers will find the calmest waters and peak visibility from June to December; beach lovers might wish to avoid the windy winter months. Fishermen after marlin should opt for May to October, while tuna fishing is at its best in August. For hikers, the mountainous islands are significantly more beautiful during and just after the rainy season of July to December, though flooding can impede some Santo Antão hikes. The heaviest rainfall is usually in August and September. For those concerned about the heat, the peak is in September (with an average daily temperature of 30°C), with the trough being in January (average 24°C).
For those who wish to see nesting turtles the season is June to October, peaking in mid-July and August. Turtle hatchlings are born from mid-August until the end of November. Whale-watchers will find the best opportunities in March and April, particularly off Boavista. Photographers should avoid December to March when the harmattan winds dull the light, and leave deposits of sand. Party animals and music lovers might choose February for the São Vicente Carnival, or for that in São Nicolau; August for the São Vicente Baía das Gatas music festival; or May for the Gamboa music festival in Santiago. To coincide your visit with one of the more low-key festivals, consult the individual island chapters. Those on a tight budget will find hotels cheaper from April to June and in October, and should definitely avoid Christmas and Carnival time. Peace seekers might avoid July and August, when Cape Verde is full of both European holidaymakers and emigrante families taking their summer holidays back home. As well as Christmas and Carnival times, the whole period from November to March is high season.
Events calendar
January
Lace up your hiking boots
Cape Verde's rainy season never really amounts to very much, though there are the odd flash-floods. By the end of December, it should be over and this makes January, with its cool temperatures, a good month to explore the jagged mountains and lush ribeiras of Santo Antão, seek out the many endemic species in São Nicolau's Monte Gordo Natural Park, or simply escape from everything on the peaceful, remote island of Brava. Arm yourself with a good map and plenty of water, as this is true wilderness-hiking.
February
Catch the wind, catch a (big) wave
Cape Verde is never short of a breeze, something that caught the attention of the Professional Windsurfers' Association: the island of Sal has hosted some of their World Cup events in recent years. No matter that the archipelago is temporarily off the competitive circuit, intermediate and advanced windsurfers will love the challenges presented by the almost ever-present winds. January and March are good months, too, though beginners would do better to choose the summer months between June and September for a softer introduction to the sport.
March
Carnival: whatever you've got to shake, now's the time and place to shake it
Visiting Cape Verde without catching one of its festivals is almost unforgiveable, and this is the mother of them all. Sometimes held in February, sometimes in March, and often compared to Rio de Janeiro's big bash, don't expect much rest if you visit Mindelo on São Vicente at Carnival time. Cape Verde's second city proudly calls itself the archipelago's 'cultural capital' and no one who encounters its carnival would support any counter-argument. The 'culture' is rough-and-ready, the drumming frenetic, the costumes outrageous, the gyrating flesh ubiquitous, the music endless and the participants' smiles infectious. A cacophony of noise and colour, this is a festival not to be missed. Bring your boa feathers and a lorry-load of energy, 'cos this party won't be shutting up shop early.
April
Giants of the sea
Cape Verde is the northeast Atlantic's only breeding-ground for the giant humpback whale and March and April are the peak of the breeding season for these huge but graceful mammals. If you've never been whale-watching, Boavista is the place to go, with sightings in these peak months almost guaranteed. Whale movements are monitored internationally and individual whales are identified by their fluke patterns. For the most rewarding and sympathetic experience, contact Naturalia (www.naturaliaecotours.com), who run trips and are well-informed about these marine mammoths.
May

Fogo's volcano: don't wake the sleeping giant

If climbing a dormant volcano is not on your bucket list, perhaps it should be. And if it is … well, the island of Fogo can help you tick it off. Don't be deterred by the height (2829m) because road transport takes you to an already lofty 1600m. (But when boasting to your friends afterwards, make sure you omit that bit of the story.) The surrounding lava landscapes are stunning, sinister and if you have time, you should definitely spend a night or two in the crater villages of Chã das Caldeiras, amongst the defiant, unique, fascinating residents who embrace the brooding volcano like they would a temperamental father-figure. After your volcano climb, reward yourself with some volcano wine: 'a hint of ash and lava on the nose' is an unusual tasting-note. But tread carefully here: the last eruption was only in 1995.
(Photo: Follow the road up to the volcano on the island of Fogo, which last erupted in 1995 © Sundebo/Shutterstock)
June
A small portion of religion, a large one of party!
24 June. The place to be is Porto Novo on Santo Antão, the occasion is the festival of São João Baptista (St John the Baptist). Heralded by the cross being brought down from the mountains, a 20km journey on foot, the festival continues with a well-attended, open-air service and Sao João's statue being paraded around town amid much ceremony, attended by small groups of frenetic drummers. Then the real fun begins, with horse-races fiercely contested on the black-sand beaches while the crowd tuck into culinary delicacies washed down with shots of potent grogue. After that, it becomes one big party. However much you participate, or spectate, this is a festival that will last long in the memory. (For those on São Nicolau, this festival is replicated – with only slightly less gusto!)
July
Independence Day
No, not 4th July…but 5th July. Yes, that's the day that Cape Verde broke free from its Portuguese colonial masters. It's not quite the year's biggest, wildest party but use this month as the key to explore some of the archipelago's past. Admittedly, not enough of it has been documented, but Praia city has a couple of museums and the UNESCO World Heritage Site of Cidade Velha is nearby with an imposing hilltop fort as well as various churches and a cathedral poking out from the undergrowth down below.
August
Turtle-watch
Various groups work tirelessly to protect Cape Verde's precious population of loggerhead turtles against the twin threats of hunting – turtle meat is still eaten here – and the threat posed by continuing development the islands for tourism. For visitors, taking a trip with a responsible organisation to look for turtles nesting supports the work of these groups and also gives a fascinating insight into these beautiful, serene marine creatures. For the best and most responsible trips, contact SOS Tartarugas (www.turtlesos.org) on Sal island, while on Boavista try Naturalia (www.naturaliaecotours.com).
September
Dive the wrecks, then dry off in the heat
September is the hottest month, so spending some time below the waves and out of the sun makes it a good time to explore some dive sites. There are dive centres on islands like Santiago, Boavista, São Vicente, and even the extreme west of Santo Antão, but Sal can offer the best range of centres and – more importantly – the best choice of reef- and wreck-dives.
October
You've seen them nest, now watch them hatch: loggerhead turtles
The eggs laid by the loggerheads – see August, above – take only a few weeks to hatch. A quick scramble through the sand and a mad dash for the glistening sea makes this a vulnerable time for the hatchlings. Anytime from late-August till the end of December, the hatchlings will be emerging. The slightest irregularity can threaten their survival chances, so it is crucial to contact the organisations detailed previously. SOS Tartarugas runs a seasonal hatchery on the beach on the island of Sal.
November
Snap up some memories
The harmattan winds stir things up from December onwards, making the light poor for photographers, so November is a good time to capture some shots of Cape Verde's stunning beaches, jaw-dropping mountains and beautiful people.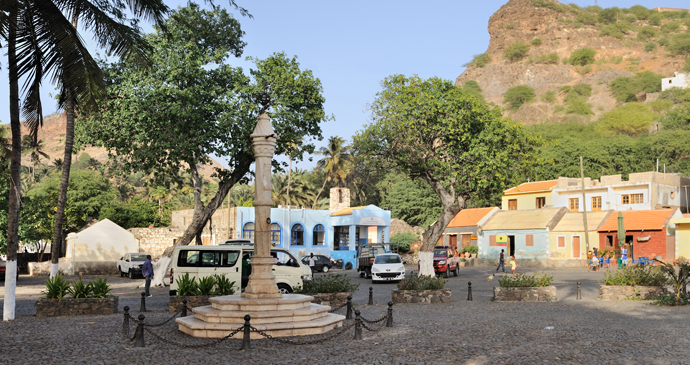 Pelourino Square in colourful Cidade Velha, a UNESCO World Heritage site © Cayambe/Wikipedia
December
Unashamed winter sun
It's time to finish the year with some of Cape Verde's year-round sunshine and warmth. Many north Europeans will book themselves into the all-inclusive resorts of Sal and Boavista, missing out on a more Cape Verdean experience which can easily be found elsewhere. Why not try the island of Santiago, with a few days on its beautiful, northern beach at Tarrafal, combining your precious downtime with a walk or two in nearby Serra Malagueta Natural Park and a visit to Assomada's African Market, before returning south to the bustling capital, Praia. A bit of everything in moderation: that could be Santiago's motto.