Written by Bradt Travel Guides
Sherwood Dr, Bletchley MK3 6EB; www.bletchleypark.org.uk; Mar–Oct 09.30–17.00 daily, last admission 16.00, Nov–Feb 09.30–16.00, last admission 15.00
Eight miles up the A4146 from Leighton Buzzard is Bletchley. Thanks to the blockbuster movie The Imitation Game starring Benedict Cumberbatch and the ITV series The Bletchley Circle, millions know of the vital role Bletchley Park played as a codebreaking centre during World War II. At its peak, around 10,000 people worked at Bletchley and its associated outstations, intercepting, deciphering, analysing and distributing intelligence from enemy radio signals. Their efforts may have shortened the war by up to two years and saved anything up to 14 million lives.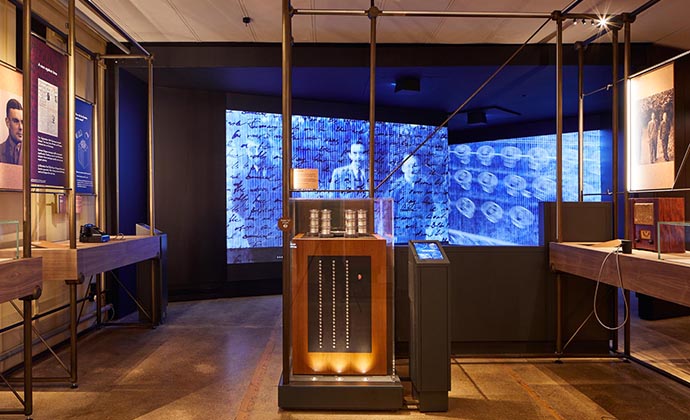 Bletchley Park played a vital role as a code-breaking centre during World War II © Andy Stagg, Bletchley Park Trust
The museum in Block B provides background information about the nature of codes and the development of machines to break them. It includes Enigma machines, a reconstructed Turing-Welchman Bombe machine, which you may see demonstrated by a volunteer, and an exhibition on the life and works of Alan Turing. Probably the highlight of a visit is to see the preserved or recreated huts in which the wartime work went on. Look out for Hut 3, where deciphered messages were translated and analysed, before being rewritten to disguise the fact of their interception; Hut 6, where Enigma messages were deciphered; and Hut 8, the office of Alan Turing (1912–54), whose innovations in cipher breaking techniques were so important to the war effort. The huts feature 'soundscapes' as well as recreations of their original furnishings, giving a real sense of what it would have felt like to work there.
Also on site, but operating independently with its own admission fee, is the National Museum of Computing, which traces computing innovation from those wartime days through to the rise of personal computing in the 1980s and beyond.
To round off your visit, or if you have a special occasion to celebrate, we recommend a look round Bletchley Mansion, which became the codebreaking HQ during the war. The house features recreations of senior staff's offices and the library and, as part of your admission ticket, you can pre-book an excellent afternoon tea (weekends only) in what used to be the Bletchley Park staff cafeteria.
---
Check out our new Chilterns & the Thames Valley guide for more information on historic houses in the area: