Written by Bradt Travel Guides
Her Royal Highness Princess Michael of Kent discusses her experiences with cheetahs and her new book, A Cheetah's Tale.
In A Cheetah's Tale you tell us all about your time with Tess, an orphaned cheetah cub you hand-reared and eventually released into the wild. Can you share a favourite memory of your time with Tess?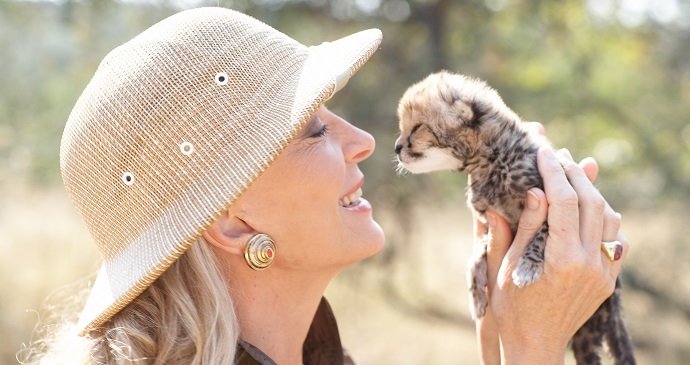 Princess Michael hand-reared Tess, an orphaned cheetah cub © John Swannell
Tess had a strong personality and sense of humour as well as a most expressive face – her eyes could speak volumes, just like those of a much-loved dog's. Generous by nature, she loved to give presents, and since a cheetah mother brings her sub-adult cubs young, wounded animals to teach them to chase and kill, Tess began to bring me half-dead gifts as well. Many was the time I had to dispatch – or call for help to dispatch – a half-dead lizard, rat or bird while she would sit upright, legs planted in front of her and with such a look expecting praise for her gift, that I had to thank her effusively before removing the wretched animal. Half-dead animals were the biggest prize she could offer, but she would often bring me fruit (we grew a lot), flowers, one gardening glove, packets of weed killer – oh the list was endless. Cats!
How much did you know about cheetahs when Tess arrived in your life? How did you find out the information you needed?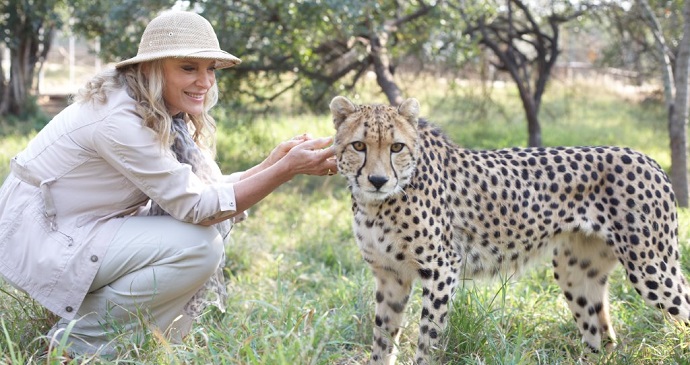 Princess Michael had no practical knowledge before she came to care for Tess © John Swannell
Not so much, but I had been reading quite a lot and sending questions to my father who dutifully found the answers and replied. I had no practical knowledge at all.
What inspired the name Tess?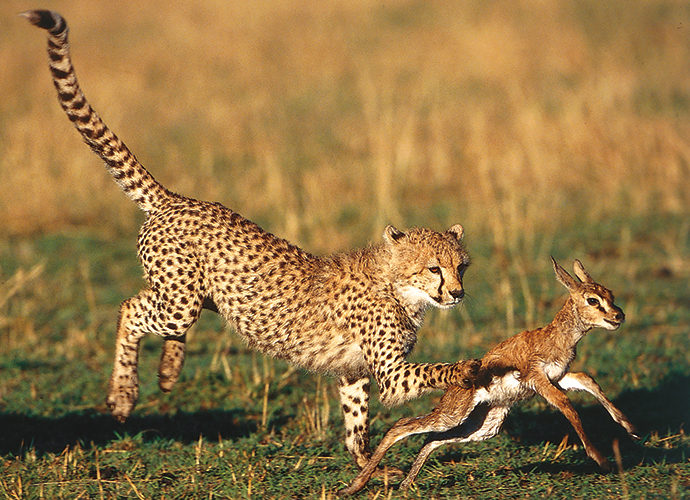 Tess's name was inspired by the speed of the cheetah © Jonathan and Angela Scott
Cheetahs are fast and as a French-speaking teenager, I rather pretentiously called her 'Vitesse' – speed. Since she could not even crawl when so dubbed, this became 'Tess' almost at once.
What drove you to write A Cheetah's Tale?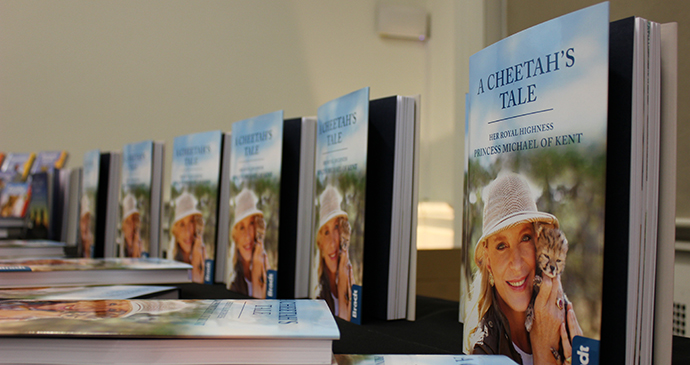 Princess Michael hopes that A Cheetah's Tale will raise awareness for the plight of the cheetah © Laura Pidgley
Hearing about the sad plight of this glorious animal, a friend to man since early Egyptian times. The cheetah is gravely endangered, and this is due to man – its habitat shrinking, competition for prey and much else. I would have preferred to keep my personal memories within the circle of my family and friends, but I was persuaded that awareness of the cheetah's fragile existence is needed if it is to survive. Everyone knows the animal is beautiful and fast, but few realise how very delicate its future existence is.
A Cheetah's Tale is your first autobiographical title – how did writing this book differ from your previous titles?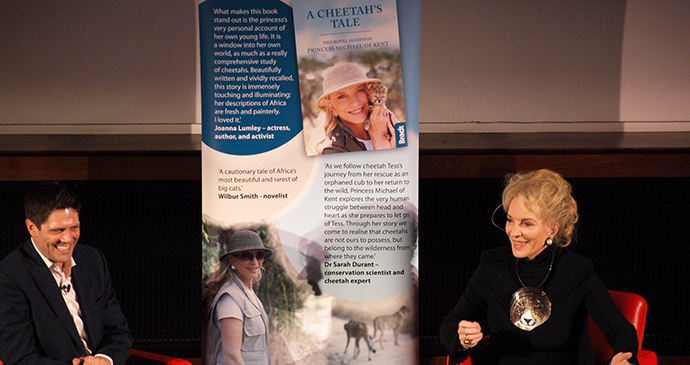 Princess Michael discussing A Cheetah's Tale, her first autobiographical title, at the launch event © Guy Jackson
This story came mostly from my memories, with some help concerning the history of the cheetah as a genus – a species. My other books have all been history, albeit the last three were historical novels, but I stuck to the facts and that requires much research – which is the part I really enjoy about being a writer. My other six books have taken much, much longer as a result – the histories five years each and the trilogy ten in total. This book took me just two years and I am sad they are over – I quite enjoyed going back to those carefree days of my youth in Africa.
You're the patron of the Cheetah Conservation Fund, as well as the Endangered Species Centre in South Africa. Could you tell us a little about your work with these charities?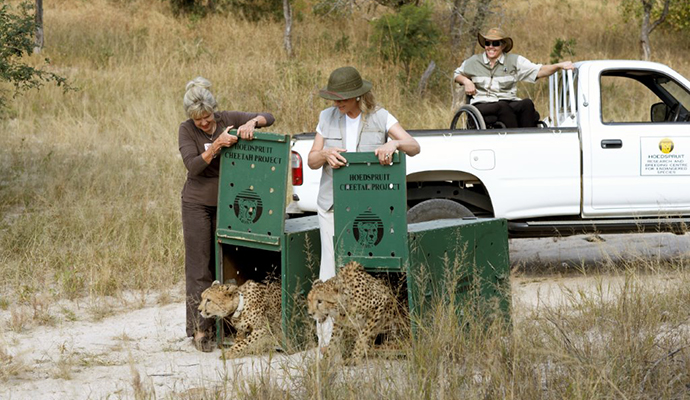 Princess Michael is the patron of the Cheetah Conservation Fund and the Endangered Species Centre © HRH Princess Michael of Kent
The Cheetah Conservation Fund is based in Namibia where the conservationist who started it, Dr Laurie Marker, rehabilitates cheetahs into the wild. These have either been injured in accidents or abandoned cubs found once the mother has been killed. Dr Laurie has a number of programmes, including one that breeds dogs to help protect domestic herds from cheetahs so that farmers do not shoot the cats. Her programmes can be found online by anyone interested in her amazing work.
At the Hoedspruit Centre for Endangered Species in South Africa the owner and founder, Lente Roode, breeds cheetahs for release into the wild. This is legal in South Africa, though not in Namibia. It is a different approach to conservation, yet still a very important one.
My role is to draw attention to the cheetah's plight and generate awareness of the work done at the two conservation establishments. It also involves helping with fundraising for their many projects designed to conserve the cheetah in the wild.
If people are inspired to help save the cheetah after reading you book, how can they get involved?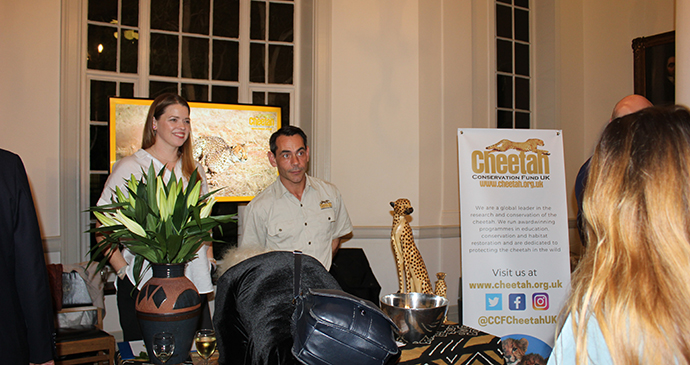 The Cheetah Conservation fund at the launch event for A Cheetah's Tale © Laura Pidgley
Both the CCF and the HCES (see above) are very worthy recipients of charitable donations and also welcome such generous patrons to come and see their work with the animals. Both charities also have beautiful lodges to accommodate guests. Once seen, I believe no one can resist helping these extraordinary animals to survive. Far older, anthropologically speaking, than the other big cats, acinonyx jubatus are a unique genus.
Where is your favourite place to travel?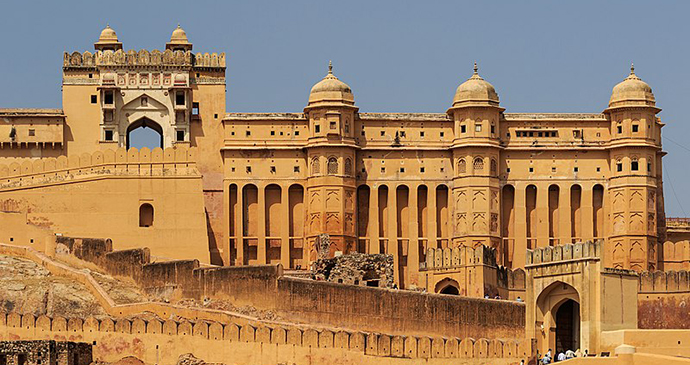 Princess Michael particularly enjoys visiting Rajasthan © A.Savin, Wikimedia Commons
I have travelled a great deal all over the world and I always enjoy visiting India, particularly Rajasthan. We spent our honeymoon in India and visit almost annually. There are also places I have not yet been – Japan, for example, and a number of islands – preferably in the sun.
---
Want to read more about Princess Michael's story? Her book, A Cheetah's Tale, is out now: