Written by Kirk Smock
Some of the best souvenirs to take home from Guyana are the crafts that are made by Guyana's indigenous population. Many Amerindian communities in Guyana are involved in producing traditional and non-traditional handicrafts for sale; by supporting these projects, visitors help provide a much-needed source of income that is a viable alternative to some of the less sustainable options, including mining, logging, wildlife trade and over-hunting and fishing. One of the best places to shop for a range of Amerindian crafts from throughout Guyana is at the Ministry of Amerindian Affairs gift shop in Georgetown. The co-op of crafters and related gift shop at Santa Mission is also an excellent place to purchase gifts and souvenirs. There are a handful of craft projects in Guyana that are working hard to promote the importance of crafts for local families. The projects seek to prove that the traditional skills can have an economic value, and by providing an alternative means of income, promote conservation. Some items to look out for while at lodges in the Rupununi, include: salad servers, bowls, cutlery, jewellery boxes and animal figurines carved out of leopard wood by the Parashara Carving Group. Surama Village also sells bows and arrows made from the same beautiful wood.
(Photo: The Massara Ladies Sewing Group uses needlepoint to capture everyday life of the Rupununi, © Darren Flint)
If you have space, the hammocks, baby slings and bags made from home-grown cotton are worth the cost.
The Yupukari Crafters near Karanambu, in the village of Yupukari, is a project that is working to develop a line of home furnishings made with a combination of wood, rawhide and cotton. The group makes tables, chairs, sofas, hammocks, baskets and the like. They are also using balata in creative ways, including in the making of tiles. The craft projects are available at the Caiman House, at locations in the Rupununi.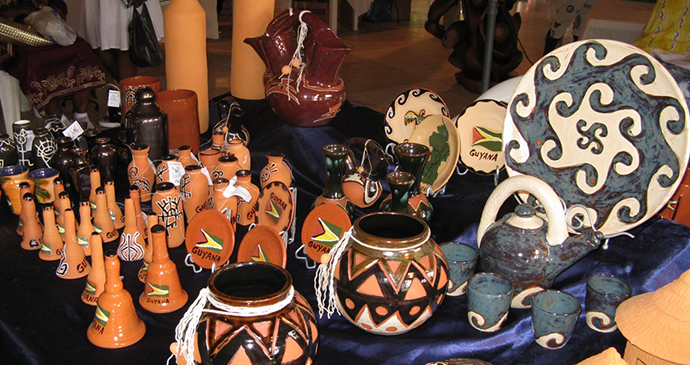 Support local community projects by buying traditional crafts when in Guyana © Guyana Tourism Authority
Composed of women from the Santa Rosa and Waramuri communities of north western Guyana, Moruca Embroidery was started by the Guyana Marine Turtle Conservation Society (GMTCS) as part of their efforts to protect the endangered species of sea turtles that nest on Shell Beach. The items, which include hats, pillowcases, bags and towels, feature Images of local flora and fauna, with the focus on sea turtles. As Santa Rosa and Waramuri are the two main sea turtle harvesting communities near Shell Beach, creating alternative income is of utmost importance. The crafts are available at the main office for Iwokrama in Georgetown.
Like Moruca Embroidery, this new initiative was also founded by Michelle Kalamandeen of the GMTCS. The project involves women from the North Rupununi and Moruca communities who make a range of jewellery from natural and recycled materials found in Guyana. The project focuses on providing the members with an income through skills and products that utilises their traditional knowledge and culture.
---
Read more about traditional communities in Guyana with our new guide: