Written by Bradt Travel Guides
The Outer Hebrides offers more than its picture-postcard views. From historic sights to natural wonders there are plenty of reasons to visit the Western Isles. If you are looking for in-depth history and somewhere to feel at home the Outer Hebrides is the place for you.
Callinish standing stones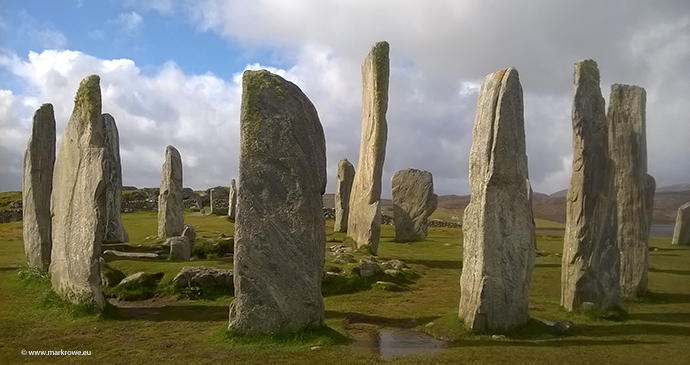 © Mark Rowe, www.markrowe.eu
The standing stones of Callanish (Calanais) on the west coast date back 5,000 years and provide a haunting spectacle that arguably surpasses that of Stonehenge. The stones were erected around 4,500–4,900 years ago but the site is known to have been cultivated by farmers planting barley even earlier, around 3500BC. At least a dozen related sites surround the central Callanish stones, and two nearby satellite sites are worth visiting, both for their own interest and for the perspective they offer on the main site.
Harris Tweed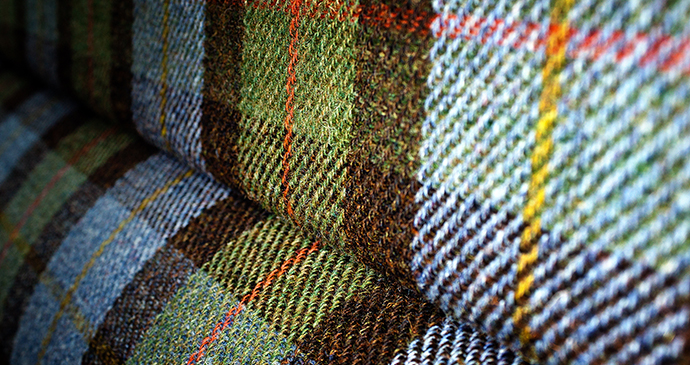 © Chris Whitelaw, www.flikr.com/photos/whitez73
Harris Tweed's unique cloth is only produced in the Outer Hebrides by weavers working in their own homes. Harris Tweed employs more than 250 craftsmen and women on the islands, with many specialist weavers creating their own niches and designs. Finished Harris Tweed items and rolls of cloth are exported to more than 50 countries. The industry is emerging from a period of decline and has re-established itself as a luxury global product. You can find Harris Tweed products in most local shops.
Machair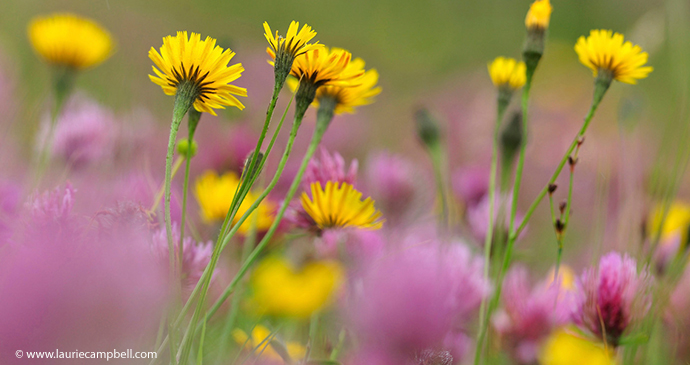 Machair is a prominant feature of the Outer Hebrides landscape Scotland © Laurie Campbell Photography, www.lauriecampbell.com
One of the defining landscape features of the Outer Hebrides' west coast are the long strips of sea meadows and coastal grasslands known as the machair. As smooth and polished as a snooker table for much of the year, they transform into an astonishing riot of wild flowers in summer, providing an extreme and dazzling contrast with the bare, rugged rocks inland.
Birdwatching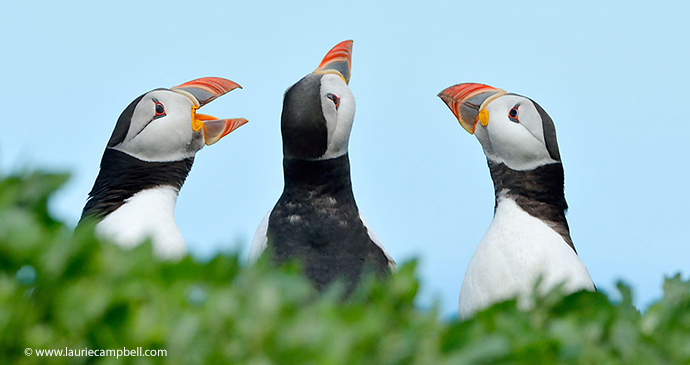 Spotting puffins is one of the delights of birdwatching in the Outer Hebrides © Laurie Campbell Photography, www.lauriecampbell.com
More than 320 species of bird have been recorded on the Outer Hebrides, leaving plenty of opportunity for bird watching. Golden eagles generally inhabit mountainous areas, such as Harris and the eastern side of South Uist. While they can be seen year round, February and March are good times to see males and females pair bond, soaring in unison and locking talons.
One of the most endearing birds is the puffin, which you can expect to see during late spring and early summer, particularly around the Shiant Isles and at St Kilda. Other finds include, cuckoos, croncrake, red-necked phaalarope, curlew, redshank, greenshank, golden plover, oystercatcher, and lapwing. A helpful Birds of Prey Trail (www.visitouterhebrides.co.uk and search for 'Bird of Prey Trail') lists 11 locations and two ferry journeys where you have a decent chance of spotting both eagles, hen harrier, short-eared owl and merlin.
Walking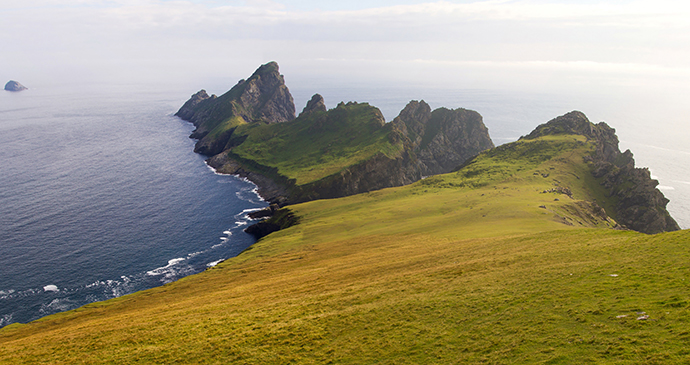 The landscapes of the Outer Hebrides were made for walking © Corlaffra, Shutterstock
From easy beach strolls to strenuous and challenging mountain walks, the Outer Hebrides offer everything a hiker could wish. Several walks are described in the relevant island chapters. Beware, however, that walking on the Outer Hebrides may be different from what you are used to back home. Much of the UK mainland is mapped out with footpaths, permissive paths and fingerpost signs. This is rarely the case in the Outer Hebrides, where many walks take you over open, path-free ground. Sometimes there are waymarker posts leading the way; more often there are not, so a map, a compass and sound judgement are essential. The tourist board has also produced a new series of six walking publications for Callanish, Great Bernera, Rhenigidale, Scalpay, Berneray and Eriskay.
Geàrrannan Blackhouse Village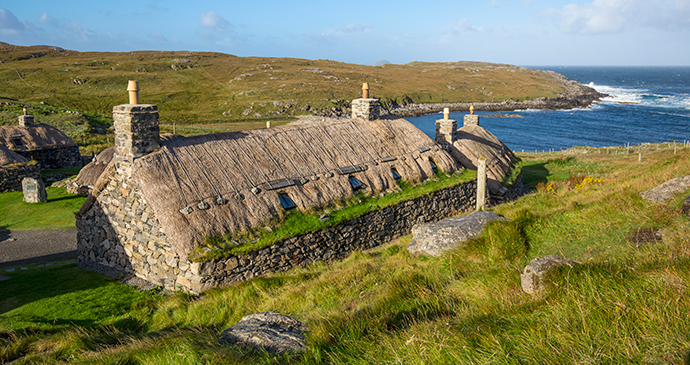 The Geàrrannan Blackhouse Village offers unusual accommodation for tourists © Kenny Lam, Visit Scotland
Blackhouses were the most common living quarters for islanders right into the 20th century and a collection of restored buildings is huddled together here either side of a winding track. Constructed of stone or turf-faced protruding walls with an earthen core and covered with further layers of turf and a straw thatch, blackhouses face the wind and their thatched roofs are pegged down with boulders and ropes made from heather.
The remaining blackhouses are offered as holiday lets. For a unique experience, stay on a self-catering basis in restored blackhouses at Geàrrannan at a cost of £60–£120 per night. There are four cottages with solid fuel stoves, some with underfloor heating and a hostel that sleeps 13.
Exploring the community
If you want to get closer to the Outer Hebrides community there is no better way than to shop. In recent years community shops have sprung up; stocking fresh local produce, offering take-aways and hot drinks, typically with good-quality rather than low-frills ingredients. Many are punching their weight against fierce competition from online deliveries. What these shops also offer is the knowledge that your money is being reinvested locally. Their business models rely heavily on summer visitors to keep them open for the local community during the more fallow winter months. They work hard to keep their prices competitive with the supermarket chains as they want your custom, and this is reflected in the generally high standard of goods on sale.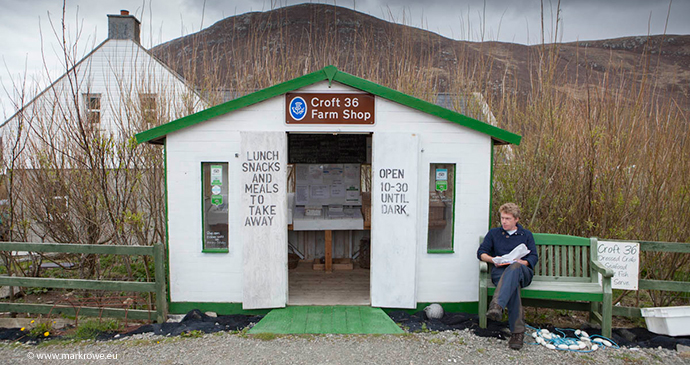 Croft 36 is a farm-shop-cum-take-away unlike anything else you will have encountered © Mark Rowe, www.markrowe.eu
Another way to experience community is to attend one of the many feisean (festivals). Farming shows and sporting challenges take place throughout the islands, along with mods – festivals of Gaelic song, arts and culture. Agricultural shows, with sheepdog trials and farmers' produce for sale, offer good eye-openers into island farming life. The nature of some 'annual' events is that they prove popular for a few years then run out of steam and are quietly dropped from the calendar. An up-to-date list of regular and new events can be found here.
---
Discover more of the Outer Hebrides with our guidebook, which has 10% off in our online store: