Written by Bradt Travel Guides
There's no denying it – Tanzania isn't really known for its vibrant city life. Almost all visitors to the country are drawn in by its fantastic safari circuits, and many of those who have to overnight in one of its two main gateway cities won't leave the comforts of their hotel. However, in both Dar es Salaam and Arusha, there is much to be explored.
Dar es Salaam
Capital of Tanzania from 1887 to 1973, the port of Dar es Salaam, set on the Indian Ocean mainland about 30km southwest of Zanzibar, remains the country's most populous, prosperous and vibrant city. It is also the site of the country's largest international airport, and while this has been replaced by Kilimanjaro/Arusha as the main port of entry and springboard for the northern safari circuit, Dar es Salaam remains the obvious starting point for safaris to southern Tanzania, and the main funnel for flights and ferries to Zanzibar and the islands.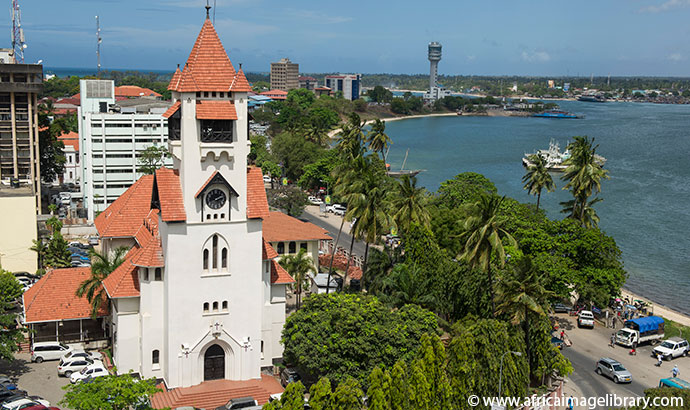 The Lutheran church is one of Dar's most famous landmarks © Ariadne Van Zandbergen, Africa Image Library
Affectionately nicknamed 'Bongo' and also often referred to as plain Dar, this city of 4.5 million people is a 'love it or hate it' kind of place. Many would regard a Tanzanian itinerary that omits the country's largest city to be a highly desirable prospect. Others would consider Dar es Salaam to be East Africa's most likeable city, possessed with a distinct sense of place derived from the cultural mix of its people and buildings, and the torpid coastal humidity that permeates every aspect of daily life. Architecturally, despite the ever-growing population of modern high-rises, elements of German, British, Asian and Arab influences are visible along the streets of the old city centre, while a superficial aura of hustle and bustle overlies a laidback and friendly atmosphere typical of old Swahili ports. And whether or not the city itself appeals, Dar es Salaam does lie on a lovely stretch of Indian Ocean frontage, and it is flanked by some excellent beaches, with those to the south generally being more rustic in feel, and those to the north more developed.
What to see and do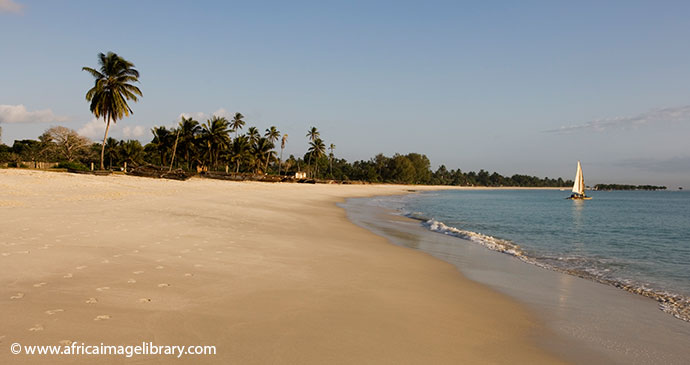 The beach resorts south of Dar are the perfect place to relax after your safari © Ariadne Van Zandbergen, Africa Image Library
In terms of amenities, Dar es Salaam is geared primarily towards business travellers, and has a relatively low tourist profile, thanks to the ease with which fly-in visitors can pass through its international airport without setting foot in the city itself. Despite this, the old city centre doesn't lack for character or historic interest, and it is flanked by some attractive beaches, though neither deserves to be mentioned in the same breath as its counterparts on Zanzibar. Rather more compelling, only an hour's drive north of Dar es Salaam, is the small port town of Bagamoyo, a former slaving entrepôt steeped in history and equipped with beachfront accommodation catering to most budgets. Further north still, Saadani National Park is the only East African wildlife reserve lapped by the waves of the Indian Ocean, and its lodges make a fine wilderness alternative to a more conventional beach resort at the end of a dusty safari.
Arusha
Set at a temperate altitude of 1,350m in the fertile southern foothills of Mount Meru, bustling Arusha, the third-largest city in Tanzania, is the most popular and convenient springboard from which to explore the country's legendary northern safari circuit. Less than 100km from the Kenyan border as the crow flies, this self-styled 'safari capital' is also an important gateway to Tanzania, not only for travellers driving across the border from Nairobi, but also for the growing number of tourists who arrive at nearby Kilimanjaro International Airport.
Arusha is an attractively green town, with a northern skyline – weather permitting – dominated by the imposing hulk of Africa's fifth-highest mountain, the 4,566m Mount Meru. Situated in the mountain's rain-shadow, it also makes for a climatically temperate – and, during the rainy season, often downright soggy – introduction to tropical Africa. For first-time visitors to Africa, the town centre is an agreeable introduction to urban Africa. It's neither as intimidating nor as sprawling as Nairobi or Dar es Salaam, and there are plenty of trendy bars, restaurants and cafés catering to expatriates, tourists and wealthier locals.
What to see and do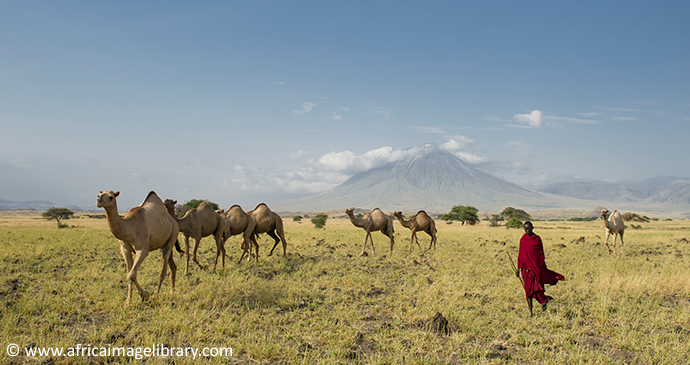 Embark on a camel safari on the footslopes of Mount Meru © Ariadne Van Zandbergen, Africa Image Library
Arusha is better known as a base for safaris and other excursions than as a sightseeing destination in its own right. However, a trio of museums dot the centre of town, all worth a passing look if you're in the area, particularly the insightful Tanzanite Experience that offers a fascinating insight overview of the discovery and extraction of this exquisite blue gem. Further afield, a numer of cultural tourism programmes have been implemented around Arusha, where you can spend the night at a Maasai village or embark on a camel safari – an excellent half- or full-day trip from the city.
---
Discover more about Tanzania's gateway cities in our comprehensive guide: