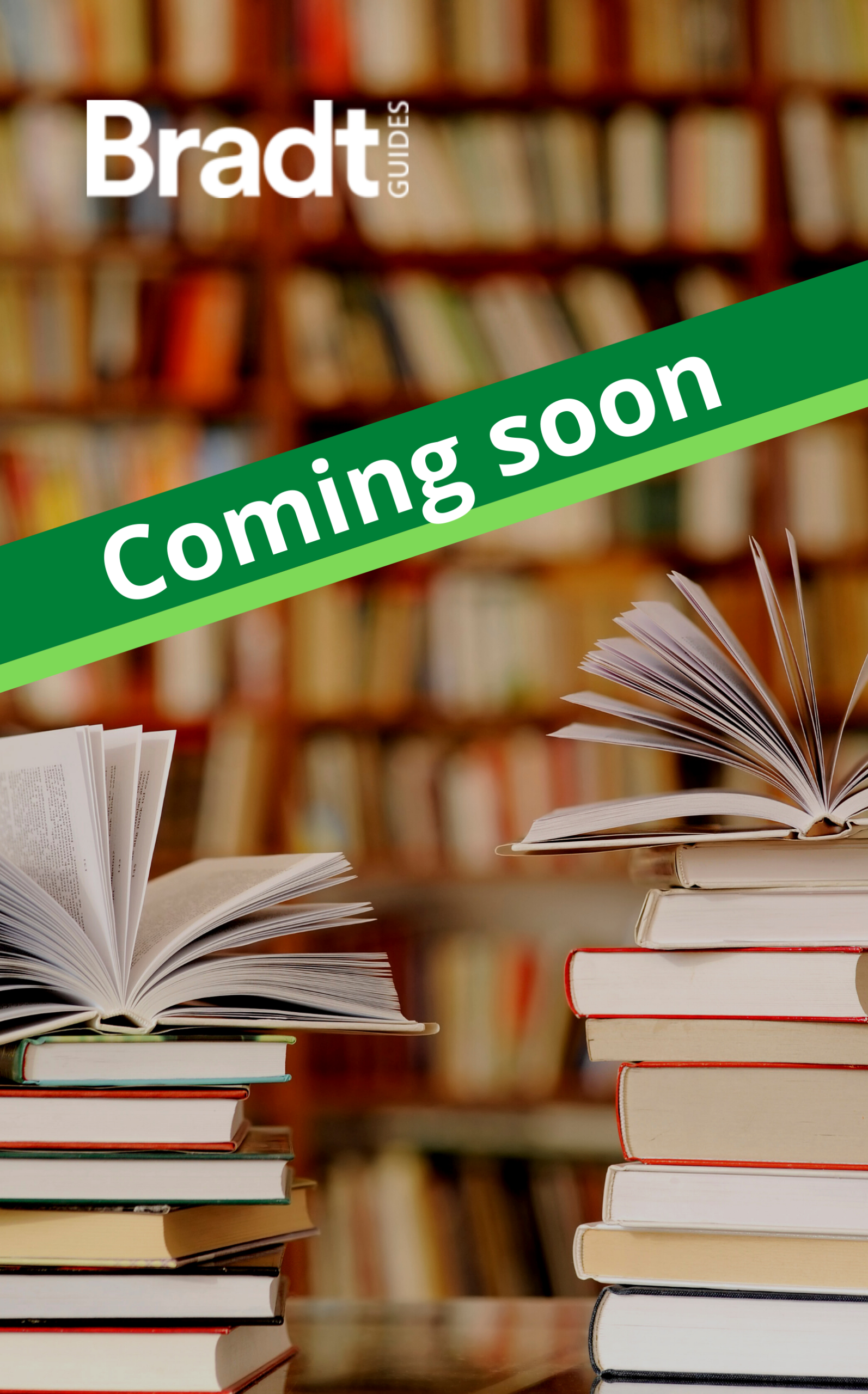 Colombia
by
Sarah Woods
Colombia Travel Guide – Expert holiday and travel advice on everything from Bogotá cuisine and accommodation to rainforest walks, national parks and birdwatching. Also covering suggested itineraries, Amazon wildlife, archaeological sites, Cartagena, Medellín, Los Llanos, Leticia, San Andrés Archipelago, Vichada, Guaviare, Caqueta and culture.
About this book
This new, fourth edition of Bradt's Colombia has been thoroughly revised and updated to include all the most recent developments in this emerging South American destination and to bring to the fore the country's fast-developing ecotourism offering. New for this edition is coverage of Yopal and San José del Guaviare, Caqueta, Vichada and Guainia, and on the Atlantic coast, Palomino. Also included are details of how to go star-gazing in the lunar landscapes of the Tatacoa desert, learning to wrangle cattle during the Coleo festival in Villavicencio, visiting ancient rock paintings in unexplored Guaviare, where to try the traditional fermented tipple of the original Muisca people, and visiting the rainbow river of Caño Cristales and the untouched wilds and jungles of Chiribiquete National Park.
After decades of trouble, Colombia now offers one of the most exciting new travel experiences in South America. The country is home to a staggering 10% of all species found on the planet: pink river dolphins swim in the Amazon near Leticia, jaguar and ocelot slip between the trees in vine-tangled rainforest and birdwatchers rightly marvel in the vast savannah of Los Llanos and beyond. What's more, from vibrant cities such as Bogotá, Medellin, Cali and Cartagena to emerging destinations across the country, Colombians will receive you with a smile as if you were one of their own. Still unaccustomed to international visitors, just speaking a little Spanish goes a long way.
With Bradt's Colombia, relax in Bogotás fashionable restaurants, discover the colonial backwater of Mompós, a town currently undergoing something of a renaissance with its traditional silver jewellery shops and international jazz festival, and explore the UNESCO Seaflower Biosphere Reserve in the San Andres Archipelago, location of Providencia, the least developed and visited island in all of the Caribbean. For birders, the country boasts an embarrassment of riches, nowhere more so than Los Llanos and the Sierra Nevada mountains in the north.
About the Author
Sarah Woods is a member of the Royal Geographical Society, the Society of Authors and British Guild of Travel Writers. She has spent extended periods in Central and South America and writes regularly for newspapers, magazines and online publications about her experience of Latin America. As the author of more than a dozen travel books, Sarah received the Guidebook Writer of the Year Award from the British Guild of Travel Writers in 2005 for Panama (also by Bradt). Sarah spent three years as the travel expert on Alan Titchmarsh's sofa (on ITV) and as a holiday presenter on BBC Radio Scotland's morning show. Sarah lectures on South American themes in the UK, Spain and America and has given talks on Colombia at the Royal Geographical Society, bookshops and travel shows. Sarah won the PSA award (2013) for broadcasting and the Kenneth Westcott Prize in both 2007 and 2008. In the past few years she has worked on a documentary about Colombia's former president Álvaro Uribe (2012) and the centenary of the Panama Canal (2014). Sarah's compelling travel narrative On a Wing and a Prayer: One Woman's Journey to the Heart of the Rainforest was published in hardback in May 2015 (Bloomsbury) and is available in bookshops worldwide. She is currently working on a documentary about Colombia's extraordinary ancient tombs, standing stones, catacombs and funerary chambers in San Agustín.
Russell Maddicks is a BBC-trained journalist and travel writer who has spent the last 20 years exploring the countries of Latin America and publishing his experiences in print, online and in social media. A graduate in Economic and Social History from the University of Hull, England, he is fluent in Spanish and loves nothing better than mastering the country-specific slang of the Latin American countries he visits.
He has worked as a reporter and editor at the Daily Journal newspaper in Caracas, the editor of a webzine aimed at the Latin American youth market called Loquesea! (Whatever!), and as a regional specialist at BBC Monitoring covering political developments and general news across Latin America.
You can follow his Latin American travels on Twitter and Instagram: @LatAmTravelist
Reviews
'I've been using Sarah Woods' Bradt Guide on many trips, now, to Colombia (and found it the best guide).'
Matthew Parris
Recommend reading by National Geographic Traveller
Additional Information
Table of Contents
Introduction
PART 1 GENERAL INFORMATION
Chapter 1 Background Information
Geography, Climate, Natural history, Conservation, History, The cocaine trade, Government and politics, Economy, People, Language, Religion, Education, Social structure 45, Culture 47
Chapter 2 Practical Information
When to visit, Highlights, Tour operators, Red tape, Getting there and away, Health, Safety, Cruise passengers, Gay/lesbian rights, What to take, Money, Budgeting, Getting around, Accommodation, Eating and drinking, Public holidays, Festivals, Shopping, Photography, Media and communications, Business, Buying property, Cultural etiquette, Living in Colombia, Travelling positively
PART 2 THE GUIDE
Chapter 3 Bogotá
History, Geography, Climate, Architecture, Getting there and around, Tourist information, Where to stay, Where to eat and drink, Entertainment and nightlife, Shopping, Sport, Other practicalities, What to see and do, Around Bogotá
Chapter 4 North of Bogotá
History, Getting there and around, Boyacá, Santander, Norte de Santander
Chapter 5 Los Llanos
History, The ecosystem of Los Llanos, The road from Bogotá, Villavicencio, Around Villavicencio, Yopal, Around Yopal, San José del Guaviare, Around San José del Guaviare
Chapter 6 San Andrés Archipelago
History, People, Language, Fauna and flora, Practicalities, Diving in the archipelago, Isla San Andrés, San Luis, Isla Providencia, Isla Santa Catalina
Chapter 7 Amazonia
History, Ecological concerns, People, Leticia, Around Leticia, Exploring the Yavarí River, Benjamin Constant, Parque Nacional Cahuinari, Tabatinga, Santa Rosa, Caqueta, Vichada and Guainia
Chapter 8 The Southwest Interior
Valle del Cauca, Cali, Around Cali, Buga, Around Buga, Huila and Cauca, Neiva, Around Neiva, Popayán, Around Popayán, Nariño, Pasto, Around Pasto
Chapter 9 The Northwest Interior
Antioquia, Medellín, Around Medellín, Santa Fé de Antioquia, Zona Cafetera (Eje Cafetero), Manizales, Around Manizales, Pereira, Around Pereira, Armenia, Around Armenia
Chapter 10 The Pacific Coast
Flora and fauna, Getting there and around, Practicalities, Bahía Solano, Playa Almejal, Parque Nacional Ensenada de 392, El Valle, Buenaventura, Bahía Málaga, San Cipriano, Nuquí
Chapter 11 The Atlantic Coast
History, Climate, Bolívar, Cartagena, Around Cartagena, Mompóx, Atlántico, Barranquilla, Close to Barranquilla, Magdalena, Santa Marta, Around Santa Marta, Valledupar, La Guajira, Palomino, Riohacha, Around Riohacha, Southern Atlantic coast, Capurgana, Around Capurgana
Appendices
Amazon Wildlife Guide
Language
Further info
Index