Written by AfriCat for Bradt Travel Guides
AfriCat work tirelessly to support big cat conservation in Namibia and is proud to have Chris Packham as a Patron. We're looking forward to welcoming them as sponsors of the 2019 event!
AfriCat (which stands for a free cat) is a research, education and conservation charity based in Namibia. Its goal is to help ensure the continued existence of lions, leopards and cheetahs in the wild, and it does so by involving local communities.
Lions are in trouble in Africa and Namibia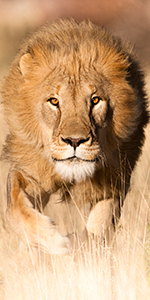 With under 1,000 lions left in Namibia, and now thought to be fewer than 25,000 wild lions in Africa (fewer than the combined total of white and black rhino), work is needed if they are to thrive outside the National Parks. AfriCat's lion project is based on the western side of the Etosha National Park. It has several strands:
– A Livestock Protection Programme that among other things helps to build livestock kraals;
– AfriCat Lion Guards who are community selected local farmers who support their fellow famers on 'best practice' to avoid livestock losses;
– The Lion Research programme where lions within local prides are collared to provide data on their movements which allows AfriCat to alert famers if the lion pride has moved into their area;
– Human Wildlife Mitigation – developing ideas and techniques that enable lions and people to 'share' the land;
– Community Development Programme under which AfriCat has built the Onguta School for a rural community – in return for which the community has agreed to work together to protect the lions.
Cheetah numbers in decline
Namibia carries around a third of the entire African population of cheetahs – most of these are living on 'farmland'. On these commercial farms the lions and hyena were shot out many years ago as they killed cattle. This helped the leopard and cheetah populations. Sadly both cheetah and leopards are still killed on farms, sometimes dying in great distress.
Cheetah numbers are in decline in Namibia © Janet Widdows, AfriCat
– AfriCat runs a longstanding education programme for farmers and new generations of Namibians on the ways to farm successfully without the need to kill cheetahs or leopards;
– AfriCat's cheetah rehabilitation programme has proved that it is possible to rehabilitate ex-captive cheetah back to the wild and gives hope for the future;
– The Nature Reserve at Okonjima provides a second chance for cheetahs who need new homes or become ambassador cats providing educational and photographic opportunities to visitors;
– AfriCat's research programme provides information on what cheetahs need to thrive and survive in captivity and the wild.
Secretive Leopards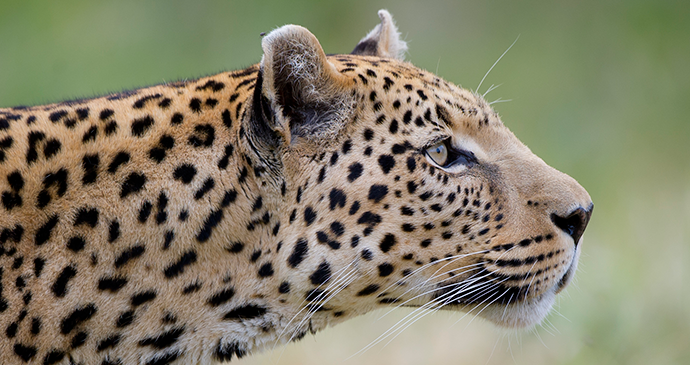 Africat's research leopards are tracked using radio collars © Janet Widdows, AfriCat
Being mainly nocturnal, as well as lovers of trees and thick bush, and masters of disguise, leopards are generally hard to find. AfriCat research leopards – which live wild lives – have radio collars fitted so they can be tracked and are easier to find. Being habituated to vehicles, they do not always slink away. Leopard sightings can be quite wonderful and memorable. The long term research study has given new insights into the lives of these wonderful cats. There is an exceptionally high density of leopards at Okonjima and their relationship with brown hyenas and cheetahs is fascinating. A charismatic male leopard called 'Tyson' was one of the first to be studied. This research has continued so that today we know that his granddaughter Shakira is alive and is a key attraction on the nature reserve. A stay at Okonjima provides a great chance to see these wonderful cats.
---
For more information on the Big Cat Festival, and to book tickets, click here.