Written by Adrian Phillips
'Who are you, who are you?' Silence. 'Dooo dooo dooo. Dreeep.' I doze and dream of robots. Outside my tent, there's a final, pregnant pause as beaks part and all of nature gathers in wide-eyed expectation – and then the cork is popped on a new day and the air is a mad torrent of noise that drags me upright by my hair. Joyous whoops collide with melancholic honks and mechanical cackles with hollow beats that tickle my ribs. Quiet's every crevice is filled with chirrups and trills and lilting calls. I'm in the thick of my first dawn chorus in the African bush and it's like an explosion of Star Wars sound effects.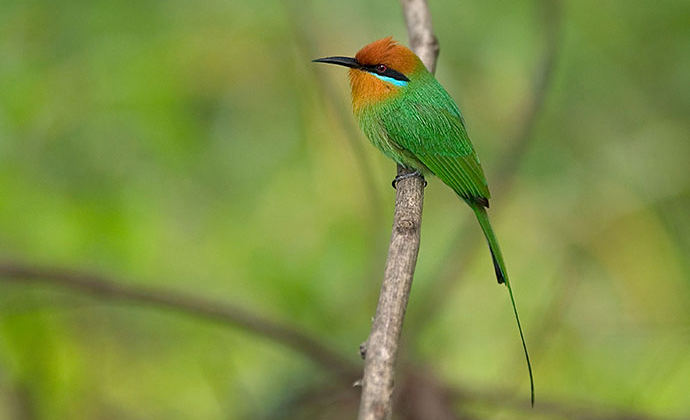 The colourful little Boehm's bee-eater is just one example of the fantastic birdlife in Liwonde © Dana Allen, Central African Wilderness Safaris
Half an hour later and a man with a gun puts a finger to his lips. I nod and follow as he moves lithely beneath his khaki cap to crouch at a break in the acacia trees. Five elephants feed at thorn bushes 50 metres away, purring throatily while their trunks curl around the branches. Watching wild elephants on a walking safari – my second 'first' of the day, and it's only 5.30am. 'You must know your elephants', Matthew whispers. 'These are moving slowly, eating, happy.' It's reassuring to hear. 'But if you are ever chased by an elephant', he continues, 'throw your rucksack away and jump into some bush'.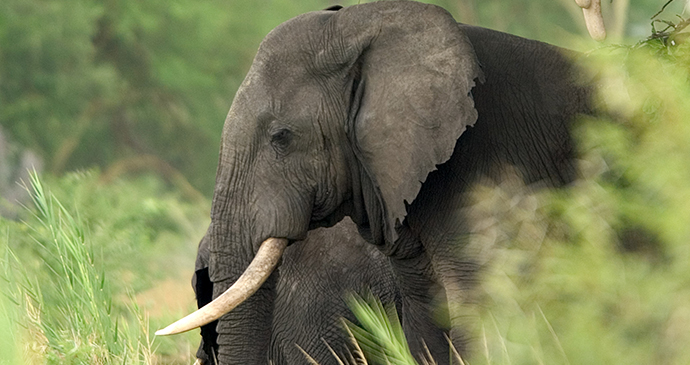 Elephants are especially prolific inhabitants of Liwonde National Park © Dana Allen, Central African Wilderness Safaris
Matthew hasn't yet been chased by an elephant, although during the park's early days those animals crossing the border from war-torn Mozambique weren't averse to giving a Land Rover a whack. They're trustful now and Liwonde National Park has developed into Malawi's leading wildlife spot. And here I am, on my virgin safari. I arrived yesterday at the high-end Mvuu Lodge and decanted myself into a tent the size of a tennis court; I tiptoed gingerly over a warthog snoring beneath the walkway to my private shower; I locked the front door pointedly in the face of a vervet monkey hoping to acquaint himself with my luggage; and I ate cutlets above grazing kudu and waiting crocs in this crook of the Shire River.
'Mvuu' means hippopotamus and the hat certainly fits: if you tipped another hippo into the river here there'd be no room for the water. A recent survey counted 1,100 of them along a 20km stretch. In the afternoon, I go out in a little boat with a guide called Duncan and a wire-tailed swallow that's nesting under the striped canopy, apparently unconcerned that its house is on the move. Noses strew the surface like discarded rubber boots. Ears twitch and resonant grunts emerge from deep inside barrelling bellies. Hippos are fiercely territorial, I learn, and they're fond of a scrap. 'Are they a danger to boats?' I ask, feigning indifference. 'Ah, yes. Very dangerous', replies Duncan matter-of-factly. I reach for my rucksack and scan the bank for bush.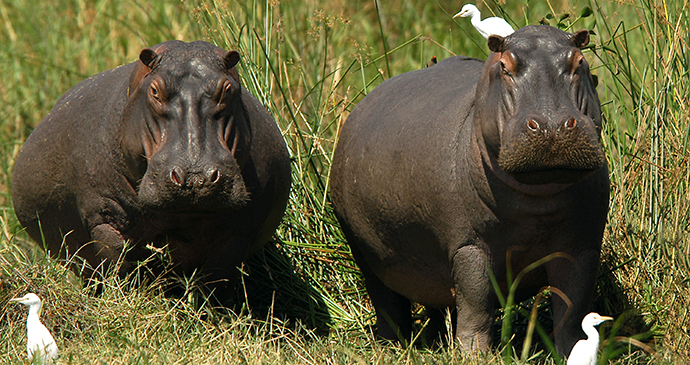 A pair of mvuu amble through the reeds © Dana Allen, Central African Wilderness Safaris
Afterwards we swap boat for jeep and drive into the park's 50km² rhino sanctuary. It's late in the season – the rains aren't far away – and a breeze whisks leaves into copper spirals. There are 13 black rhino living among the silver-edged mopane trees. Poached to extinction during the 1980s, the rhino has made a hearty comeback since a programme of reintroduction in 1993, and after just ten minutes we spy bulky outlines through the bars of the trees. They fade from sight, and I struggle to feel satisfied as we continue on our way. A buffalo pauses mid-chew and sable antelope watch us from behind milky masks. And then the engine is cut and two rhino burst across our bows; they straighten for a few metres, baring bullet-proof backsides, before thundering off the track into the woods once more. 'We don't often get so close', murmurs Duncan as I draw breath. 'And with her calf. Oh, yes'.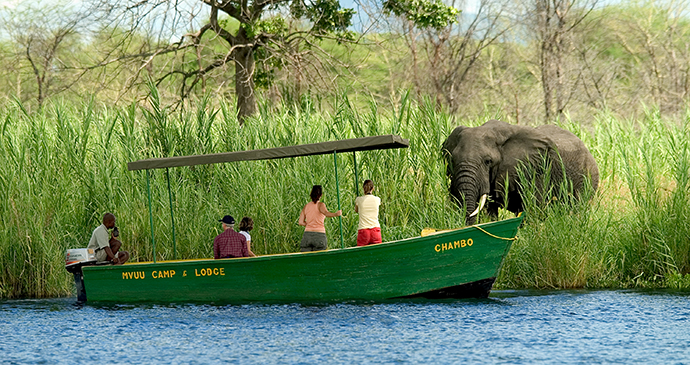 Boat safaris are a must on any visit to Liwonde National Park © Dana Allen, Central African Wilderness Safaris
It's come remarkably easy, this safari lark: big beasts have spent the day flinging themselves gamely before my binoculars. The absence of lions is Liwonde's only black mark – the park has an elusive migratory male and plans to introduce a pride of females later this year – but the truth is that I couldn't give a monkey's. In fact, for all the harrumphing hippos and rhinos on the run, I'll linger longer over other things. I'll remember my first safari for that impala's leap from a termite mound. I'll hear the bushbuck bark and the tale of the wallet found in the hammercock's nest. I'll see the carrot beak of the kingfisher and those lanky-armed baboons gorging on sausage fruit. Above everything, I'll treasure a pair of porcupines under a caper-bush, their spiny headdresses clicking like chopsticks at a takeaway. 'They love that bush', Duncan had said, as he swivelled the spotlight. 'It's like a porcupine pub.' And with that, we'd headed back to camp for sundowners of our own.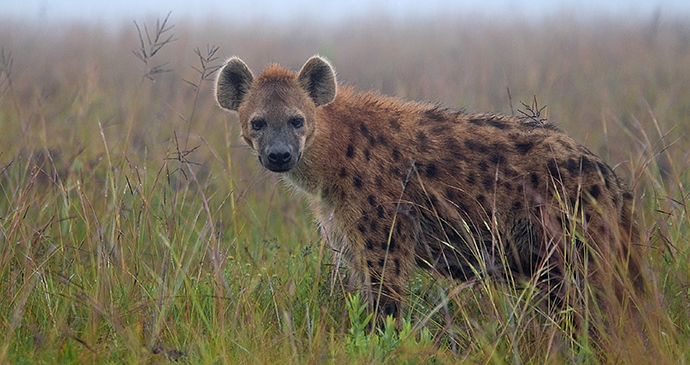 The call of a spotted hyena forms part of the night chorus in Liwonde © Dana Allen, Central African Wilderness Safaris
The next day is warm as we drive towards Lilongwe, the country's capital. Blandina drains her water, winds down the window and, with one hand on her pretty pink bonnet, tosses the plastic bottle from the car. I give a disapproving frown and glance back to see a child give chase as it cartwheels over the tarmac. 'I'm recycling', says my genial guide. 'He'll use it for squeezed mango juice.' Beyond the safari tents and sundowners, Malawi's poverty plays out at the roadside.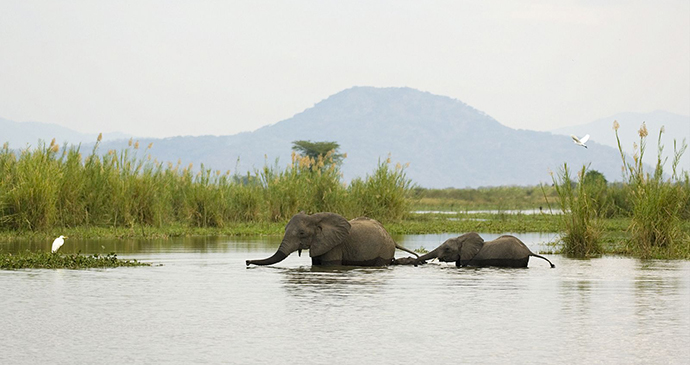 A pair of elephants wade tail to trunk across the Shire River in Liwonde © Dana Allen, Central African Wilderness Safaris
'Do you know why there are so many kids?' Blandina asks. A tiny boy in a red t-shirt smiles and waves as we pass. 'Because after 6pm there's nothing to do but make babies!' Half of Malawi's population is under 14. Earlier I'd visited a school in Liwonde, established seven years ago by three guides from Mvuu Lodge and supported by donations from visitors to the national park. Today 900 pupils are taught by proud, stretched teachers working double shifts in rooms you can count on one hand. And these are happy times – the children used to walk 10km for their lessons.
Life spins by on the other side of the glass. Skinny men pedal rusty bikes with wood piled high at their backs. A woman holds out a pair of kittens to cars as shoppers browse rickety stalls for fruit and oil. Two trades seem particularly well represented: barbers and gravestone-makers. Malawi hasn't suffered the ravages of war like its neighbour Mozambique and yet 40% of its income derives from foreign aid. World demand for tobacco crops is declining and, at the time of my visit, British funding has been cut because of concern at autocratic moves by the president including the purchase of a private jet.
My base for tonight is Lilongwe's Kumbali Country Lodge and I've heard that no-one works harder to help the local community than the owner of this steep-thatched hotel. I wait for him on the terrace and admire the greens and powder pinks in his flourishing garden. The popstar Madonna stays in room 5 during her visits to Malawi. 'She's lovely, but a tough cookie', says Guy Pickering, as he lowers himself beside me. 'I said to her when she first came: "Madonna, this is Africa. I want no complaints." She's never moaned'.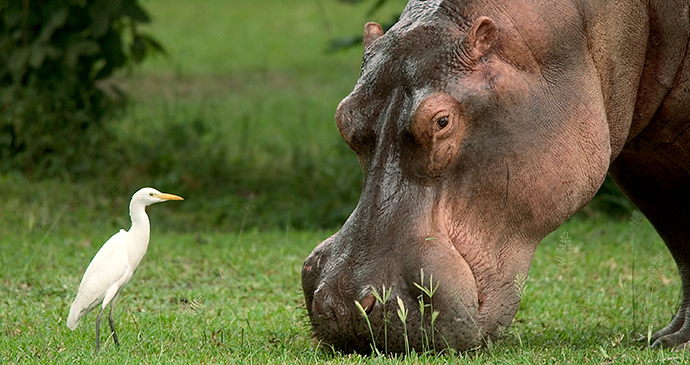 Liwonde National Park affords visitors the opportunity to see animals in amazingly close proximity © Dana Allen, Central African Wilderness Safaris
Nor would I in the face of this gravel-throated South African. Guy established the lodge a decade ago, after his farm went bust back home. 'Things were hard. I could see my arse without a mirror,' he says as he smokes. The property is beautiful, but it's what lies beyond that impresses most. A kilometre away he's constructed a cultural village – a collection of 12 traditional huts with mud walls and grass roofs. Locals host performances of song and dance in the village, organise crafts workshops and sell wood-carved animals. 'Today's rice-pudding kids are too keen to copy the West. Once you lose your culture you lose your identity.'
And it doesn't stop there. Guy has also created a football field from some dusty scrubland and plans to run an inter-village league. Points will be awarded not only for results on the pitch but for eco efforts off it such as planting and protecting trees. I decide I'm in the presence of a baggy-eyed saint, but my host points out that his motivations aren't entirely altruistic: the cultural village is a tourist attraction that benefits his lodge and the eco initiative will discourage the cutting of wood on his land. 'One hand washes the other', he says in his straight-talking way. 'David Livingstone said you should work with people not against them. That's a good enough philosophy for me'.
It was Livingstone who gave Lake Malawi its nickname after the Victorian explorer saw the bobbing lights of fishing boats and was reminded of the sky at night. The 'Lake of Stars' – it sounds achingly romantic – is just a three-hour drive from Lilongwe. After a safety briefing from the skipper ('There's a lifejacket in a box over there, if you want it'), we launch from the southern shore aboard the Feersum Endjinn and sail to our uninhabited island.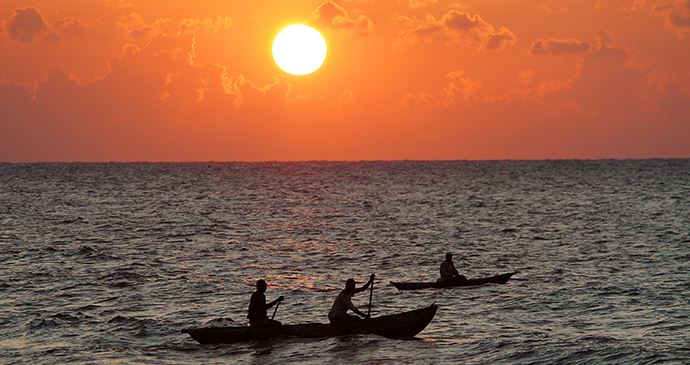 Experience a stunning sunset on the waters of Lake Malawi © Dana Allen, Central African Wilderness Safaris
Well, nearly uninhabited. Domwe Island has a reed of a man called Francis to cook for guests in the camp kitchen, but otherwise this is a place from the pages of Robinson Crusoe. Plank paths chart a course through the foliage, linking a sprinkling of tents with a couple of long-drop loos. I swim above fish with the iridescence of peacock feathers – the lake contains more freshwater species than America and Europe combined – and kayak into coves as fish eagles throw back their heads and cry from the cliffs above. I make a trip to nearby Mumbo Island and walk its marked trail to a dead-end called Pirate's Cave. And as evening falls and I head for bed, lights begin to twinkle as the fishermen take to the lake.
Damn Livingstone and his ruddy constellations; the man was clearly deaf. The sky at night is a silent thing, but fishermen laugh and sing. Since 3am the still water has carried their cheerful communications to all who care to listen. And to those who don't. The day is breaking; I give up on sleep, perch on a boulder and stare grumpily as a pied kingfisher squeaks happily at the morning. But then a series of soft whistles soothe my ruffled feathers. Below me, three sleek shapes cross the water, diving and rising in the elegant arcs of a sea serpent's tail. Otters at dawn. I gaze out at the fishermen as they make their way home – and I thank my lucky stars.
---
Inspired to take a trip? Get 10% off our guide: