Written by Mark Rowe
We chat to Mark Rowe, author of our guide to the Outer Hebrides, about walking, wildlife, and his favourite place to eat on the islands.
When and why did you first visit the Outer Hebrides?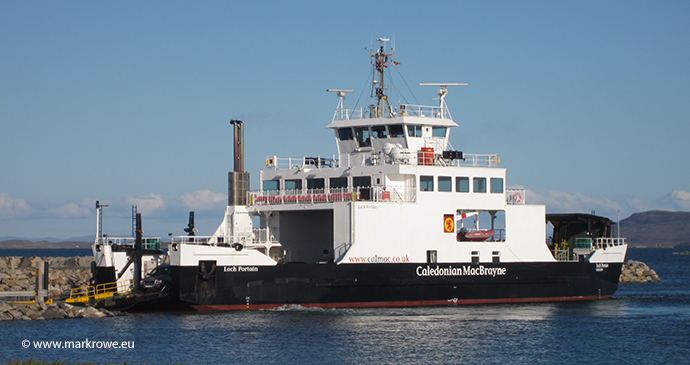 Caledonian McBrayne ferry © Mark Rowe
I first visited in the late 1980s. I was travelling round Europe on an Inter-Rail ticket and was in former Yugoslavia. I had 4 days left and as you do at that age, it seemed a good idea to get as far as I could before midnight on the last valid day! The ticket gave you half-price train travel in the UK and I took the Caledonian sleeper from London to Inverness. I can't say I woke up in Inverness as I didn't sleep a wink as a seat was all I could afford!. I took the train on to the Kyle of Lochalsh and a bus across Skye and the port of Uig. It was a stormy day but a ferry was bobbing out to sea. I had to look at my map to see where it was going – I didn't know you could go further west! I've been back regularly to the islands ever since.
You've got a young family – are the islands suitable for a family holiday?
We take our kids to Devon, Cornwall, Northumberland, Wales, Norfolk – they're all amazing. But my wife and I both feel the Outer Hebrides are a country mile ahead.
It's the most wonderful place for a family holiday. Wherever you come from, the journey there is unforgettable and enchanting. If you live in the south the Caledonian Sleeper is a fantastic way to start the trip: the kids get so excited by night trains and they sleep well! It's one of those times when you feel like a good parent
The islands make for what is just a really wonderful, uncontrived – and innocent – experience. There's no-one to glower or disapprove of your children being children.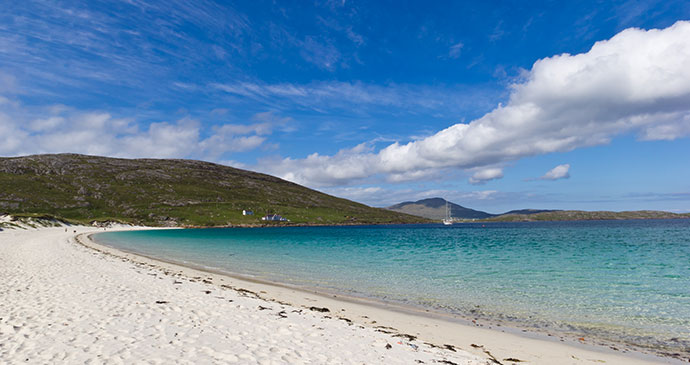 Barra's Vatersay Beach © Luca Quadrio
A list of top 10 beaches in the UK would include several from the Outer Hebrides. Harris has 40 square miles of sands running down its west coast, including the bay of Luskentyre. North Uist has fine white sands while Barra has half a dozen glorious and empty beaches. Much of the time the kids have the sands to themselves. Uig sands are vast – one time we were by the shoreline and our daughter was half a mile away back up on the dunes.
Children will see red deer, seals, dolphins, hear cuckoos for certain. My kids have almost come to blows over whether they've seen a golden or sea eagle; you can watch otters in South Uist while drinking milkshakes at a fantastic local cafe overlooking a loch. The inter-island ferry journeys are great too for them – sheltered waters and heaps to see.
Older ones can go kayaking, kite-surfing. Our kids have always found the culture fascinating – visiting blackhouses at Na Geàrrannan on Lewis or the Kildonan museum on South Uist where you see how people lived in the 19th century – this kind of interpretation is done really well on the islands.
Wi-fi is rubbish, which I'd argue is another selling point for families; and parents aren't having money pulled out through their noses every 5 minutes (I'm struggling to think of anywhere where I've had to pay car parking charges).
Of all the islands, do you have a favourite? And why?
It's pretty much a dead-heat between all of them but South Uist makes my heart lift that little bit more every time I cross the causeway from Benbecula. It's just a wonderfully empty and vast landscape that epitomises what the Outer Hebrides are about: beautiful hidden lochs, undulating flatlands, amazing flowers in summer. There's a breathtaking beauty to the colours of the peat, the moors, the waters. Birdlife is staggering all year round but you don't need to be a birder to appreciate all the wildlife. South Uist also has 3 of my favourite places to stay and eat on the islands – the Orasay Inn, Heron Point B&B and the Lochboisdale post office cafe.
Your guide features a wide range of walks – which one would you suggest for a first time visitor to the Outer Hebrides?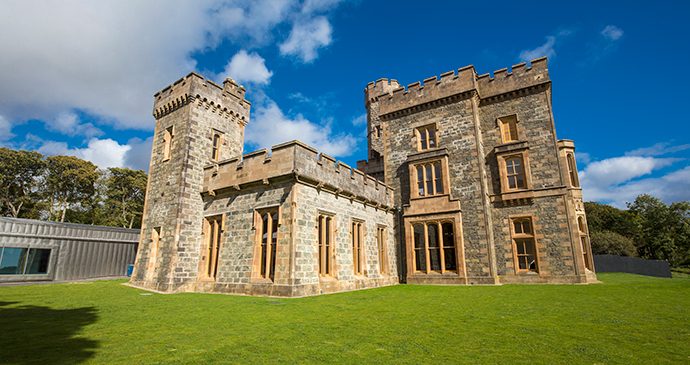 Lews Castle & Museum © Kenny Lam, Visit Scotland
Walking on the Outer Hebrides can take a bit of getting used to. Increasingly, waymarked paths are being put in place but many walks are still over open ground (unlike most of the rest of the UK) and you need a map and an ability to read it. You will also encounter far fewer people: this is great if you've had enough of rubbing shoulders with hikers in the Lake District but something to be mindful of should you lose your way or need assistance.
A gentle introduction would be to just walk the grounds of Lews castle in Stornoway, described on page 74. This winds its way gently up to Gallows Hill which gives a view over the port but also south towards the hills of Uig (south-west Lewis) and the North Harris Hills; and north towards the rising moorlands. It's a good way to get your bearings.
Another good starter walk is on Benbecula (described on page 194) where you can climb the hill of Rueval in less than an hour from the car park. Apart from this single hill, Benbecula is as flat as the proverbial pancake and you can see north into Harris, south all the way to Barra and east to the mainland and Skye and the north-west coast of Scotland.
You mention in the guidebook that the food scene in the Outer Hebrides is a 'revelation'. Where is your favourite place to eat?
I've a soft spot for the Uig community cafe just above Timsgarry in Uig in the south-west corner of Lewis. They serve wonderful hot-smoked salmon on oatcakes, generous slices of home-made cakes and tubs of ice cream made by Janet Matheson. They're friendly, it's ridiculously good value and a visit here is really a life-affirming experience.
What advice would you offer for those interested in travel writing?
I give travel writing talks for Nat Geo Traveller and I always tell clients the key is to write about what interests you, whether that be food, wildlife, adventure sports, art or disability travel. Read widely, both magazines and newspapers and travelogues.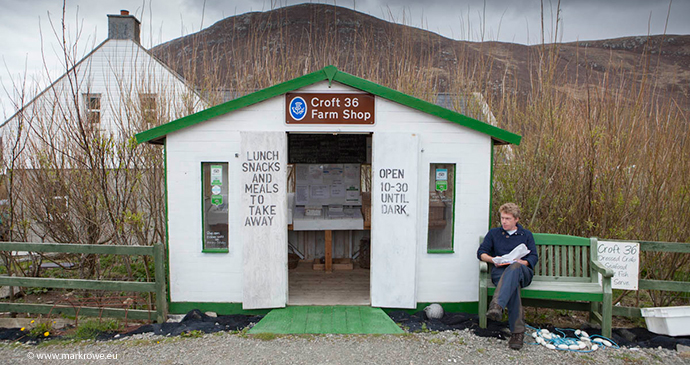 Mark outside the Croft Farm Shop © Mark Rowe
Try to get under the skin of a place, which is what I tried to do with my guide to the Outer Hebrides: what makes it tick? Why do people live there? Why does the landscape look the way it does? Any interesting characters? What is different about this place compared to others? Why should people spend money to go there?
If you're interested in life and people you're half way there. And avoid clichés like the plague!
What are your travel plans for the rest of 2017?
I'm returning to the Outer Hebrides in September to gather together any updates for the book. I'm also headed for Shetland in the summer. I've not been there for many years and I'm keen to see how a woodland I was involved in planting near Lerwick is getting on! I'm also headed for Africa to write a piece on migratory birds and where they spend our winter – follow that swallow!
---
Discover more of the Outer Hebrides with our guidebook, which has 10% off in our online store: