Written by Paul Crask
Travellers interested in culture and heritage should try to include the following activities and sites in their schedule.
Cultural activities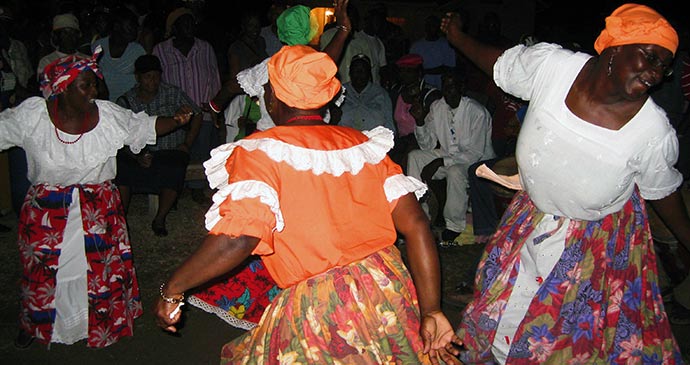 Village maroons often take place at harvest time © Paul Crask
Boatbuilding
Carriacou and Petite Martinique are noted for their traditions of boatbuilding that go back to the islands' 19th-century Scottish settlers. At Windward (Carriacou) and Sanchez (Petite Martinique) you can see these skills being applied by their descendants.
Big Drum Dance and Maroon Festivals
Also on Carriacou, Big Drum Dance and Maroon festivals find their heritage in both Europe and Africa. Village maroons and
saracas often take place around harvest time, and the annual Carriacou Maroon & String Band Music Festival is usually at the end of April.
Spice Basket Cultural Village
(Beaulieu; www.spicebasketgrenada.com) Although a modern development, the Spice Basket Cultural Village is a laudable initiative to put many aspects of Grenada's cultural heritage under one roof. Located in the village of Beaulieu, to the northeast of St George's, the Spice Basket hosts regular music and theatrical events, cultural performances, a cricket heritage centre, and traditional craft and food stalls.
Heritage sites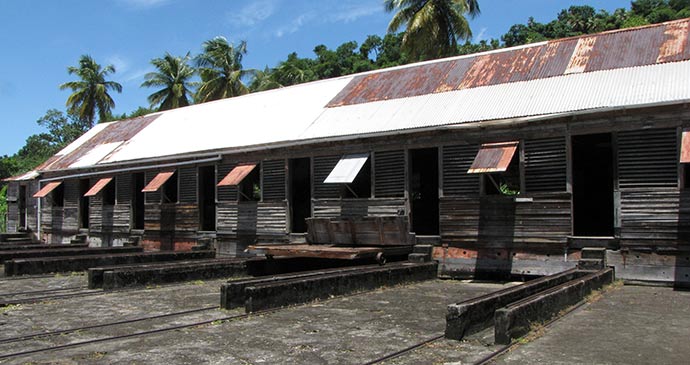 Dougaldston Estate © Paul Crask
Belmont Estate and Grenada Chocolate Company
(Belmont, Grenada; www.belmontestate.net) From tree to bar, see how the Belmont Estate grows, harvests and dries organic cocoa in a traditional manner, and then try some of the Grenada Chocolate Company's famous chocolate.
River Antoine Rum Distillery
Near La Poterie and Tivoli, Grenada. Producing pure cane rum from sugarcane grown and harvested on its estate lands and using the same production methods and machinery it did when it started in the 1700s, River Antoine is a fascinating heritage site.
Dougaldston Estate
Near Gouyave, Grenada. Although Dougaldston is rather a sad imitation of its former self these days, that should not put you off visiting this historic estate on the southern outskirts of Gouyave. The traditional boucan, the cocoa drying shed, was remarkable in its time and is still interesting to see today.
Nutmeg Pools at Gouyave and Grenville
Hurricane Ivan devastated Grenada's nutmeg crop in 2004 but the sector is gradually recovering. In Grenville the nutmeg processing station, or 'pool', is still restricted to simply receiving nutmegs from farmers and then transporting them to Gouyave where they are processed for export. Both pools o% er tours. Most people go to the Gouyave pool these days as there is more going on, but I actually prefer the tour at Grenville. It is a little less rehearsed, more relaxed and personal. Both are worth a visit, however, and you will also be doing your part to support those who still depend on the nutmeg for
their livelihoods.
Amerindian Petroglyphs
The first people to settle on Grenada and Carriacou were Amerindian tribes who migrated north from the South American mainland. Carriacou has some fascinating archaeological sites, with some interesting ceramics on display at the Carriacou Museum in Hillsborough. Onthe main island there are two notable petroglyph (rock carving) sites at Duquesne and Mt Rich.