Written by Paul Crask
The three islands of Grenada are scenic and alluring, and the very best way to appreciate and get close to them is to take a walk. There are walks and hikes for everyone, whatever their ability, time constraints or interests. For the adventurous there are mountain and river hikes, and for the more sedate ramblers there are coastal, lakeside and village walks.
Grenada's interior has a network of trails running between the Grand Etang Lake, Mt Qua Qua, Fédon's Camp and the three waterfalls that make up the Concord Falls. These hikes were always for the more adventurous, but since Hurricane Ivan they have become even more difficult. Fallen trees and landslides have seriously affected some routes and you really should hire a guide. This is particularly the case with Fédon's Camp and the trails from Fédon's Camp and Mt Qua Qua to Concord, though there have been efforts by local hiking enthusiasts to open them up.
The three islands of Grenada are scenic and alluring, and the very best way to appreciate and get close to them is to take a walk.
The trail from Grand Etang Lake to the summit of Mt Qua Qua is clear but very exposed and not without its share of risk due to highelevation deforestation and soil erosion. Hikes to the summit of Mt St Catherine, the Paraclete Falls, and the Tu!on Hall Waterfall are rather obscure and physically challenging. Again, I recommend a guide.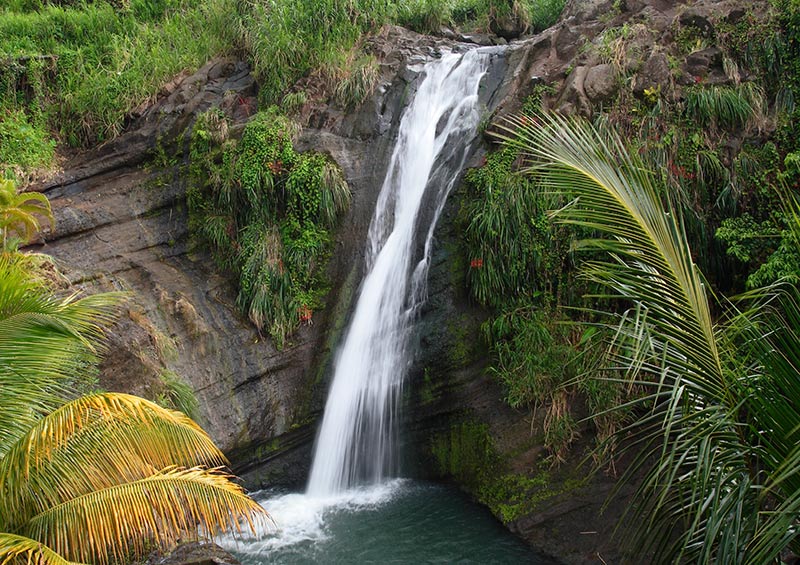 The stunning Corcord Falls © Celia Sorhaindo
Very few trails currently have blazes or signs along the route or even at the trailhead itself. Where there is a clear path this is not a problem but when paths fork, cross rivers or pass through open clearings, it is easy to get lost. And things change. A bamboo thicket that marks a trailhead or a turning today may well be scaffolding tomorrow.
The benefit of hiring a guide
By increasing the demand for guides, visitors are also potentially creating career and employment opportunities for young Grenadians.
Good trail guides know which way to go when routes are not clear, they have often received specialised training, and they can provide interesting information about the history of the trail, the area, and the flora and fauna that you may encounter along the way. Hiring a guide also provides a valuable source of income to local people and, by extension, their villages. In the rural communities of Grenada where farming has suffered following hurricanes, this kind of income is very welcome, and needed.
By increasing the demand for guides, visitors are also potentially creating career and employment opportunities for young Grenadians. And no matter how detailed the guidebook, there is absolutely no substitute for local knowledge, anecdotes, and the reassurance a good guide can provide when a trail is new, daunting or difficult.
For those 'extreme hikers' who are interested in exploring some of the lesserknown trails of 'hidden' Grenada, you may find it quite difficult to find guides or operators who have sufficient knowledge of these routes. Many registered guides and tour operators specialise in mainstream hiking trails only, such as St Margaret's Falls. In this case some hotels or tour operators may be able to put you in contact with local people.
Grenada's most famous hiker, Telfor Bedeau, may be able to help you. Try to avoid just turning up in a remote location and asking for a guide if you can, though in some cases it may be the only way. Try to hire someone with a good reputation or who has been recommended, and always let someone else know where you are going.
Setting out
The degree of preparedness required for your hiking trip will naturally depend on the difficulty and duration of the trail itself. It is essential to make sure your departure time is early enough to get back before nightfall. Always plan to return to the trailhead by 17.00 at the latest, and inform someone of your plans and when you expect to return.
Take plenty of water with you; at least one or two litres each. It is very easy to dehydrate in the humidity of the rainforest and the heat of the tropical sun. Rivers and streams may provide handy refills if supplies run low, but only when you are sure ther are no farmlands or houses upstream. If you are not sure, ask your guide. Wear sensible footwear such as walking shoes, trainers or strong sandals. Flip-flops are really not a very good idea, and neither is walking barefoot.
Walking in Grenada's interior, especially at high elevations, can often mean getting wet and dirty. A towel and a change of clothes either to take along or to leave in your car at the trailhead is a good plan. If you take a change of clothes on the hike with you, be sure to put them in a waterproof or plastic bag. It is also a nice idea to have drinks and food waiting in a cooler on your return. As trails can become muddy and slippery and some of them require climbing through tree roots, you should take along a small first aid kit for any cuts, knocks or scratches you may pick up as souvenirs along the way.
It is not sensible to go to waterfalls or cross rivers if there has been heavy rain, or if heavy rain is expected. Flash flooding is not theoretical, it does happen, and people have been caught out by it, even at spots such as St Margaret's Falls. Use common sense and a degree of caution when deciding where to go in bad weather. If local people advise against a hike due to heavy rainfall or swollen rivers, do not go.
---
Discover more about Grenada, Carriacou and Petite Martinique with our new guide: