Written by Tim Clancy
There are a handful of gateway towns and cities along or near the Via Dinarica White Trail in Bosnia and Herzegovina. The capital Sarajevo is the main international transport hub and there you can find everything you might need either before or after long-distance hiking. Mostar is the main city in the southern region of Herzegovina and is well connected to other destinations on the White Trail; it is easily accessible from Croatia as well. The other gateways towns are much smaller but all offer places to relax, restock hiking supplies, or just take a day off from the trail to soak up the local culture. The access points to the White Trail all have at least basic infrastructure, are well marked, easily accessible and are the best places to start the hiking journey on the Via Dinarica White Trail.
Sarajevo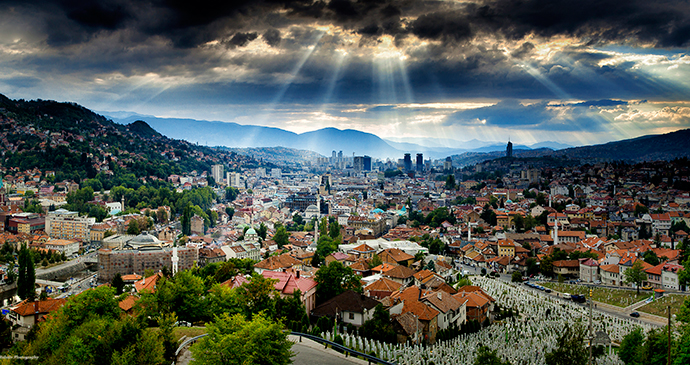 Bosnia's capital is a great place to base yourself © Adnan Bubalo
Sarajevo is the capital city of Bosnia and Herzegovina and a gateway to all sections of the Via Dinarica White Trail in BiH. If there is one place in continental Europe that symbolises the crossroads between East and West, Sarajevo would have to be it. From the oriental Ottoman-style quarters lined with sweet shops, cafés and handicraft workshops, to the administrative and cultural centre of Austro-Hungarian times, to the socialist-era housing blocks with their everyday neighbourhood feel, playgrounds and small businesses, Sarajevo encompasses a variety of worlds in one small valley.
Mostar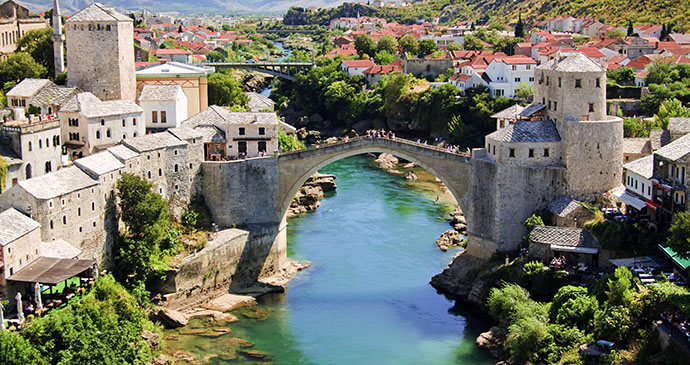 Stari most is the poster child of Mostar © Lucertone, Shutterstock
The Via Dinarica skirts the city of Mostar to both the east and the north. It's safe to say that the UNESCO World Heritage Site of the Stari most (Old Bridge) has always been the main attraction in Mostar. However, few know that Mostar is 88% mountain terrain, including the Via Dinarica White Trail. The old town is very compact and is ideal for a walking tour and most of the main tourist sites can be seen in one day, including a number of fine examples of Ottoman architecture. There are also several museums and churches well-worth visiting. Mostar is one of the must-see destinations in Bosnia and Herzegovina, so if you're going to take a break from the Via Dinarica this stunning city is certainly worth the while.
Konjic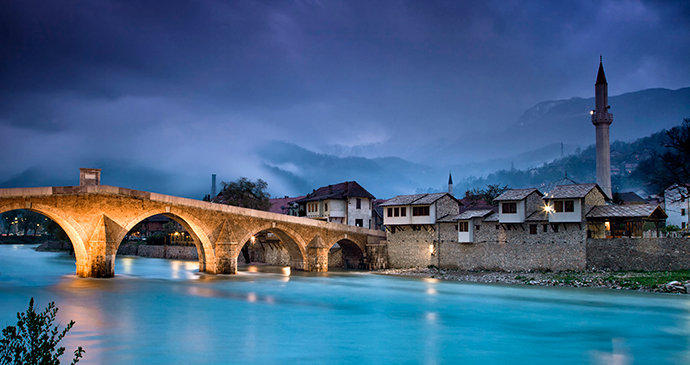 Konjic is a great base for those rafting on the Neretva River © Adnan Bubalo
This is yet another Herzegovina town nestled between two of the Via Dinarica White Trail's mountain ranges. Konjic is an exciting place because of the wilderness adventures happening left, right and centre. The Neretva River running through town, and Prenj Mountain hovering behind, dominate the town. One of the best things to see here (and shop around in) are the family-owned woodcarving shops: Konjic has long been known for its wood craftsmen.
---
Want to find out more about the gateway cities of the Via Dinarica? Check out our dedicated guide: