For Europe's wildlife, spring is a heady, hedonistic rush to procreate. Flowers are blooming in abundance – but should you prioritise Crete or Ireland for orchids? Birds are singing, displaying, cavorting and, dare I say it, fornicating – Romania's Danube Delta or Spain's Extremadura? What a tricky choice. Insects, meanwhile, are abounding – but do you rush to see Hungarian mayflies, Alpine moths or French dragonflies? And what about mammals? Estonia's brown bears are out of hibernation, but Italy's ibex and Iceland's whales are also calling your name.
Crete, Greece – for orchids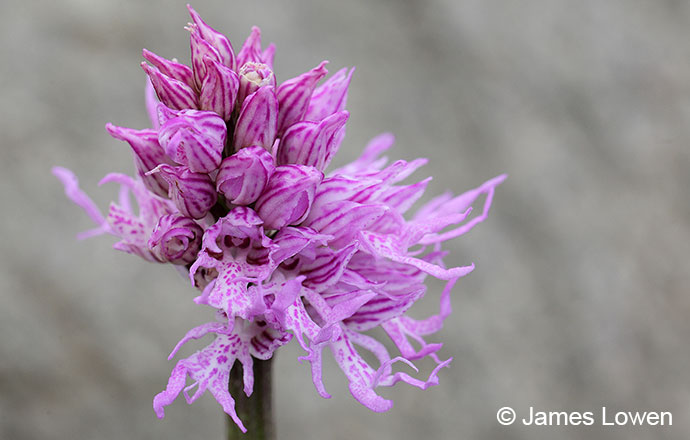 At Spili Bumps more than 25 species of orchid can be flowering at any one moment © James Lowen
'Even if you think you're not that into plants, Spili Bumps is special', Philip Precey, tour leader at Wildlife Travel, had stressed before our visit. 'Don't miss it.' Precey was right. This limestone protrusion in western Crete – birthplace of Zeus, king of the Greek gods – is like nothing on Earth. Orchids and other interesting plants flourish thickly. Take your time, descend to your knees and scrutinise every square metre of the hillocks. You will get a fine return on your investment of time. The diversity of orchids is such that a field guide is essential to determine their identity. (Even then you may be bamboozled by some Doppelgänger plants.) Without one to hand, simply enjoy the different colours, patterns and shapes of more than 25 species that flower at any one moment – and perhaps take photographs to aid subsequent naming.
Danube Delta, Romania – for various birds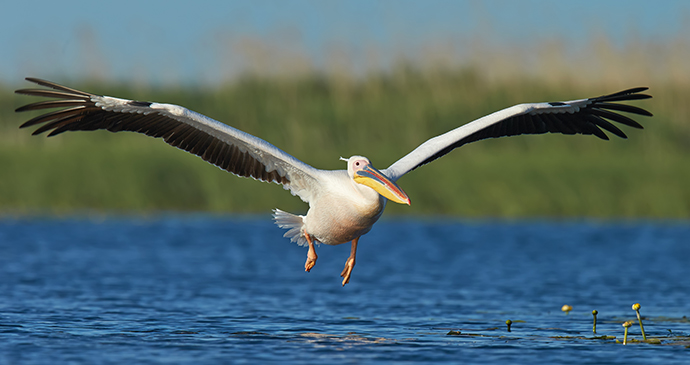 With the longest wings of any European bird, white pelicans are truly gargantuan © Richard Steel
Half-an-hour before dawn, our small motorboat glides onto the water. We emerge on to Isac Lake just as the sun squints over a sea of reeds. Our horizons expand, enabling us to scan water and sky for early risers. We are not disappointed. There are birds everywhere. Grebes abound, mostly great crested but with red-necked and black-necked favouring a secluded, well-vegetated bay. Here too a pair of ferruginous duck, the male startlingly white eyed. Nearly two-thirds of this duck's European population breeds in Romania. Flocks of terns swarm like midges as they dip over the lake surface. We discern three approaches to black, white and grey garb, pertaining to black, whiskered and white-winged black terns. Overhead, the Delta's skies are congested with avian traffic. Glossy ibises, pointed at both ends, needle the air. Earnest groups of great cormorants rush to their treetop colony before hooded crows snatch their chicks. Stunted versions – pygmy cormorants – ache along with arthritic wingbeats. Pelicans plane past with languid flaps of rectangular wings. Among the many white pelicans, we discern the odd Dalmatian – a punk-haired waterbird threatened with global extinction and heavily dependent on a healthy Delta.
Ida-Viru, northeast Estonia – for raccoon dog and brown bear
If you can resist the temptation to look for lesser spotted eagle, black grouse and grey-headed woodpecker – spend a day resting in preparation for an all-night vigil in Estonia's Alutaguse Forest. It is a short walk through mixed forest to two hides that overlook a clearing. In a single spindly birch, a willow warbler cascades while a pair of waxwing trills. Nearby, a pied flycatcher rejoices but jays bicker. Each hide is equipped with bunks and sleeping bags – although any time spent in the Land of Nod risks missing an ursine arrival. Your call… your risk…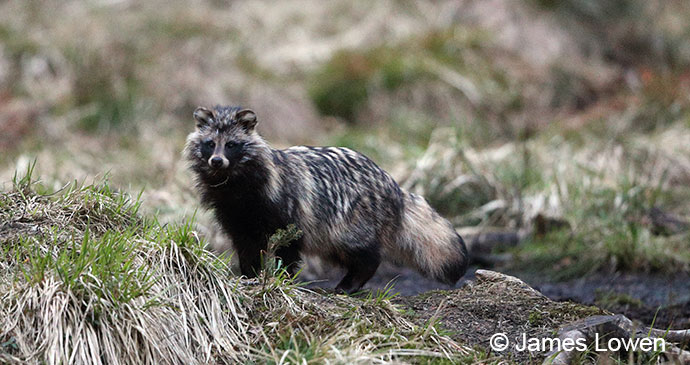 Stocky, short-legged and furry-tailed, the raccoon dog is a striking mammal © James Lowen
As light is sucked from the evening, so your brain and retina combine to bewitch you. Was that a movement, a shadow, an animal, a mythical beast? Looking through binoculars to enhance your visual powers, you determine that the flickering shape belongs to a real-life raccoon dog. Stocky, short-legged and furry-tailed, this is a striking mammal. Much bigger and much less contentious is the brown bear. At some point during your vigil, one or more animals should pad through. You may hear the crunch of foot upon twigs before the giant materialises. The raccoon dogs slink into the shadows, while the bear sniffs until it finds the cached bait. It prods the offering and takes a nibble. Seemingly unimpressed, it huffs away eastwards in the vague direction of the Russian border.
The Burren, Ireland – for a botanical melting pot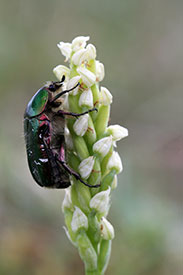 Botanists continentwide concur: The Burren is unprecedented. Its uniqueness lies not in plants that occur nowhere else in Europe, but in being a botanical melting pot. This natural rock garden (boireann means 'big rocky area') is where plants from north, south and east meet and greet – in jaw-dropping abundance, variety and palette. Within a single square metre, you could find flowers from three distant compass points mingling. Spring gentian is an Alpine that grows in montane Europe; mountain avens a plant of Scandinavian tundra. Dense-flowered orchid and large-flowered butterwort are otherwise strictly Mediterranean flowers. Three-quarters of Ireland's flora grows here in 1% of its land area. No other wildflower wonder anywhere offers such fascinating juxtaposition.
(Photo: A rose chafer beetle ascends the stem of a dense-flowered orchid © Jon Dunn, @dunnjons)
Gran Paradiso, Italy – for Alpine mammals and insects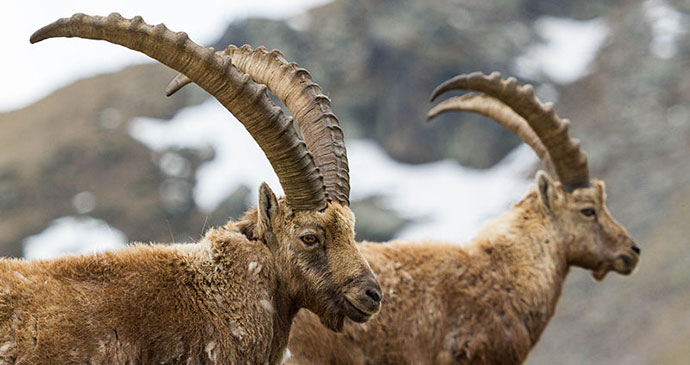 In early summer, before the merino-wool-clad crowds descend, Gran Paradiso's target mammals are hard to miss © Fulvio Spada, Wikimedia Commons
The particular joy of Gran Paradiso – at least around Valsavarenche – is that interesting animals and plants are widespread. Accordingly, almost any walk from the village or from the head of the valley at Pont will bring wildlife joy. In early summer, before the merino-wool-clad crowds descend, the three target mammals are hard to miss. The marmot is common everywhere. Alpine chamois is all over the place, from low down to high up. You will see Alpine ibex from pretty much any path straining above 1,500m. During the evening, some even frequent Tighet village car park and roadside fields at Pont – so even if you're too tired to lace up the walking boots, you can still see it.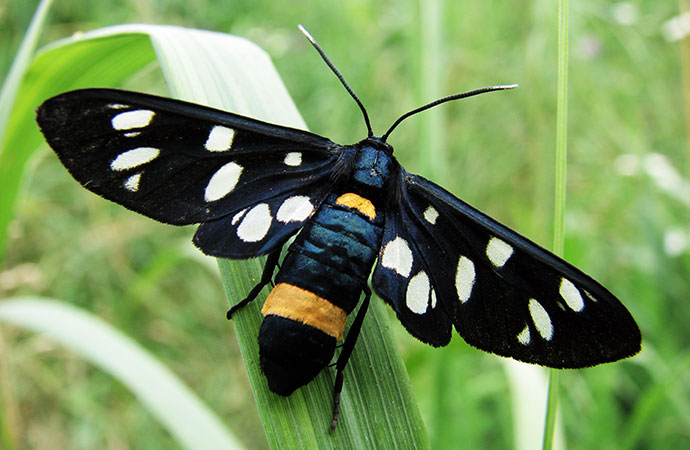 Should you think moths are boring and brown, the nine-spotted demands you reconsider © Jovana Bila Dubaic, Shutterstock
As you look for mammals, you'll see plenty of other fabulously Alpine stuff. Widespread butterflies include Glanville fritillary, black-veined white, green hairstreak and small blue. Less frequently, you will encounter swallowtail and scarce swallowtail. The top prizes are Apollo – a butterfly that will buckle your knees – and almond-eyed ringlet. Keep a similar search image for day-flying moths, and you should see the spectacular nine-spotted. With long black wings blotched white, and body generously banded black and yellow, this insect does its bit to correct any assumption that all moths are small, brown and nondescript.
Húsavík, Iceland – for humpback, minke and blue whale
Iceland. This country of fire and ice, this nation of sagas and geysers, is also among Europe's most special wildlife-watching destinations. Several Húsavík-based companies run boat trips into Skjálfandi Bay from March to October, and success rates are very high. Humpback whale is the most commonly seen ocean giant, being encountered on nine trips out of ten. Also frequently seen is minke whale, ostensibly cocking a snook at those humans who claim to be sustainably harvesting the whales' compadres in waters off Reykjavík.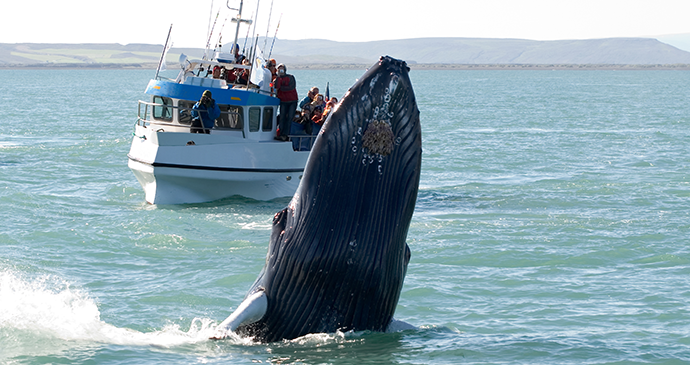 Head to Húsavík for the opportunity to encounter whales © Tatonka, Shutterstock
But it is the second of Iceland's 'perfect blues' that everyone yearns to see when cruising Skjálfandi Bay. The blue whale is the mightiest creature ever to have graced Earth. To watch this leviathan surface, its back rolling… and rolling… and rolling before its excuse for a dorsal fin eventually heaves into view, is to realise a dream. Chances may seem slight – perhaps just 10% over the season as a whole – but from May to July, prospects leap. Perfect.
River Tisza, Hungary – for long-tailed mayfly emergence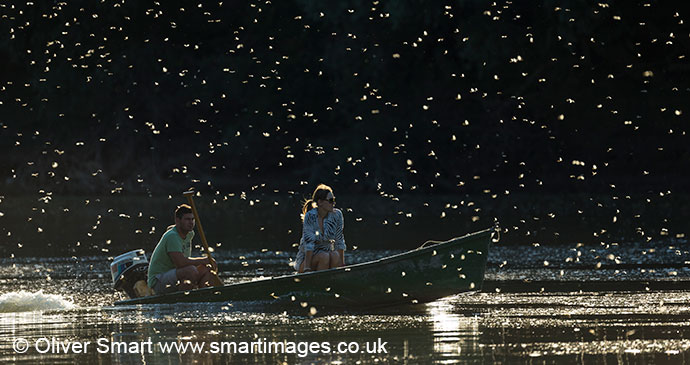 The River Tisza, 'blooming' with millions of mayflies © Oliver Smart, www.smartimages.co.uk
It is 16.00 on a stubbornly sultry mid-June afternoon in central Hungary. The River Tisza drifts reluctantly past tree-heavy banks. The flow is bloated, viscous, opaque and apparently lifeless. But at 17.00, something truly remarkable occurs. The river starts to literally burst with life. After two years living underwater as crustacean-like larvae, male long-tailed mayflies pop through the meniscus. The emergence attracts the attention of white wagtails, which twist black and white over the water surface, nabbing impromptu meals. Fish become airborne as they too leap for food. But soon the swarms become so dense that neither predator makes much impact. The mayflies' race against time – their race for life – is on.
Extremadura, Spain – for European roller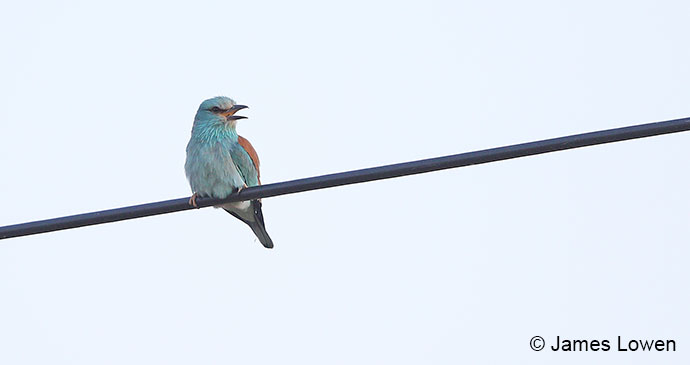 Birdwatchers will be in paradise in Extremadura, with targets like the European roller to spot © James Lowen
The walled city of Trujillo is the finest in Extremadura, perhaps in Spain overall. It is also the most birdy urban area I have ever visited. End your first day of your weekend in Extremadura at Trujillo, but start it on the steppe nearer Cáceres. Even this late in spring, dawn on the grassy plains is magical, with calandra and thekla larks cheering the rising sun. Your target is European roller, a cobalt-coloured, crow-like bird that profits from nest-boxes carefully sited beneath roadside telegraph poles. This invertebrate-muncher's populations are dwindling as agriculture intensifies, so enjoy this beauty now lest it disappear. There's plenty else to enjoy. With luck, you should locate great bustard, black-winged kite and Iberian imperial eagle – though easier delights will be Montagu's harrier and Iberian hare.
La Brenne, France – for dragonflies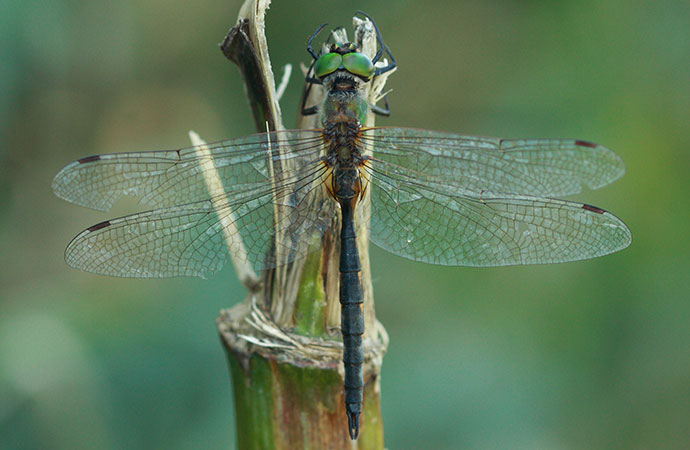 Yellow-spotted emerald: a target dragonfly for a visit to La Brenne © Will Langdon, willsbutterflies.blogspot.co.uk
Hundreds of lime-green lily pads – ovals with a snip from one tip to core – swell timidly atop the dense, dark pond. One of the many resident fish has doubtless provoked the undulation. A whiskered tern smokes past, searching for smaller aquatic prey. Atop one of the closest floating leaves sits a most distinctive dragonfly. Short, squat and wide winged, with a narrow waist and bulging abdomen tip, it can only be a lilypad whiteface – a well-named 'dragon', and a rare one to boot this far west. This pond is one of thousands of waterbodies that qualify La Brenne as a waterworld. Barely two hours from Paris, La Brenne has long been a haunt of birdwatchers. More recently, those enthused by dragonflies, butterflies and orchids have come to cherish the area's wealth of biodiversity.