Health
With Dr Felicity Nicholson
The standard of public health in Canada is excellent, but very expensive for non-residents. If you become ill in Nova Scotia, for minor ailments, seek out a pharmacy. If it is something more serious, your next step is to go to one of the few walk-in clinics or to the emergency department of a hospital. You will have to pay at both to use the facilities and to see a doctor, and for any treatment and/or medicines that may be required. It is a similar story for emergency dental work. Consequently, it would be foolhardy to visit Nova Scotia (and anywhere in North America) without comprehensive medical insurance (check that your travel insurance policy includes adequate cover).
If you take prescription medicines to Nova Scotia, make sure that they are in their original packaging (with a label that specifies what they are and that they are being used under prescription). If that is not possible, carry a copy of the prescription or a letter from your doctor. Otherwise, they may be confiscated by customs officials. No vaccinations are legally required, but it is always wise to be up to date with routine vaccinations such as diphtheria, tetanus and polio. Tap water is safe to drink.
Travel clinics and health information
A full list of current travel clinic websites worldwide is available on www.istm.org. For other journey preparation information, consult www.travelhealthpro.org.uk (UK) or http://wwwnc.cdc.gov/travel/ (US). Information about various medications may be found on www.netdoctor.co.uk/travel. All advice found online should be used in conjunction with expert advice received prior to or during travel.
Safety
Canada is politically stable and one of the world's safer places, and – Halifax and Dartmouth apart – Nova Scotia's crime rates are about average for the country (they have been on a downward trend for the last few years). Halifax (including Dartmouth) is second to Winnipeg as the Canadian city with the highest murder rate, and violent crime figures in the city are bucking the national trend and are on the increase. Having said that, you would have to be exceedingly unlucky to be in the wrong place at the wrong time.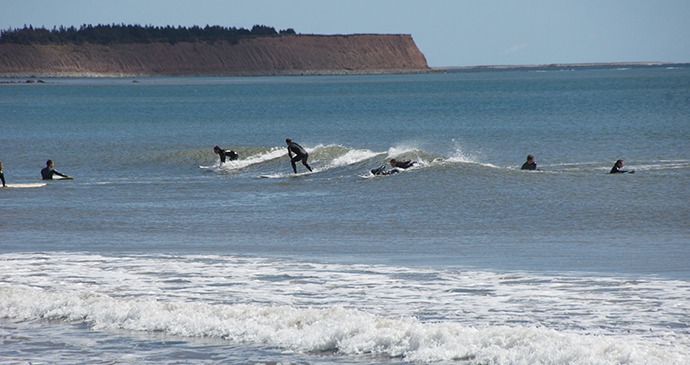 When participating in activites such as surfing on the Eastern Shore in Nova Scotia, it is important to have obtained comprehensive medical insurance © Tourism Nova Scotia
Crimes tend to be a different story outside the city. Rightly or wrongly, many people in rural areas still don't lock their doors. I don't suggest that you follow their example, however romantic the notion might be.
Violent crimes are infrequent; far more common is petty theft. Some parts of the big urban areas are troubled by youth crime, often drug- or drink-inspired, but probably to a lesser degree than in equivalent cities in Europe or the USA.
Outside the urban centres, things seem so laid-back that it is easy to forget common sense. For instance, if you must leave valuable items in your car unattended, keep them out of sight, preferably locked in the vehicle's boot. And wherever you are in the world, carrying large amounts of cash around isn't a great idea.