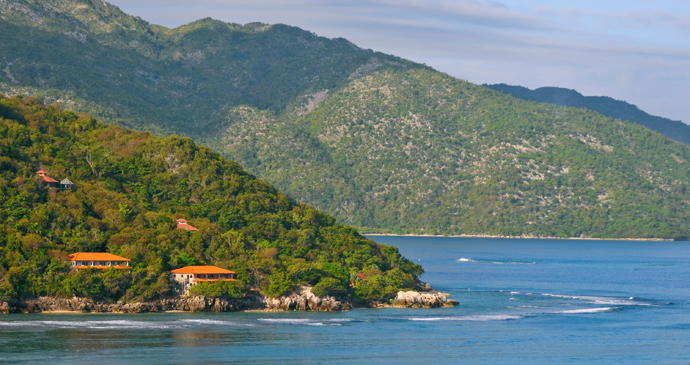 Haiti has had a troubled history in terms of travel warnings, but things have changed and now is a great time to visit © FloridaStock, Shutterstock
Health
With Dr Felicity Nicholson
Travelling somewhere like Haiti presents different potential health issues compared with Europe or North America. By taking sensible precautions you can greatly reduce your risk of catching any serious diseases, and visitors are unlikely to encounter any medical problems more acute than a possible attack of travellers' diarrhoea.
It's recommended to visit your doctor or travel clinic at least six weeks before travelling to allow plenty of time for any potential course of vaccinations. Last-minute injections can give only partial cover for some diseases. It's strongly advised to have immunisations against diphtheria, tetanus and polio which come as the all-in-one vaccine Revaxis, which lasts for ten years. Vaccination against hepatitis A and typhoid, both diseases transmitted through infected food and water, are also strongly recommended, as is vaccination against cholera. The oral cholera vaccine, Dukoral, is available for those aged six and over as a two-dose schedule. The two doses should be given one to six weeks apart and at least one week before arriving in Haiti. For those aged two–five years then a three-dose schedule is used. Other vaccines that should be considered are hepatitis B, especially if you are working in hospitals or with children, meningitis (ACWY) and rabies. Hepatitis B and rabies schedules are a series of three vaccines over three to four weeks so allow plenty of time for vaccination.
You should also get the most up-to-date advice on anti-malaria prophylaxis. If you're planning to be in Haiti a long time, a dental check-up before flying out is a good idea. If you wear glasses, take a spare pair and a copy of your prescription. It's also very important to take out comprehensive medical travel insurance before travelling to Haiti. Make sure the policy covers medical evacuation.
Travel clinics and information
A full list of current travel clinic websites worldwide is available on www.istm.org. For other journey preparation information, consult www.travelhealthpro.org.uk (UK) or http://wwwnc.cdc.gov/travel/ (US). Information about various medications may be found on www.netdoctor.co.uk/travel. All advice found online should be used in conjunction with expert advice received prior to or during travel.
Safety
People who have never been to Haiti tend to ask two things when you tell them you're going there: Is anything still standing after the earthquake? And: Is it safe? Haiti, it's safe to say, has had a troubled image abroad ever since it freed itself in the world's only successful slave revolution. Travel advisories from the US State Department (www.travel.state.gov) once warned against travel to much of Haiti, but now mostly offer better and more nuanced advice – usually related to current political developments. The same goes for the British Foreign Office (www.fco.gov.uk/travel). Note that in the event your government does advise against travel to a particular area, this can invalidate regular travel insurance; so, while government advisories are only part of planning for a trip, they're still important to take note of.
Women travellers
Haiti lacks the macho Hispanic culture of neighbouring Dominican Republic, although most foreign women will receive some amount of unwarranted romantic attention during their stay. Most of this is simply annoying, from whistling or making kissing sounds to get attention, although it can still make an individual feel uncomfortable. It's best to be prepared and, if possible, develop a sense of humour (or at least public indifference) to it. Women should take the standard safety precautions, such as not walking alone at night (good advice for men, too) or hitchhiking alone. In terms of dress, it's fine to wear shorts or singlets around town – dress codes are suited to the Caribbean.
Travellers with disabilities
Haiti is not somewhere that puts much comfort in the way of travellers with disabilities – the country's overstretched and under-maintained infrastructures can at times put plenty of challenges in front of even the most able-bodied. The number of lifts in the country can be counted on one hand, while steps, stairs and broken streets abound. An adventuring spirit and equal doses of stamina and pragmatism are required, and you are likely to need your own vehicle and driver/guide.
There have long been social stigmas attached to those born with physical disabilities in Haiti, although the number of those maimed in the earthquake have made such conditions increasingly visible, particularly in Port-au-Prince. Wheelchairs, and to a lesser extent amputees, aren't such an uncommon sight as they once were. Haitians are generally very considerate to those who have particular needs and one could certainly expect help from strangers if it is required.
Gay/lesbian travellers
Homosexuality is not criminalised in Haiti, but relatively few people openly self-identify as either gay or lesbian (in Creole, masisi, often used as a pejorative) due to fear of stigmatisation or persecution. While evangelical Christian groups often openly criticise homosexuality, some gay men and women find Vodou to be a more sympathitic religion; the lwa often helping to find an explanation and expression for their sexuality. Anyone interested in homosexuality in Haiti should look out for the 2002 documentary Of Men and Gods, directed by Anne Lescot and Laurence Magloire.
For visitors, there shouldn't be any problems visiting Haiti, although discretion is advisable. There is no openly gay/lesbian scene, though Kouraj (www.kouraj.org) provides support to and lobbies for the LGBT community.