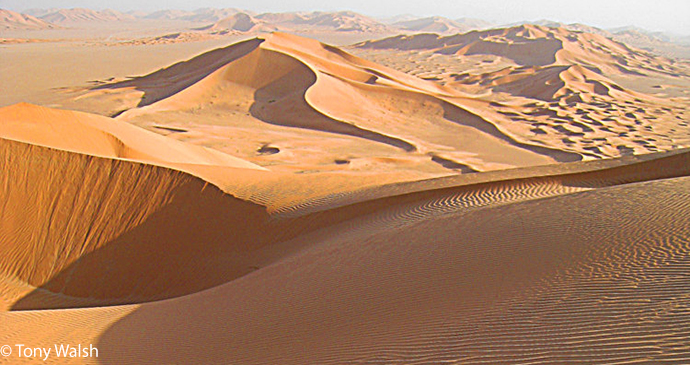 Thumrayt's sand dunes are part of any quest to Ash Shisr © Tony Walsh
Ash Shisr, on the edge of the Empty Quarter and the confluence of Wadi Ghadun and Wadi Malhit, has become known as the site of Ubar, Atlantis of the Sands. The modern quest that resulted in Ash Shisr becoming one and the same as Ubar evolved gradually. Bertram Thomas, the first European to cross the Rub Al Khali, was guided in 1930 by Bedouin from the tribes that have now have settled in Mitan and Hashman further into the Empty Quarter. As they travelled in the Empty Quarter the guides pointed out to him, 'Look, Sahib, there is the road to Ubar. It was a great city, our fathers have told us that existed of old; a city rich in treasure, with date gardens and a fort of red silver.' Wendell Phillips, who came to Dhofar in 1952, tells of meeting a Bedouin and, 'When I asked him if he knew the location of Ubar he shouted into my ear, "Only the devil knows."'
Ash Shisr, on the edge of the Empty Quarter and the confluence of Wadi Ghadun and Wadi Malhit, has become known as the site of Ubar, Atlantis of the Sands.
Ranulph Fiennes recollects a conversation he had with an army colleague Nasran, who said, '"Some say the finest city in all Arabia was Ubar, built like Paradise with pillars fashioned from gold." "Will you take me there, Nasran?" I asked. "Inshallah" was his reply.' This set Fiennes off on his quest to discover the lost city, eventually being joined by filmmaker Nicholas Clapp, who had come to Oman in 1980 to film the release of the oryx back into the wild. The discovery of Ubar was announced with much fanfare in The New York Times of 5 February 1992 and it was included in the Land of Frankincense Sites in 2000.
Evidence points to the site having been used since the Stone Age (around 5000BC) and the style of the fortifications suggests that it was constructed during the late Iron Age (from 325BC). Objects found at Ash Shisr have been eclectic: Neolithic spear points and arrowheads (8th–7th millennia BC); glass bracelet fragments (9th–16th centuries AD), Abbasid coins (8th–10th centuries AD); and, most intriguingly, part of a chess set (8th–10th centuries AD).