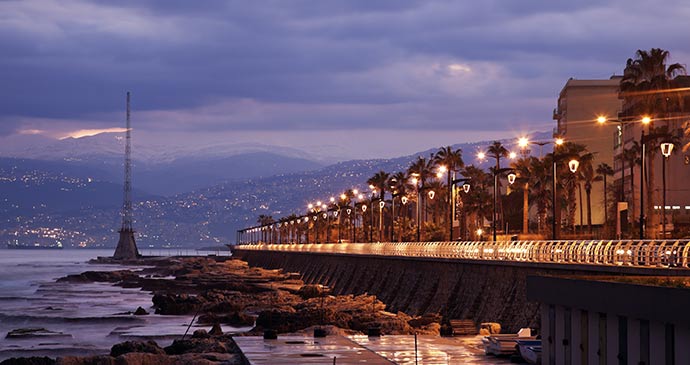 Beirut's corniche © Henryk Sadura, Shutterstock
Lebanon's capital commands a proud and enduring presence at the midway point on the country's coastline.
Framed by the blue waters of the Mediterranean Sea and the often snowy peaks of Mount Sannine, Lebanon's capital and most populous city, Beirut – 'Bride of the East' to the ancient Phoenicians – commands a proud and enduring presence at the midway point on the Lebanese coastline. This much-vilified city of over two million people boasts more than 5,000 years of recorded history. However, it is only the last few decades with which most foreigners are acquainted as sectarian divisions and foreign interference thrust Beirut and Lebanon onto the international stage with the start of the country's 15-year civil war. Lebanon's descent into anarchy soon made the country a byword for man's inhumanity and the very notion of Beirut and tourism became one of the modern era's best-known oxymorons.
The epicentre of reconstruction is Downtown, which now boasts beautifully restored Ottoman- and French-era architecture, souks and an abundance of five-star hotels complemented by a chic café culture and modern restaurants. On bustling Rue Hamra, once known as Beirut's Champs Elysées, coffee, conversation and shopping take precedence, while further east the neighbourhood of Bourj Hammoud is an example of an integrated diaspora, a displaced Armenian people who have made Beirut their home whilst preserving their own cultural identity. In upmarket Verdun, Beirut bling competes with international designer fashion labels. The southern suburbs of the city, however, provide a poignant reminder of a city still wearing its past on its sleeve. Here, thousands of Palestinian and Shi'ite Muslim refugees live in abject poverty; posters of martyrs killed fighting Israel in the south of the country line the streets together with effigies of Iran's Ayatollah Khomeini, providing the most visible reminders that, for all its renaissance, Beirut remains embroiled in the wider Middle East peace process.