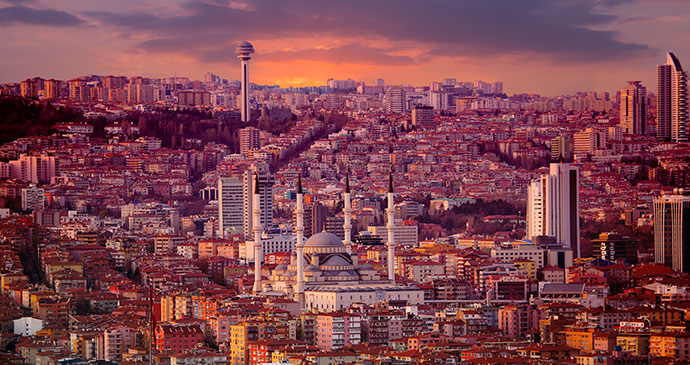 The sun setting over Ankara © muratart, Shutterstock
The modern Turkish capital is the most convenient starting point for your adventure into eastern Turkey.
As Turkey's modern capital, Ankara has many new roles, and it is the interplay and conflict of these roles that makes the city so intriguing today. When Atatürk moved his headquarters here in 1919 at the start of the War of Independence, it was a deliberate distancing from cosmopolitan İstanbul, a statement that Turkey was much more than its Ottoman past. Ankara then was a small town of only 30,000 inhabitants. Now official UN figures for 2013 estimate it is a metropolis of nearly five million, making it Turkey's second-largest city, but still a long way behind İstanbul's 14 million. It may be a modern city today, but its origins go back to the 2nd millennium bc when it was a Hittite settlement called Ankuwash. It is fitting therefore that the two major sights Ankara has to offer reflect both its ancient and its modern ties: the spectacular Museum of Anatolian Civilisations and the Cyclopean Anıt Kabir, Atatürk's mausoleum. One day should be sufficient to visit Ankara's attractions. In fact, in an energetic half day you can visit the museum (two hours), take a brief stroll around the medieval citadel (45 minutes), then visit Anıt Kabir (one hour), have lunch and set off for the Hittite heartlands, with the museum still fresh in your mind.