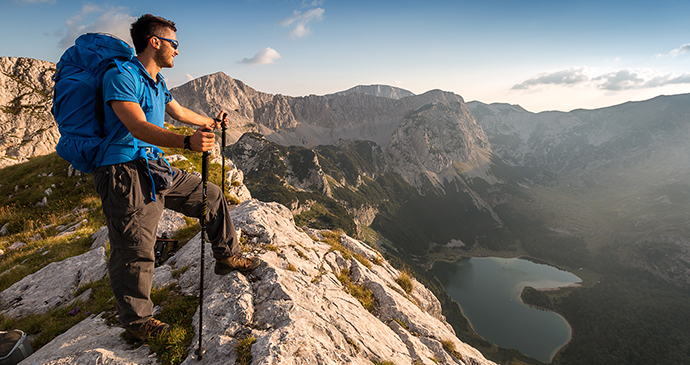 A birds-eye view of Trnovačko Lake in Montenegro near Bosnia's highest peak, Maglić © Adnan Bubalo
Bosnia's oldest national park is a treasure trove of hiking trails, crystal-clear lakes and dramatic peaks.
Sutjeska National Park is the oldest and largest national park in Bosnia and Herzegovina. There are a handful of must-sees while in the park. Perućica Nature Reserve is home to one of the last remaining primeval forests in Europe, and where any element of human intervention has been forbidden since the National Park was established. There are a number of impressive mountains: Volujak, Vučevo, Zelengora and Maglić, the last of which is the highest peak in Bosnia and Herzegovina, at 2,386m. There are two highly recommended viewpoints: Borić viewpoint, from where you can see the Sutjeska River Canyon, the mountains of Vučevo, Maglić and Volujak, Perućica rainforest, the mountain passes of Dragoš sedlo and Prijevor, the Tjentište Valley, and remnants of the ancient cities of Vratar and Vrata; and Prijevor viewpoint at 1,668m, from where Maglić towers overhead and a whole chain of Dinaric peaks spreads in front of you.
There also two lakes: Donje Bare, a lake on Zelengora Mountain; and Trnovačko jezero (Trnovačko Lake) at 1,517m, which lies beneath the heights of Maglić and is best known for its heart-like shape and deep green-blue colour.